It is still drizzling so I opt for a private tour in a car rather than a motorcycle. The price is highway robbery at $40 for a half day, but it affords me the luxury of customizing the tour to my liking and being able to stop wherever I want for as long as I want, so I splurge. My driver speaks only a little English, so the hotel clerk tells him where I want to go; we'll figure out the rest with sign language as we go.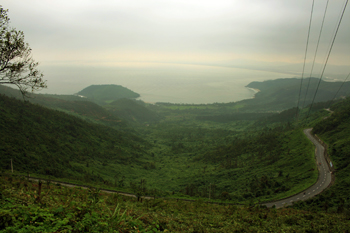 We head for Danang, which is 30 kilometers north. I will be going this way again tomorrow but the bus takes the new tunnel through the mountain that separates Danang and Hue and I want to go to Hai Van Pass at the top of the mountain. Although patches of fog linger, as we ascend I am treated to glimpses of pristine beaches in hidden coves all along the rugged coast. In the sunshine these waters must sparkle like emeralds, but today they are hiding their jewels under their skirts. Even so it is beautiful – the swirling mists giving everything an ethereal feel. From the moment I step out of the car at the summit I am accosted by a shopkeeper who follows me around, determined to sell me one of her cheap bracelets or a set of postcards. I say no repeatedly and finally have to climb a mountain path to get away from her. At the top I find American gun battlements left over from the war; Danang and China Beach were major base for us during the war.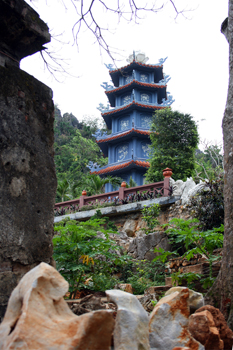 On the road again we head back south through the center of Danang to Marble Mountain. The site of a major quarry that produces some of the finest marble in the world, Marble Mountain is also the site of a major Buddhist monastery. The hotel clerk had encouraged me to "just look around for a few minutes at the bottom" rather than going up into the site. "It OK for men to go but maybe dangerous for woman; many steps, you slip, maybe fall." The bottom is full of shops selling marble statuary and stonemasons chipping away at hunks of rock – really of no interest to me. However the steep marble steps leading up the mountain beckon, so I pay the 20,000 Dong entrance fee and start climbing. The steps are extremely steep and I groan as I heft my body, backpack and all, up and over each one. I worry that it will be even more difficult coming back down with my bad knee but I remember to stay in the moment and dismiss that thought.
Built over several levels around the mountain, this monastery is impressive in its beauty as well as its engineering. Pagodas, temples, burial tombs, and bridges over serene fish ponds alternate with caves holding altars and painted statuary. I spend two hours exploring every nook and cranny and descend via a different stairway that is much less steep than the one I ascended.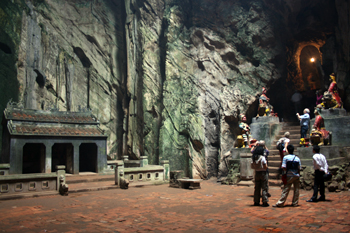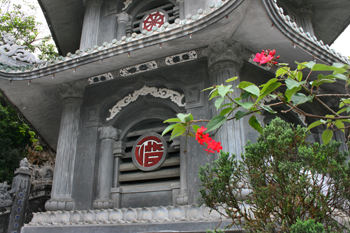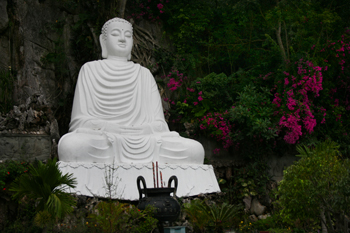 When I get back, my driver is obviously upset. At first he won't tell me what is wrong but I persist and he eventually admits that the hotel clerk told him I would only stay 10 minutes at the bottom of Marble Mountain. Not my problem. I paid for a half-day tour and I'll spend it any way I wish. I do feel sorry for the driver, however, since he had to leave a family celebration to work. I suspect he thought it would be a quick two-hour affair, after which he could return to the family.
Continuing south, we make a brief stop at China Beach, another famous site from the Vietnam War (although my driver refers to it as the American War). Then on to Cu Dai beach in Hoi An. The beaches here are nice but certainly not the most beautiful I have ever seen. They cannot compare with the Caribbean and I am sure the beaches of the South Pacific are stunning, but they are decent beaches with nice resorts and you certainly can't beat the prices; my hotel here is $25 per night. Back at the hotel I give my driver a 50,000 Dong tip, which will double the amount of money he is paid by his company for the afternoon. I may be a sucker. The whole anger thing may have been an act to make me feel guilty, but it is, after all, only three dollars and change. And it was worth it; Marble Mountain, especially, is not to be missed.