From the moment I arrived in Hanoi things got difficult. The taxi trip from the bus stop to my hotel on the day of my arrival was no more than a kilometer and the fare should have been around 8,000 Dong. Half way to the city center I glanced at the meter and saw it already said 90,000 Dong. I pointed to the meter, asking, "Meter say 90 – that mean 90,000 Dong?" (I've slid into the simple English spoken by the Vietnamese because it's easier for them to understand). "Vuong (yes), 90,000 Dong," he replied. I had warning of this – there are discussions of Hanoi's rigged taxi meters all over Lonely Planet's Thorn Tree Forum. "Meter no work – you turn off," I said sternly. "Vuong, vuong, 90,000 Dong," he insisted. Although I had few options at 5:30 AM on dark, deserted streets with not another taxi in sight, I bluffed. I yelled, "You cheat me – I report you – you let me out of taxi right now!" "No – it OK – I fix," he said. By the time we reached the hotel the meter read 108,000 Dong. We negotiated and I ended up paying him 50,000 Dong. Had it not been for the fact that he held my suitcase hostage in his trunk I would have simply walked away without paying him at all.
On Sunday I booked an all day city tour. Our first stop was supposed to have been the Ho Chi Minh Mausoleum to view the preserved body of Ho Chi Minh. Uncle Ho, as they fondly refer to him, was the President of North Vietnam until his death in 1969. His embalmed remains have been lying in state since and there is a long queue every day to view his body and pay respects. Instead, our guide took us first to the Museum of Ethnology, which features displays and films on many of the 54 different ethnic groups that inhabit Vietnam. Interesting, but not what I had signed up to see – this stop wasn't even on the itinerary. Just to be sure, I asked if we were going to the Mausoleum. After informing us that she was a new tour guide and politely asking us to "be sympathy for her" because she "is learn English," she told us we would go to the Mausoleum in the afternoon. From that moment the tour absolutely fell apart. We couldn't understand her very well and she didn't understand a word we were saying.
We arrived at the Mausoleum at 2:30 to find it already closed for the day – apparently on Sundays it is only open in the morning. We were all upset and, somehow, I ended up being the spokesperson for the group. I insisted she call her manager on her cell phone and demanded we get our money back. So here we were, standing in front of Uncle Ho's Mausoleum where one is supposed to show great respect, with me yelling at this person on the phone, trying to get us all a refund. In the background, the other tour members are all egging me on, "We're all behind you, Barbara, you tell him." Believe it or not, I actually got them to refund about 30% of the tour price to each of us. I had already seen the stuff on the rest of the tour and had no interest in shopping in the Old Quarter, so I left at that point and headed off on my own.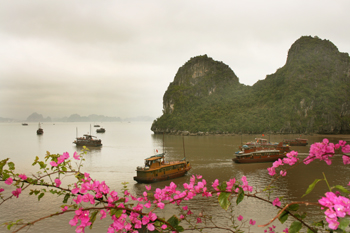 Since I had booked my one day Halong Bay trip for Monday with the same company, I was bit anxious about whether or not they would even pick me up the next day, and even if they did, if it would be as poor as the city tour. I was waiting in the hotel lobby at 7:45 AM the next morning, as instructed. Eight 'clock rolled around – no tour guide. Eight-fifteen; no tour guide.I had only one day left in Hanoi and really wanted to see Halong Bay – if they blew me off it would be too late to pick up another tour. Fortunately, my tour guide did finally arrive around 8:30 and I breathed a sigh of relief. Despite the two obligatory stops at the Vietnamese Handicapped Handicrafts stores, this was a much better tour with a guide who spoke pretty good English.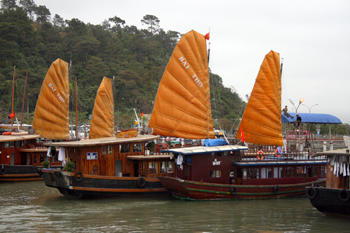 Halong Bay is indeed beautiful, although I suspect I did not experience its full beauty in the rainy, foggy weather that persisted throughout the day. Still, even in the fog the giant Karst limestone towers that rise from this bay are awe inspiring. Our Chinese Junk sailing vessel made its first stop at a floating fish farm – basically a big houseboat with net-bottomed wells where the locals live and raise fish for the market. Swimming around in these enclosures were giant squid, four-foot long catfish, and a variety of unidentifiable species. We tied up here and enjoyed a feast that included a whole fried fish bought on the spot from the floating market.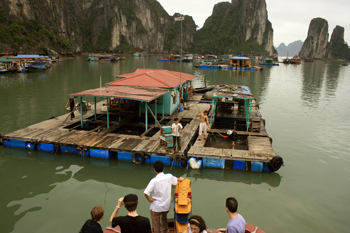 After lunch we headed out once again, sailing past "chicken-fighting islands" (the signature islands of Halong Bay) and then on to hike through two of the most spectacular caves I have ever seen, hidden deep within the limestone towers. I was a good day and, I can honestly say, the only one in Hanoi so far with no screaming going on.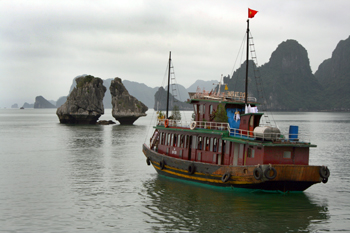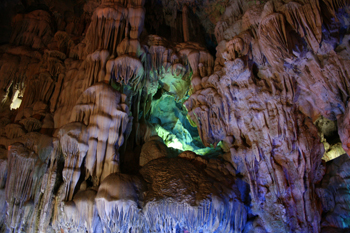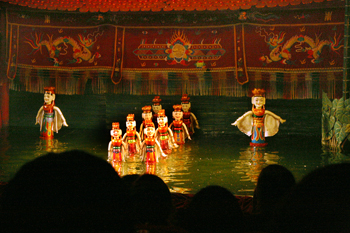 Back at my hotel by 7:30 PM, I quickly changed clothes and grabbed a pedicab for the short trip to the Water Puppet Theater. Water puppetry is an art unique to Vietnam and anyone traveling to this country should put this on their list of must do's. The "stage" for the puppets is an indoor artificial lake. The puppeteers stand behind a green partition in water up to their knees, operating the puppets via long wooden submerged poles, while a troupe of musicians and singers accompany the performance on traditional Vietnamese instruments. The hour long show is split into about a dozen short acts, each of which depicts a particular famous Vietnamese legend. It is quite amazing to see the antics that the puppets can be made to perform, simply by manipulating the poles to which they are attached.
Afterward, I ran into two women I met on the disastrous city tour. They had also attended the Water Puppet show, so we headed out for coffee and a snack. My two new friends are from Malaysia – which is on my travel agenda (I may do a day-trip from Singapore), so I may get to visit them sometime this summer. Unfortunately, they had a bit of screaming going on themselves. At the night market the prior evening, someone slashed one of their backpacks with a razor. Fortunately, there was nothing of value in the pocket that was slashed, but it is an unsettling thing to go through just the same. I have heard at least a half-dozen stories like this since I arrived. No wonder I've felt like I had to have eyes in the back of my head the entire time I have been in Hanoi.
At 11 PM the restaurant closed so we went our separate ways, with promises to stay in touch. I found a ready and willing pedicab driver just outside the restaurant. The hotel told me the fare should be about 11,000 Dong to the Puppet Theater and I was only a couple of blocks past the theater. The driver wanted 30,000 Dong. Negotiations began in earnest – I offered 15,000. He insisted on 20,000 and I began to walk away, at which point he relented and said OK to 15. What I hadn't counted on was the one-way street surrounding the lake – he had to go completely around the lake to get me back to the hotel, by which time I was embarrassed about having negotiated so hard over an extra 25 cents. My driver, however, remained unperturbed and gracious, asking me the ubiquitous question, "Madame, where you from?" If they know no other words of English, they know how to ask this. I give them credit – in all cases, their English is better than my Vietnamese! "From US," I answered. "OH! US, A-number one!!" he replied. Yes, A-number one screamers, I thought to myself. I paid him 20,000 Dong with a sheepish grin. After all, I want them to continue to believe that the US is A-number one.