After a few housebound weeks in Illinois' sub-freezing winter weather, a thirty-six degree day felt positively balmy. Although the weatherman called for yet another dreary, overcast day, no snow or freezing rain was forecast, so I seized the opportunity to visit the Morton Arboretum, a 1,700-acre park in the Chicago's western suburbs.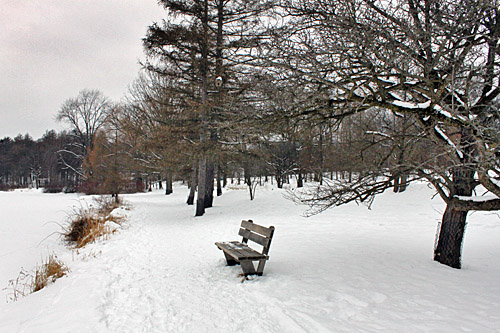 The Arboretum was established in 1922 by Joy Morton, who is best known as founder of the Morton Salt Company. Although Morton's head was in the salt business, thanks to his father, J. Sterling Morton, who founded Arbor Day and served as Secretary of Agriculture under President Grover Cleveland, the younger Morton's heart belonged to trees. "Plant Trees" was the Morton's family motto. And plant they did, over many years creating a horticultural showcase on their private estate. At the age of 65, Morton began developing the property into an Arboretum, with the mission to "collect and study trees, shrubs, and other plants from around the world, to display them across naturally beautiful landscapes for people to study and enjoy, and to learn how to grow them in ways that enhance our environment."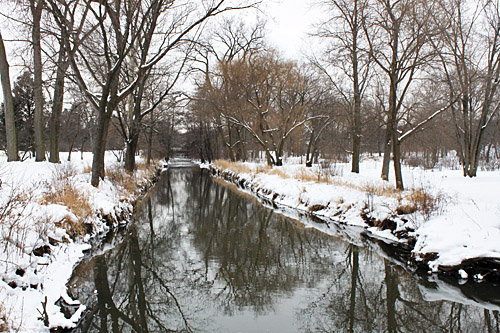 Today the Morton Arboretum is a wonderland in every season. Each spring, blooming flowers explode across its 1,700-acres: butter yellow blossoms in the Daffodil Glade, blooming Crabapples along the lake, and riotous wildflowers in the woodlands and meadows. Summer offers perennial flower gardens along Joy Path, cool shade on the Conifer Trail, and sweet smells in the fragrance Garden. In the fall, sumacs and crabapples drop their heavy fruit, while the Maples and Oaks burst into flaming hues.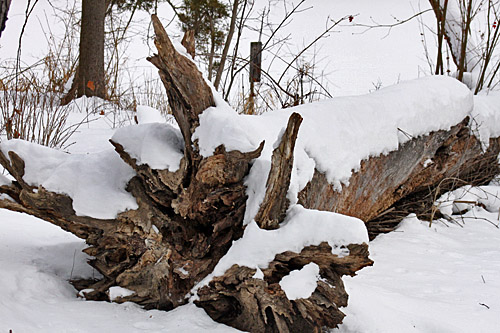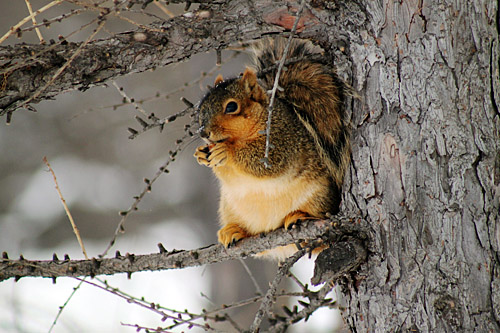 But in winter, the park has a stark, desolate beauty. Rather than rent snowshoes, I tramped through calf-high snow that buried the park's 16 miles of trails. Choosing a path leading into the eastern sector, I circled Lake Marmo and Sterling Pond, breaking a fresh path through white powder. Barren black trees tickled leaden skies and reflected in the inky waters of the east branch of the DuPage River. Tufts of dry brown prairie grass poking through the drifts and snow-laden evergreen trees provided the only relief in an otherwise monochrome landscape. Although the parking lot had been partially full when I arrived, my only companions were chattering birds and fat brown squirrels, who sat in high tree branches ripping acorns to shreds. Although I would have preferred a stroll under sunny summer skies, I had to admit that I was awed by this winter wonderland. I stayed put until I could no longer feel my nose or ears, vowing to return in the gentler seasons.
The Morton Arboretum is open 365 days a year from 7 a.m. to 7 p.m. (or sunset, whichever is earlier). In addition to walking trails, the park offers nine miles of roads for biking, jogging, or driving tours, as well as tours on the Acorn Express, an open-air tram that provides narrated tours of the Arboretum's history and tree collection. The Arboretum is located at 4100 Illinois Route 53 in Lisle, Illinois, phone 630-968-0074. Regular admission is $11 for adults (18–64), $10 for seniors (65+), $8 for youths (2–17), and free for children under two, however on Wednesdays admission is discounted to $7 for adults, $6 for seniors, and $5 for youths.