It was gray and drizzly on the afternoon I arrived at the Cecil B. Day Butterfly Center in Pine Mountain Georgia. I stepped inside the octagonal glass Conservatory, prepared to be wowed by more than 1,000 butterflies of 50 different species flying freely throughout the enclosed rain forest environment. But nothing was happening; hardly a butterfly was in sight. Staff members explained that butterflies rest in overcast weather.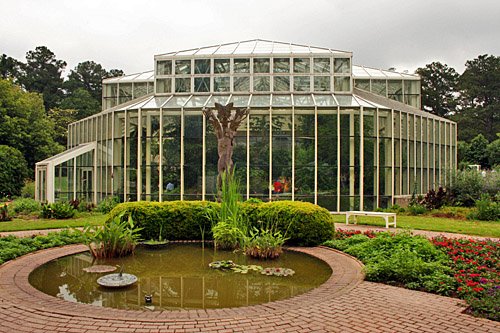 I wandered through the facility, enjoying its tropical plants and waterfalls as I kept one eye peeled for the occasional lethargic butterfly and the other on the leaden sky. As usual, luck was with me. A short time later clouds began to break up and the sun peeked out. Sensing sun-warmed air, the butterflies and moths emerged from hiding. At first just a few fluttered around, then hundreds more rose into the air and began flitting from flower to flower.
The Butterfly Center is just one of many attractions at Callaway Gardens, a 13,000 acre man-made landscape sculpted into the southernmost foothills of the Appalachian Mountains. Miles of woodland paths lead to Azalea, wildflower, Mountain Laurel, and Rhododendron blooming gardens. Other trails traverse Holly groves or meander along the shoreline of lakes.
The hub of the park is the sandy, mile-long beach at Robin Lake, where visitors can swim; frolick on Iceberg Island floating water park; rent a paddleboat; or play shuffleboard, miniature golf, or table tennis. Year-round special events include programs such as Birds of Prey, Wildflower Sculptures, Parrot Encounter, Insect Encounter, and organ concerts. During the summer months the Florida State University's Flying High Circus spends ten weeks at Callaway Gardens' Summer Family Adventure.
Although it would be impossible to see everything in a single day, park personnel recommend that guests begin with a visit to the Virginia Hand Callaway Discovery Center to learn what there is to see and do on site. Personally, I highly recommend a visit to the Butterfly Center.
Callaway Gardens is located at the intersection of State Highways 18/354 in Pine Mountain, Georgia, just one hour southwest of Atlanta, Georgia. The park is open from 9 a.m. to 5 p.m each day (6 p.m. March 19 through the Sunday preceding Labor Day). Admission is $15 for adults and $7.50 for children aged 6-12 years old (under 6 free). The park offers reduced rates for active and retired military, as well as for pre-booked groups. Some special events require an additional admission fee.