They say all things come full circle. In September of 1969, I hopped aboard the Red Line of the EL and rode down the Dan Ryan Expressway for my first day at the University of Illinois at Chicago. The neighborhood around Roosevelt and Halstead Streets was not safe in those days. One block south was Maxwell Street, for years home to the world's largest open-air market. By the time I arrived, foot traffic had been reduced to sullen gang members, panhandlers, and furtive drug dealers lurking in shadows between the neighborhood's disintegrating, grime-covered buildings.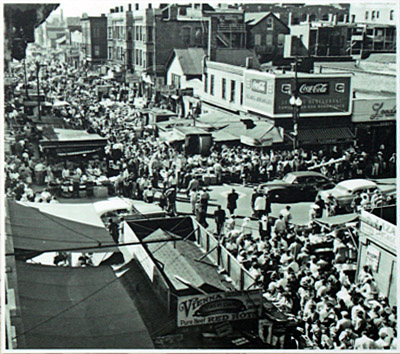 To the north, the university squatted across several blocks, a barren heap of concrete where saplings withered and stoned-out hippies lounged in the Student Union, strumming anti-war ballads on guitars. Barely seventeen at the time, it was more than I could handle; I dropped out before the end of the first semester, got a job, and never looked back. But last month, during my annual trip to visit my family over the holidays, I was invited to have lunch with a professor friend who teaches at the UIC. It had been more than 40 years since my last visit and I wasn't sure I remembered how to get there, so I asked my Dad for directions.
"Halsted and Roosevelt? You mean down by Maxwell Street? You can't go down there alone; it's dangerous!"
I explained that, according to my friend, the neighborhood is now quite safe.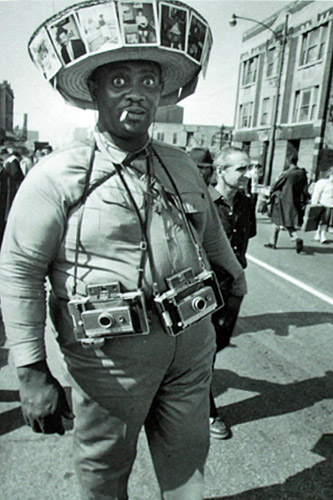 "No kidding? You know, that's the way it used to be when I was a kid. I must've been eight, maybe nine years old when my old man started dragging me down to Maxwell Street every Sunday morning to help him sell merchandise. We had to be there by 4 a.m. to get a spot. He'd wait in line to buy a ticket – a different color strip of paper for each size stall. Some sellers set up tables and racks but my ol' man just threw the stuff on the ground."
"What did he sell?" I asked.
"Handles. All kinds of wooden handles. Axes, hammers, shovels. They were seconds from a factory on his milk route. Sometimes he'd have to pay a quarter for one, sometimes the factory just gave them to him. He sold those handles for years – a buck or two apiece. Just dumped them on the ground and let people pick through them."
Dad had fond memories of those Sunday mornings, which spanned the mid-1930's and stretched into the 40's. "You could buy absolutely anything on Maxwell Street. Cheap, too! Everyone came down to shop, to eat, just to see what was going on. Even as a teenager, my friends and I would go because it was fun." But neither of us could have foreseen what was to come.
From the 1880's to the 1920's the densely populated residential area surrounding Maxwell Street was mostly Jewish, the center of Chicago's first ghetto. As the Jewish residents became more prosperous they moved their families further west but kept their shops along Maxwell Street. Mexicans and African-Americans moved into the neighborhood, creating an area of ethnic diversity where all of Chicago's races intermingled and shopped for bargains. Of Maxwell Street, it was often said that "the only color that mattered was green."
At its peak the market area stretched six blocks, from Clinton west to Sangamon, with almost 2,000 vendors selling from pushcarts, wagons, boxes, and stores. On an average Sunday, more than 50,000 bargain hunters would descend on the market. Many well-known Chicago business got their start on Maxwell Street, among them Vienna Sausage, Keshin, Meystell, Karoll's Clothing, Chemin's Shoes, Morrie Mages Sporting Goods, and Fluky's Hot Dogs. Nate's Delicatessen, at 807 West Maxwell Street, became legendary after Aretha Franklin sang "Think" in "The Blues Brothers."
The Zoot suit was invented here by Fox Brothers Tailors in the 1930's and the infomercial traces its roots to salesmen such as Ron Popeil, famous for his demonstrations of food gadgets like the Dial-o-Matic slicer/dicer. Up and down the street, pitchmen hawked products with the refrain, "But wait, there's more!"
But Maxwell Street was about more than commerce. During the first half of the 20th century, rural southerners poured into northern cities in search of jobs. African-American musicians flocked to Maxwell Street because it provided them a place to play and pick up a few dollars. Before long, Mississippi Delta country blues had mixed with urban grittiness to create a new form of music, the "Maxwell Street Sound."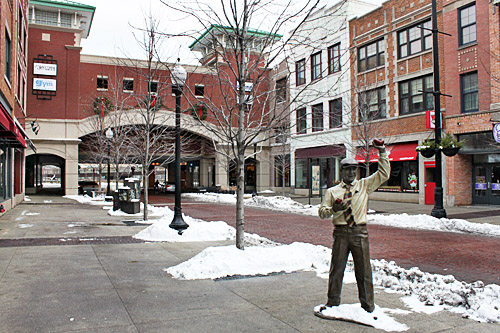 Local businesses provided musicians with space outside their stores to perform, hoping to draw crowds and snare customers, but musicians often could not be heard above the noise of the crowd. The solution, electrified instruments and amplifiers, produced a new musical genre – electrified urban blues, later coined "The Chicago Blues." Nearby Chess Records recorded the new sound, which heavily influenced the development of rock and roll. Some of the greats got their start here: Benny Goodman learned to play clarinet at the nearby Hull House, while blues greats Muddy Waters, Johnny Young, Jimmy Rogers and Little Walter all recorded on Maxwell Street.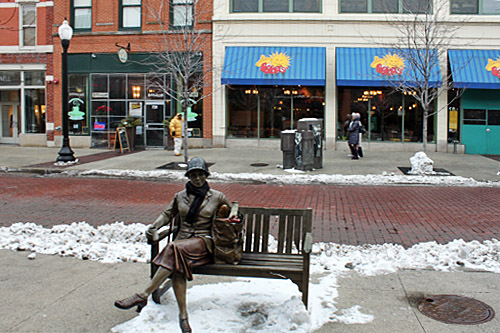 The automobile finally signaled the demise of the market. New expressways allowed customers to take their business to the suburbs and the neighborhood fell into decline. It's death knell was construction of the Dan Ryan Expressway in the late 1950's, which cut through a portion of the market and moved it westward. By the 1970's the market was in full decline and the neighborhood completely blighted, but the university was in full bloom. Needing more space for its 25,000 students, the school slowly began buying land and demolishing the old buildings. The City of Chicago finally relocated the market in 1994 and it still continues to operate every Sunday, although in a much reduced fashion, on Desplaines Avenue.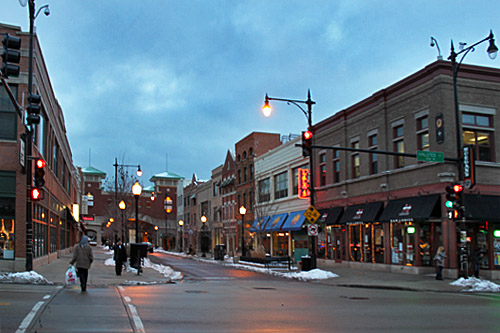 On the day of my luncheon meeting, I found the old neighborhood with ease and immediately recognized the original UIC Admin building. Even in winter it is evident that the campus is now lushly landscaped, and its stark nakedness has long been supplanted by attractive buildings, interspersed with the occasional lovingly restored historic property. Once dangerous Halsted Street is lined with coffee houses, gourmet restaurants, and upscale shops. My professor friend said it best as we stood on the corner surveying the gentrification: "If we'd only known this was going to happen…" Indeed, all things do come full circle.
Historic photos courtesy of University of Illinois at Chicago