The meaning of the term "skyscraper" has changed dramatically over the centuries. Originally a nautical term referring to a tall mast or main sail on a sailing ship, the word was first used to describe buildings when the ten-story steel-framed Home Insurance Building was constructed in Chicago in 1885. Although later demolished, the structure forever marked Chicago as the birthplace of the skyscraper. Chicago today has an unrivaled collection of skyscrapers that makes the city a premiere destination in the world for the study of architecture.
Chief among the city's spectacular skyscrapers is the Chicago Board of Trade Building, which anchors the southern end of the downtown financial district on LaSalle Street and is the world's oldest futures and options exchange. Built to provide a centralized location where buyers and sellers could meet, negotiate, and enter into contracts to buy and sell commodities produced in the Midwest, farmers flocked to the CBOT with samples of their wheat, corn, and soybean crops. Over time, the function of the exchange evolved into one of buying and selling forward contracts for commodities. Today, more than 50 different options and futures contracts are traded by over 3,600 CBOT members through open outcry and eTrading from the floor of the open exchange.
Growing up in Chicago, I had always wanted to tour the Board of Trade building and watch the commodity traders in the "pit" but, like most locals who never visit the attractions in their own back yard, I just never got around to it. I moved away and forgot about CBOT until recently, when I returned to the city for a conference scheduled to be held in the Loop. In years past, anyone could visit the Chicago Board of Trade, but since 9/11, security concerns have necessitated limiting access to the facility. Fortunately, tours are still available through the Chicago Architecture Foundation, a nonprofit organization dedicated to advancing public interest and education in architecture and design. The CBOT is one of 16 "Lunchtime Tours" of historic buildings available through the Foundation. In this instance, the timing was perfect; not only would I learn the history of the skyscraper and see its unique architectural details up close, at the conclusion of the tour I would have an opportunity to witness live commodities trading in the pit from an overhead observation gallery.
I arrived early and strolled around the massive granite tower to kill time. Courtyards on two sides of the building provided seating for harried traders clad in the bright blue, red, or gold jackets of their particular brokerage houses. They rushed in and out of revolving doors for quick breaks, gulping coffee while talking on cell phones and puffing furiously on cigarettes, generating a billowing cloud of smoke. Wading through the billowing smoke, I was reminded that not so long ago I was living the same kind of harried and stressed-out life and I gave silent thanks that this part of my life is over.
Back at the front entrance, my tour group had gathered. Our guide led us half a block down the street for a better view of the building. The top of CBOT reflected crisp sunlight, but the street was dark even in midday, cast in shadow by the bricks and mortar canyon of skyscrapers along LaSalle. We craned our necks upward as our guide described details of art deco design of CBOT, considered revolutionary for its day. Directly over the LaSalle Street entrance, a relief carving of two hooded figures, an Egyptian gasping a sheaf of wheat and a Native American holding an ear of corn, bracketed a 13-foot diameter clock. About 30-feet above street level, carved bulls protruded from the limestone cladding, referencing a bull market. Ceres, Roman goddess of agriculture, perched atop the copper-clad pyramid roof, clutching a sheaf of wheat in the left hand and a bag of corn in the right hand. Sculptor John H. Storrs left the face of the 6,500 pound, 31-foot tall Ceres blank because he believed no other building would be tall enough for the inhabitants to clearly see the statue's face.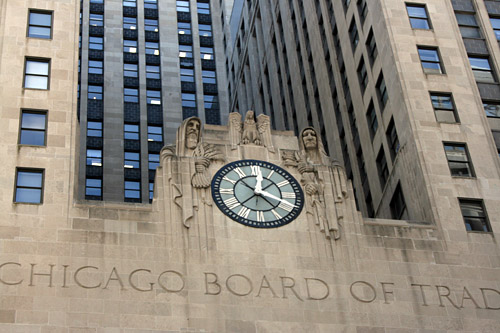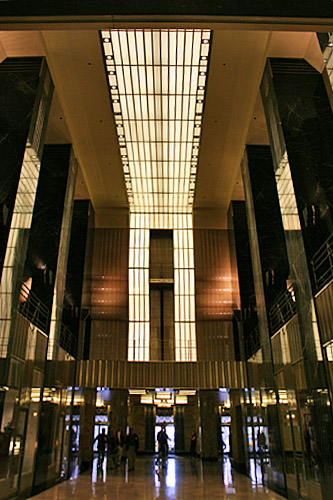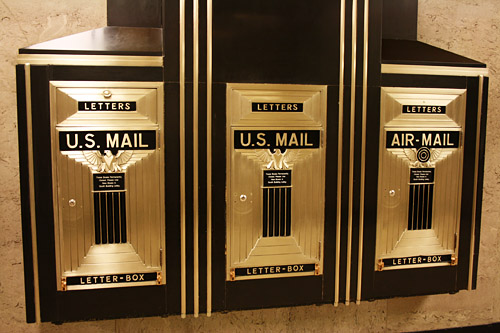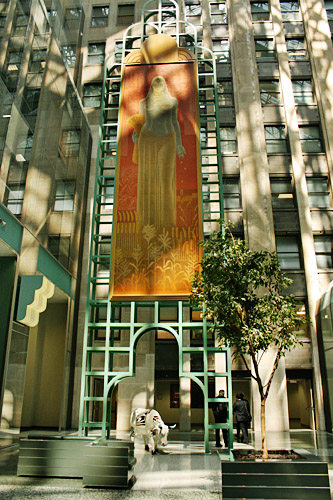 Equally impressive, the interior featured seven different types of marble in the open three-story lobby, as well as a light fixture reputed to be the world's largest when the building was constructed. Though impractically small for modern use, bronze mailboxes in the lobby were attached to chutes that allowed mail to be deposited from upper floors, a state-of-the-art design at the time.
Finally, we ascended to the glass-walled observation gallery to watch the end of the day's trading. Said to be large enough to accommodate a 737 aircraft, the trading floor contains a series of raised octagonal platforms or "pits" with steps up the outside and down the inside that allow hundreds of traders to see and hear each other during trading hours. Traders stand in these pits to bid on contracts to buy or sell commodities, using both voice and hand signals to make their intentions known. As I watched, hundreds of traders gestured wildly, pointed, and performed a series of bizarre signals. Although the impression was one of complete chaos, there was an underlying system to the madness. If a trader wanted to buy ten contracts at a price of eight, he turned his palm inward toward his face, putting his index finger to his forehead denoting ten; if he wanted only one, he placed his index finger on his chin.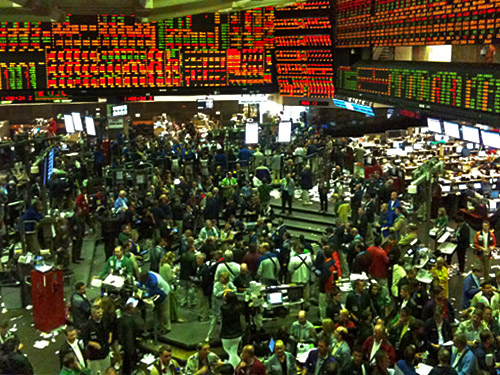 During the final 60 seconds, audio from the trading floor was piped into the observation gallery, turning silent manic gesticulating into an earsplitting roar of shouting, begging, pleading traders hoping to effect a last minute buy or sell. In the final seconds utter bedlam ensued. Traders jockeyed for position, pushing, shoving, waving their arms, and screaming final orders. The final bell sounded and, as if a switch had been thrown, the noise instantly died and traders began to disperse, some disgustedly throwing handfuls of unplaced order slips into the air, where they floated down to the trading floor like confetti in a ticker-tape parade. As I descended to the lobby via escalators that move at twice the speed of regular escalators (our guide explained that everything moves fast at CBOT), I gave silent thanks that I was able to walk away from my previous life of stress to do what I love.
The Chicago Architecture Foundation presents more than 85 enlightening tours of Chicago's neighborhoods and historic suburbs by bus, boat, Segway, train, or bicycle, and on foot. Certified volunteer docents lead these tours after completing a graduate-level ten-week training program. Regular tours include the Architecture River Cruise, Historic Downtown (South Loop), Modern Skyscrapers, Highlights by Bus, and Frank Lloyd Wright in Oak Park. Most tours last two hours and fees begin at $5, but an annual membership to CAF – which may be the best deal in the city at $55 – provides members with free, year-long access to any tour other than the River Cruises and bus tours.
Chicago Architecture Foundation is located at 224 South Michigan Avenue, Chicago, Illinois 60604. For further information visit www.architecture.org or call 312-922-3432.