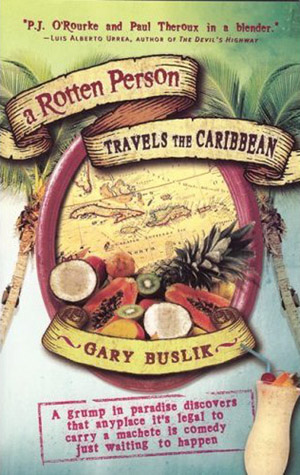 A Rotten Person Travels The Caribbean by Gary Buslik, is an hysterically funny, make you choke on laughter, make tears run down your cheeks, novel about a lifetime of Caribbean travel.
I actually met Gary Buslik – briefly – at a gathering of travel bloggers. For some unknown reason, he decided that I would be a perfect candidate to review his travel narrative. I receive many such requests; sadly most of them turn out to be poorly written novels full of bad grammar and misspellings that leave me wondering what the point was. Not so with Buslik's effort. From the moment I opened the front cover, I couldn't put it down. I read most of it in a day, sitting in my favorite coffee shop while willfully ignoring the other patrons, who stared at me each time I laughed out loud – which was often.
Buslik's singularly cynical life view – he is not kidding when he calls himself a rotten person – translates into some of the funniest stories I have ever read. While I don't doubt for a moment that the stories are true (I believe he actually peed on Idi Amin and has discovered the secret of chicken rectums), but after reading chapters describing trips taken with his wife I need convincing that he's been married to the same woman for more than 20 years. Whether his wife is mythical or just has a lot thicker skin than I do, their marital travels (and fights over potential trips) result in some gut-splitting situations.
If you want a good read that is guaranteed to make you laugh, buy A Rotten Person Travels The Caribbean (see link to Amazon.com below), but do not – I repeat DO NOT – try to read it while drinking coffee or you'll be snorting java through your nostrils.