After five weeks on the road it was time to head home, but not before one last day of hiking. From the North Carolina mountain town of Cashiers, I mapped a route past Gorges State Park, which opened to the public this past May. Located atop the Blue Ridge Escarpment, this newest North Carolina park is the source of five mountain streams that gradually descend toward the South Carolina border, where they suddenly plunge over spectacular falls and rush through steep-walled gorges.
With only one afternoon at my disposal I decided on a duo of one-mile round-trip hikes. The first, marked "strenuous," descended sharply to a wooden platform overhanging Bearwalow Creek, where Upper Bearwallow Falls dropped 200 feet into the gorge. Pretty – but a bit anticlimactic after others I have seen around Transylvania County. And almost not worth the straight-up, half-mile ascent that had me gasping for air.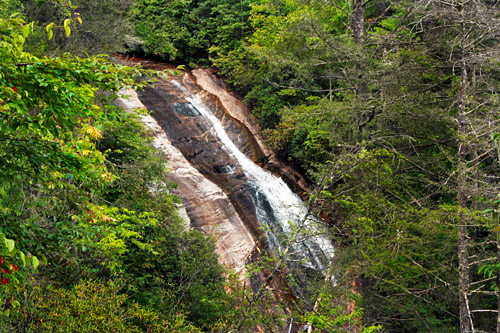 After catching my breath I crossed the parking lot to access the "moderate" Bearwallow Valley Overlook trail. I eyeballed the spongy, leaf-littered path leading up through dense pine forest skeptically; it certainly looked too steep to be considered moderate. But I had come this far; there was no turning back. Up I went. And up. And up some more. Trees thinned at the top of the ridge, offering peeks of a wide valley backed by blue-green mountains. In the distance, an observation platform promised a chance to rest while enjoying spectacular views, but when I stepped out onto the wooden deck I found a view totally ruined by transmission towers and power lines.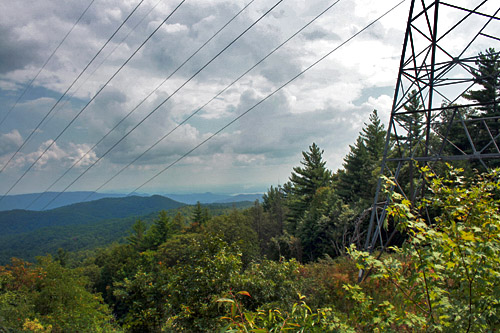 An educational display explained that this land was donated by Duke Power, which originally acquired the property because its steep topography and mountain streams were ideal for hydroelectric generation. Between 1968 and 1973 Duke dammed up the rivers, creating Lake Jocassee and Lake Keowee, which provide for more than 4,300 megawatts of electricity from hydro and nuclear plants serving customers in North and South Carolina. In the late 1990's, after determining they would not need all of the holdings for power generation, Duke donated more than 45,000 acres to the two states, with the stipulation that the lands would be preserved as a natural resource.
While I appreciate that Duke went to great lengths to construct towers in a manner least intrusive to the environment, and that the park would certainly not even exist had they not acquired the land to begin with, I found it bizarre that one of the premiere trails in the park led to a view of a giant steel tower and miles of wires crossing an otherwise exquisite valley. I know they have to be there; I just don't want to look at them them after I've hiked half a mile straight uphill.