A few days ago I received an email from my friend, Victor Sibanda, who lives in Victoria Falls, Zimbabwe. There is so much bad news coming out of Zimbabwe these days that it surprised me to learn Victor has started his own tour hosting business. I was encouraged by his news; it indicates there is still some small sense of normalcy in this devastated country.
I met Victor last year when I backpacked around the world for six months. I spent about a month and a half in Africa and realized my childhood dream of going on safari. The other destination I had always dreamed of seeing was Victoria Falls, so when I planned my safari, I also booked a side trip to Zimbabwe.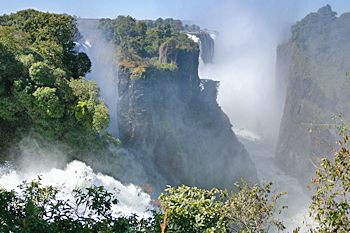 All the arrangements had to be made prior to leaving the U.S. because the tour operators and hotels will no longer accept the local currency, as it is virtually worthless. Consider the following:
The regime is surviving by printing money. The German firm Giesecke & Devrient holds the contract for printing Zimbabwe's currency and they have been delivering bank notes at a rate of Z$170 trillion each week. Last month Giesecke & Devrient decided they would no longer print bank notes for Zimbabwe, bowing to pressure from the German government.
John Robertson, a respected Zimbabwean economist, estimated inflation in July 2008 to be forty to fifty million percent.
An egg costs $50 billion Zimbabwean dollars and withdrawals from ATM's are limited to a maximum of Z$100, about the cost of a loaf of bread.
On August 1, 2008, the government devalued the Zimbabwean dollar, making Z$10 billion worth ZW$1
Shops can only cash checks if the customer writes double the amount, because the cost will go up by the time the check has cleared.
Most credit card companies will instantly cancel any card used in Zimbabwe
At the time I booked and paid for my trip, the situation in Zim was not yet dangerous, but by the time I was scheduled to to visit, the situation had deteriorated. I contacted the company that had handled my reservations and asked their advice, explaining that I would rather lose my money than put my life at risk. The tour operator assured me it was still safe to travel to Victoria Falls, as it is located in the far south of the country and had not seen the violence so prevalent in the capital of Harare.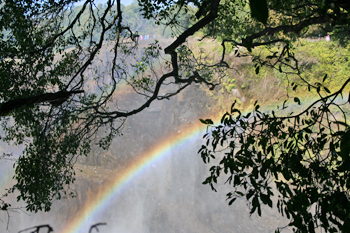 So I went. And I was not disappointed. As I have written previously in this blog, Victoria Falls is one of my favorite destinations, not only for the scenery and animals, but also for the genuine friendliness of the people. Victor was one of those friendly people. At the time he was working with Shearwater Tours and he helped me make the best use of my short time in Zimbabwe, arranging for a sunset cruise on the Zambezi River, a day safari at Chobe National Park in in neighboring Botswana, and advising me on all manner of things such as visiting the falls on both sides of the Zimbabwe/Zambia border, the best places to shop, and where to go for an Internet connection. He even helped me when I needed to obtain samples of the local currency to take home for a friend who is a collector of international money.
Since helping me, Victor's firm, Veneto Adventures has hosted more than 850 tourists. Although he continues to book tours through Shearwater, Victor explains that Veneto is more like a host than a tour company: "We meet and and greet our clients at the airport, bring them to town/hotel, facilitate their bookings, answer their inquiries, solve any problems they may encounter, and generally act as their point of contact until they leave Victoria Falls."
In his email, Victor asked for my help to get the word out about his business, specifically asking me to write about him on my blog and asking for my 'requirements' to do so. Although I can, without hesitation, recommend Victor to anyone planning to visit Victoria Falls, I'm afraid he overestimates the reach of my blog. However, there are other things I can do to help. I will write to the popular online travel website, Journeywoman.com, to recommend his as a personal guide. I will also put his name and contact info on Lonely Planet's Thorn Tree forum. Of late I have made inquiries and was amazed to learn that travel to this area of Zimbabwe is still considered quite safe. Should you plan a visit to Victoria Falls, you can contact Victor Sibanda at:
Veneto Adventures
Shop#9 Sopers Arcade,
Parkway Drive
Victoria Falls, Zimbabwe
Phone: +263 11 754 875 or +263 11 590 753
Email: veneto.adventures (at) gmail (dot) com; vicveneto (at) gmail (dot) com; or vicveneto (at) justice (dot) com
In return for my assistance, what I 'require' of Victor is simple. Because he is one of the few Zimbabweans fortunate enough to have access to valuable foreign currency, I ask only that he donate a portion of his profits to help other Zimbabweans who are destitute, starving, and homeless. The only way this planet is going to make it is if we begin to help one another, one on one.