I dragged myself off the plane after a 12-hour sleepless overnight flight from Bangkok. Bleary-eyed, I followed the signs to New Zealand's Immigration and Customs, steeling myself for the usual interminable check-in process. I turned the final corner into the Immigration hall and was greeted by a smiling woman at the entrance to the queue:
"Hello, what passport are you holding, dear?" she asked.
"U.S.," I replied.
"Then you'll want line C. How long are you here for?"
"A couple of weeks," I replied.
"Well, here's a free country guide for you and welcome to New Zealand. Have a wonderful stay."
This was just my first in a series of encounters with New Zealanders that has me believing they must be some of the friendliest people in the world. When I finally reached the Immigration official, he was no less gracious. He actually smiled at me (God forbid the Immigration people in the U.S. should smile at anyone – I think they are trained in the art of frowning and intimidation) and chatted with me about retirement and traveling the world. In the airport terminal I headed for the information desk where a good-natured elderly man pointed me toward the ATM machine by attempting to describe the color of the distant wall – we decided it was mustard – and told me how to find the shuttle bus line. Even the shuttle bus driver was lovely.
Auckland, New Zealand looks so much like Seattle that I am having a hard time remembering I am in a foreign country. It is a city of hills. Everything is up and down. And even though it is winter here, everything is luscious green – it must be spectacular in the summer. I am staying in Parnell, Auckland's oldest suburb, which is located only 1.5 kilometers from the city center and waterfront. After checking in at my guest house I headed out to explore. My first shock was the temperature – it is COLD! I layered my sweatshirt over a long sleeve shirt, rolled down my pants, and changed my sandals for tennies and socks. Still I shivered. It was probably in the 60's but after being in the sweltering heat and humidity of SE Asia for the past two months, New Zealand feels like the Arctic Circle. Fortunately walking up and down these hills soon had me warm.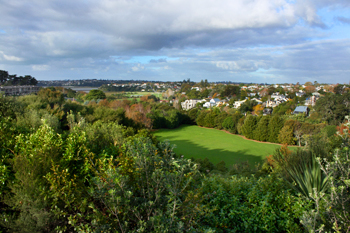 At the bottom of the hill I turned right into Newmarket Park and took the winding path across verdant lawns and over a pond whose mirrored surface was broken by the wakes of a couple of dozen ducks who headed toward me in hopes of being fed. The path went up steeply, alternating between dense forests and planted gardens, until I reached the top and exited the park. I turned left and headed back down the hill on a narrow lane that wound through neighborhoods of townhouses, condos, and apartments. My map soon ceased to be of any help, as none of the smaller roads were shown. I was standing in front of a townhome, scrutinizing the map, when I again was treated to New Zealand hospitality. The woman who owned the townhouse had just arrived home and pulled her car into the garage. When I asked her for directions, Marie not only helped me with directions, she invited me into her home and Xeroxed a copy of a better map for me. Now really, would that happen in the States?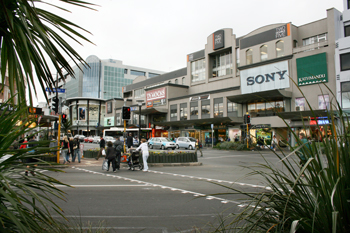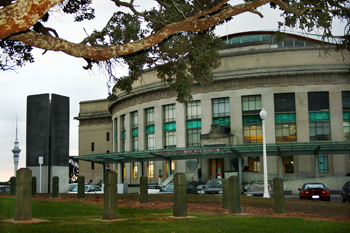 I followed Marie's directions, taking narrow paths between hedgerows and ramps over railroad tracks, eventually reaching the commercial area of Newmarket. I strolled down Broadway Street with its department stores, restaurants, and theaters. Where Broadway merged with Parnell I detoured left and headed into Auckland Domain, the city's oldest park and one of its largest. The park has been developed around the cone of an extinct volcano. Standing atop the Domain's highest point is the Auckland War Memorial Museum, which looks out over a downtown skyline that is dominated by the Sky Tower. Again I was reminded of Seattle with its Space Needle, although Auckland's Sky Tower is a casino in addition to an observation tower – not to mention the fact that they bungee jump off the darn thing. I hung around the Domain long enough to capture these photos of the downtown skyline in the glow of the setting sun.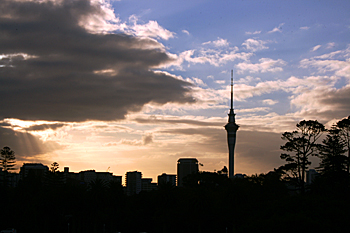 By this time I was starving, so I started to look for a restaurant. There was nothing much available in the way of vegetarian fare, so I opted for a Thai/Malaysian restaurant where, to my delight, the menu listed Gado Gado, a dish I loved in Bali. But now came my second shock – sticker shock. Dinner was $18 in New Zealand dollars, or about $13 US. I've been paying $3 and $4 US for my meals in SE Asia for the past two months. Heck, for the price of that meal I could get a two-hour massage in Thailand. Thankfully, the food was excellent, which made the price a bit less painful.
Sticker shock and temperature shock aside, so far New Zealand is a lovely place.