Today was an up and down day of exploring. I began with a ride on the ski gondola that climbs to the top of the hill behind the town of Queenstown and ended with a walk around the shores of Lake Wakatipu. The gondola is not for those who are faint of heart as it ascends steeply and fairly rapidly with minimal clearance between the gondola car and the rock face of the mountain, but the views from the top are breathtaking, as these photos will attest.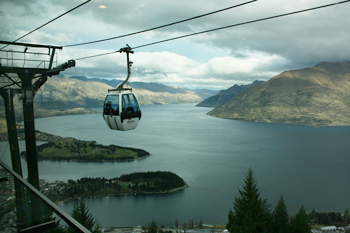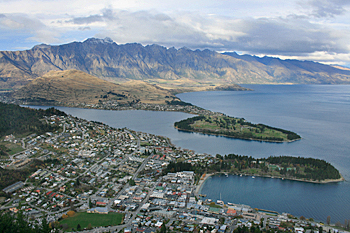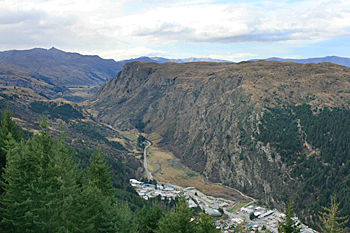 In between the gondola ride and my lakeside stroll I wandered up and down the steep streets of town in search of historical buildings, but other than a couple of old stone churches I found little else of a historical nature. Queenstown has an interesting past steeped in gold mining lore. Sadly, nearly all traces of this early history have been wiped out by modern development and redevelopment. However the town is undeniably picturesque. I was delighted by the scenery during my five-hour walk, despite struggling with ice-cold fingers, toes, and nose in this alpine weather.
Many of the best things to do in Queenstown are designed for adrenaline junkies. The surrounding Remarkable Mountains provide the perfect landscape for outdoor enthusiasts. They were formed by extreme faulting and folding of schist rock, to the extent that many of the rock faces are nearly vertical. Lake Wakatipu, New Zealand's third largest lake, is unique because it "breathes" – the water level rises and falls as much as 12 centimeters every five minutes. This movement is caused by the wind or variations in atmospheric pressure. Geologists tell us that during the last ice age, about 15,000 years ago, glaciers covered most of the region. A glacier coming down from the northwest was responsible for gouging out the bed of what is today Lake Wakatipu. Today all this geology means visitors can try out activities like jet boats rides, skydiving, bungy jumping, and long treks.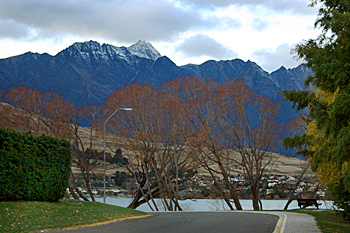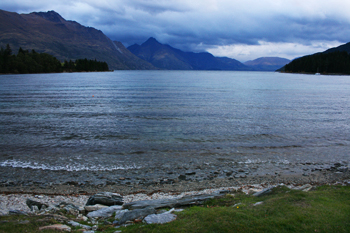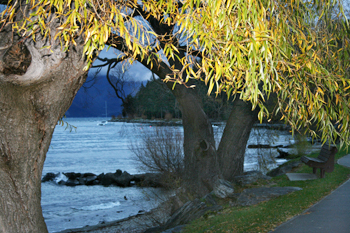 Tomorrow I visit Milford Sound in Fjordland, located on the west coast. Also a glacially carved landscape, this area of the country is reputed to have the most stunning scenery in New Zealand, including hundreds of waterfalls when it rains. It rained for a couple of hours this evening and I am crossing my fingers that it rains during the entire trip to Milford Sound tomorrow morning, with the sun emerging just as we arrive, so that the waterfalls will be at their most spectacular when we board the boat to travel the length of the Sound.