It's my last full day in Thailand and I did what any good Thai would do – I went shopping! Everyone knows that I am not much of a shopper, so it will really shock to learn that I spent eight hours at activity that I normally detest. At 11 AM my friend, Joan, and I hopped on the subway (the MRT) and headed two stops north to the IT Mall. Malls are an interesting concept in Bangkok. Everything is connected to something else, which is connected to another something else, all of which is connected to the subway and/or the Sky Train. In the case of the IT Mall, it was a tall, narrow building containing five floors of stores that specialize in everything technological. To the left of the IT Mall is the Fortune Hotel, which is accessed by walking through the Fortune Shopping Mall. To the right of the IT Mall is another mall (the name of which I never did find out). All three of these malls are interconnected and go on for blocks. Shopping here is rather like living on the Outer Banks and driving down the main highway – because all the towns run together the visitors never know whether they are in Nags Head, Kill Devil Hills, or Kitty Hawk. It took a couple of hours before I could tell which of the three malls I was in at any given moment.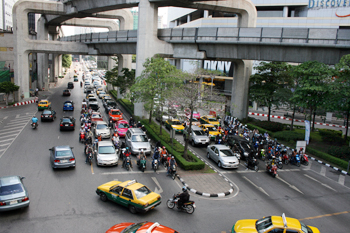 But there's more. At the far end, these three malls are connected to a Tesco Supermarket. Now, supermarkets in Bangkok are not like anything you've ever seen before. Tesco (like Big C, or any of the other major grocery chains) is a multi-story affair with escalators to transport you from floor to floor. In addition to food and sundries they carry most everything that a normal department store would carry – sort of a 'Super WalMart meets JCPenney' affair. Fortunately, we did NOT go into the Tesco. I did however, get a lot accomplished at the IT Mall. I picked up some 4 Gig flash drives for extra photo storage and an extra storage card for my camera. I've also been on the lookout for a good telephoto lens for my camera – this I'll definitely need for my African Safari – so I priced them here as well.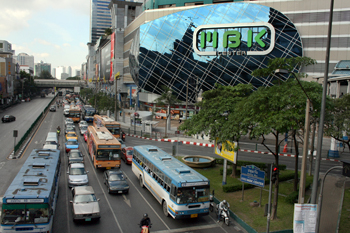 After lunch we took the subway to Asok Station and transferred to the Sky Train, headed for Siam Square, the center of Bangkok's shopping and business district. Siam Square is the main transfer station for the Sky Train, so it is a perpetual seething sea of people either headed to somewhere or coming from somewhere. Here the Sky Train operates on multi-level overhead tracks that hover over the traffic-choked city, supported by huge concrete pillars lined up like silent sentries at the street level. We shoved our passes into the automatic exit gates of the train and headed in what we thought was the correct direction for MBK – one of the largest shopping centers in the world, with seven floors of non-stop stores, food, and entertainment. We soon discovered that we'd taken the wrong exit and were headed away from MBK. No problem. Since everything is interconnected with either adjoining walls or exterior overhead sky walks, we simply made our way to the other side of Siam Square by walking through another three shopping centers – The Paragon, The Siam Discovery Center, and…I can't even remember the name of the third one.
Along the way were sights and sounds enough to keep even the most severe OCD-disabled person happy: a stunning indoor orchid show in the entryway of one of the malls; a huge outdoor basketball court flanked by two shopping centers, where an active game of pick-up BB was underway; a crowd gathered below, patiently awaiting the arrival of the Princess, who was scheduled to be at one of the shopping centers for a ceremony but was running late because she was caught in Bangkok's horrendous traffic; everywhere people, people and more people.
We finally arrived at MBK and I got my camera lens and had business cards printed up in one hour – I am now officially Barbara Weibel, Writer/Photographer. As we were leaving, we passed a McDonalds. Bangkok is very westernized and fast food has caught on with a vengeance. McDonalds, KFC, Pizza Hut and 7-Eleven are everywhere. But as with most things western they have added their gentle Thai touch to McDonalds. Here's the Thai Ronald McDonald Wai'ing to the customers at the entrance to the restaurant. So I'll join Ronald in Wai'ing goodbye to Thailand – until next time. And it's a sure thing there will be a next time. I do love it here. But for now, it's New Zealand, here I come!