Bali is soft. Bali is easy. Through the mist and rain I shoot photo after photo, convinced that if I could reach through the viewfinder of my camera to touch the terraced rice paddies they would feel like the softest down fur on a baby rabbit.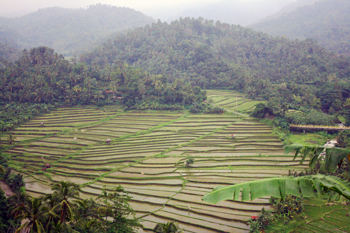 If Eskimos have over one hundred names for different kinds of ice, then Balinese surely must have hundreds of names for different shades of green. From the lime green of tender new rice shoots to the brown-green of rice ready to be harvested, every hue is represented. From the misty green of rice fields at dawn's first light to the saturated greens at sunset, every luminosity has its moment at some point during the day.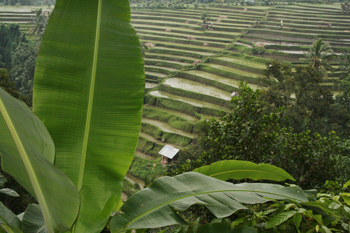 This is a beautiful island and I have only begun to investigate it. From Ubud my guide and I traveled west through small villages and medium size towns as we made our way up and over the mountains. We stopped to watch men harvest cloves from tall trees using long poles with hooks on the end and women bundling long, skinny string beans for sale at the market. I walked through one village, snapping shots of naked children frolicking in the river. I watched, incredulous, as women walked uphill and downhill while balancing 50 pound sacks of rice on their heads, without using even one hand to steady the load.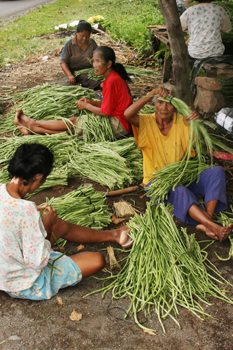 We reached the black sand beaches of the north coast late in the afternoon and are staying at the Baruna Beach Cottages, an oceanfront hotel in the town of Lovina. While the rooms are not in the best shape, the grounds are spectacular, with a turquoise pool overlooking the narrow beach, waves that gently lap the shore, and heavenly ocean views – not to mention that the price was certainly right at $24 per night, including breakfast. Few tourists venture this far afield in Bali and we practically have the place to ourselves. In fact, I believe I was the only customer for dinner this evening so I read a book and watched the sun go down over the ocean as I enjoyed my $2 meal. I ordered a traditional Balinese dish called Gado Gado but I would rename it God, Oh! God, Oh! – it was that good. A heap of vegetables sauteed in peanut sauce were topped with a layer of the fluffiest homemade tofu I have ever tasted, then topped off with a quartered, almost-hard-boiled egg. As if this pile of food wasn't enough it was accompanied by a huge scoop of steamed rice. It was a delicious and welcome change from the bland and tiresome Vietnamese fare I have been eating for the past two weeks.
Tomorrow we reverse directions and head east with plans to visit some major temples and natural hot springs as we wend our way along the northern coast. Hope fully the rain will end at some point. The law of averages says I am due for a sunny day sometime soon.