I am high up in the mountains of north-central Bali, jut outside the village of Munduk. At the moment, I am having dinner at an outdoor restaurant at Puri Lumbug Cottages, where I will spend the next two nights. The view is spectacular – massive mountains with mist clinging to their skirts and clouds kissing their peaks. But this view is only the latest in a day of spectacular sights and experiences so let me begin at the beginning.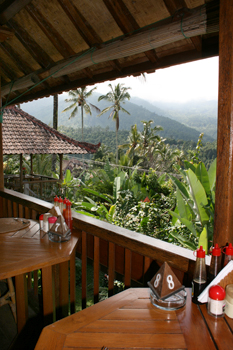 I had planned to get up early this morning and lie by the pool for a couple of hours but the day dawned gray again. Instead, I rolled out my Yoga mat and perched myself so I could see the black sand beach and glassy sea just through my hotel room window. Two and a half hours later, having worked out a boat-load of kinks and locked-up muscles, I sighed with satisfaction and headed for breakfast. This is the first time I have done any Yoga since leaving the States. I don't really know why I didn't maintain my practice while I was in Vietnam. Perhaps it was the fact that my time there was crammed full of tours or maybe it was the crazy energy of the country that put me off my practice. Whatever it was, it sure feels good to be back to my Yoga.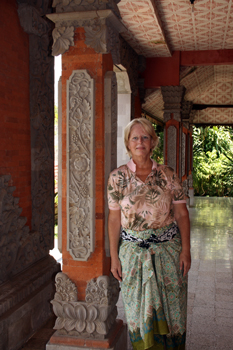 During breakfast the weather Gods smiled. The clouds parted and blessed sunshine poured down, just in time for the day's touring. Our first stop was the Brahmavihara Arama Buddhist Monastery. I donned the traditional sarong and sash required for visiting a temple and headed up to the top. I've seen lots of temples, pagoda, ruins and monasteries over the years but this one ranks among the most beautiful. It wasn't covered in gilt as in Thai temples, nor was it inlaid with ceramic designs as in Vietnam. It was actually a fairly simple collection of buildings, but they were set amidst stunning gardens and perched high on a hilltop overlooking the ocean. Every inch of this monastery was a reflection of the loving manner in which it is maintained. I slipped a donation in the box, lit two sticks of incense, and offered up a prayer for world peace and the highest good of mankind.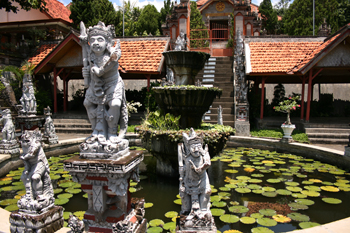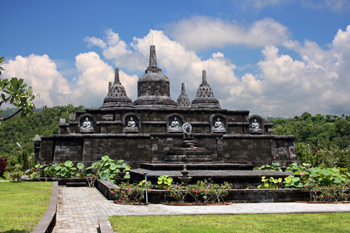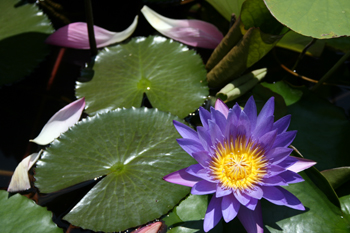 By this time it was HOT, HOT, HOT (I must be careful what I ask for; sunshine is nice but I forgot we are at the equator), so we headed for the nearby hot springs, where one can soak and swim the entire day for a paltry 35-cent admission fee. Bali is volcanic in origin and there are two active volcanoes on the island, so it is no surprise that hot, sulfur-rich waters bubble out of the ground. Due to their mineral content, these waters are thought to have restorative, healing powers and people travel from all over the island to soak in them. The springs are diverted into giant concrete baths that are terraced down the hillside. Gravity, along with a series of drains and pipes, keeps the water moving downhill. The top bath is the warmest, with each successive level being just a bit cooler, so I alternated between hot and cool baths, standing under the stream of water falling from a pipe 15 feet above my head, letting water beat down on my neck and shoulders – pure bliss!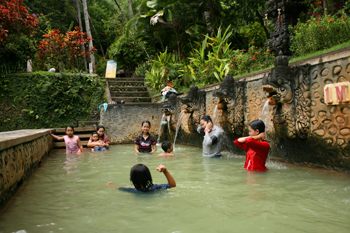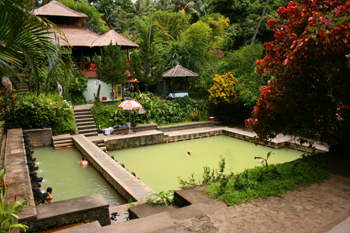 This site also has a full spa, so when I'd had my fill of soaking I arranged for a traditional Balinese massage. A word about massage here. I had a traditional Vietnamese massage while I was in Hanoi. It cost $45 for an hour and a half (Sofitel Hotel prices, so more than a bit inflated from what I could have gotten locally) and the therapist ended the massage by WALKING UP MY BACK. And I mean she started at my lower calves and walked all the way up to my shoulders. It was wonderful. This Balinese massage cost $6 for an hour, however – and I have to be honest here – it hurt like crazy! It felt like she was feeding my legs into an old-fashioned wringer washing machine. Granted, she released some muscles that were pretty tense from all the walking and the stair-climbing I have been doing, but there just has to be a better way. The hot springs, by the way, also charged 35 cents for admission for the entire day and I made the most of it, leaving just in time to escape rain that started again at 4 PM.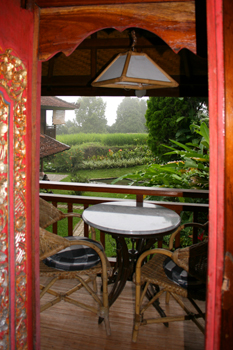 On the ride back there were more surprises. A herd of goats blocked our path on one stretch of the road and, a bit further on, a farmer, complete with tall wooden staff, herded a huge flock of geese down the road. They wound back and forth along the road, snakelike, at the last moment splitting into two groups as they streamed past the car. I just wasn't quick enough with the camera for this one! At 5 PM my guide, Wayan, pulled into this hotel. My room is a traditional Balinese cottage on stilts, with the bathroom on the first floor and the bedroom upstairs. The walls are all woven rattan, studded round with wooden shutters that I threw open in order to appreciate the lush grounds and jungle sounds. Cost of the room? $27 per night.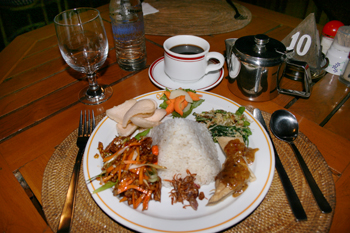 Now, well rested and blissfully happy, my only need is food. The vegetarian plate I ordered has just been set down in front of me and it is almost too pretty to eat. Almost! I attack it with gusto while enjoying a live performance of traditional Balinese music being played on bamboo pipes. The tune he is playing sounds strangely familiar and I suddenly realize that it is "Auld Lang Syne" – Balinese style, of course. Sometimes, it is an amazingly small world.