I'm on my way! This very moment I'm struggling between the need to eat and the need to write, so I'm juggling between the keyboard (precariously balanced on a TINY table in an airport restaurant) and a huge plate of Nachos. My fingers are greasy and so is the keyboard, but this will probably be my last chance to eat good old American junk food for a while and I am taking advantage of it.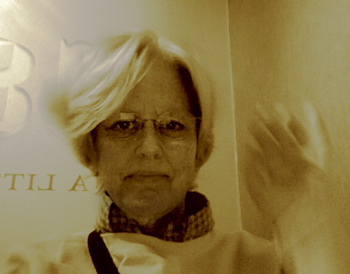 Here I am, looking exhausted, but I wanted a photo of the way I looked on the day I began this adventure, because as my friend, Leah, said yesterday, I'll come back changed:
Seems only too fitting that I am sitting in a North Carolina airport – Charlotte to be specific – since the only reason I am able to take this trip is that North Carolina was so good to me over the past eleven years of living and working on the Outer Banks. North Carolina really is an enigma. On the coast the Outer Banks has become a playground for the wealthy while in the western Smoky Mountains one can still find the quintessential Appalachia of moonshine stills, outhouses and abject poverty. In the rest of the country public buildings are now smoke-free; in the Charlotte Airport people smoke in line as they wait for a table at a restaurant! (It is, after all, still a tobacco state). And while Raleigh and Charlotte have reputations as high-tech centers, there is no wireless Internet access in the Charlotte Airport. Keep on trying, North Carolina. You'll get it eventually. Or not. Whatever the outcome, I am indebted to the people and places in North Carolina that have made this dream come true for me.
I am excited beyond words and, if I am honest, just a little scared. For the past few months, I have been deeply engrossed in planning for round-the-world travel. I've been up 'til 2 or 3 AM every morning, searching the computer for information and putting in place the myriad arrangements that were necessary in order to leave for six months. As one of my prior real estate colleagues asked in a recent email, "Who pays your bills while you are gone?" It took a lot of planning: powers of attorney for my lawyer and accountant, finding and buying a Medical Evacuation insurance policy, arranging for all my monthly bills to either be automatically drafted from my checking account or paid online, researching and paying for those portions of the trip that had to be pre-arranged (like the Safaris in Africa), figuring out where I can access ATM's on my travels to pull out cash, notifying a slew of people that I will be out of the country, etc, etc, etc. I think I am well prepared. At least I thought so, until last night, when I reviewed my detailed itinerary and realized that I ONLY have made 6 reservations for the entire six months at this point (2 Safaris, a trip on the New Zealand TranzAlpine Express Railway, and a total of eight nights at three hotels). As for the rest of the trip, I know the countries I will be visiting and, in most cases, the cities, but the rest will have to be figured out on the fly (pun intended). I often travel this way, leaving big blocks of time unplanned in order to take advantage of opportunities that pop up along the way. I've had some spectacular experiences this way. But six months of unstructured, on-the-fly travel is just a bit intimidating. In the end, as one of my friends is fond of saying, you do everything you can and then you just have to let it happen.
The other piece of advice that was given to me just yesterday came from a good friend, GW Meadows. He reminded me to stay in the moment and not worry about tomorrow or I'll miss what is happening right this instant! I know this, but it was good to be reminded. I will try to let this be my mantra. So, bye for now, I have to catch a plane to LA. More tomorrow.