I'm in love with train travel. I never miss an opportunity to ride the rails. During my many years as a travel writer and photographer, I've been blessed to take some of the world's most spectacular train rides. I rode the El Chepe train through Mexico's Copper Canyon, enjoyed magnificent scenery on the TranzAlpine Express route between Christchurch and Greymouth on New Zealand's South Island, took the train from Cusco, Peru, to Machu Picchu, and rode the Bernina Express train over the Swiss Alps.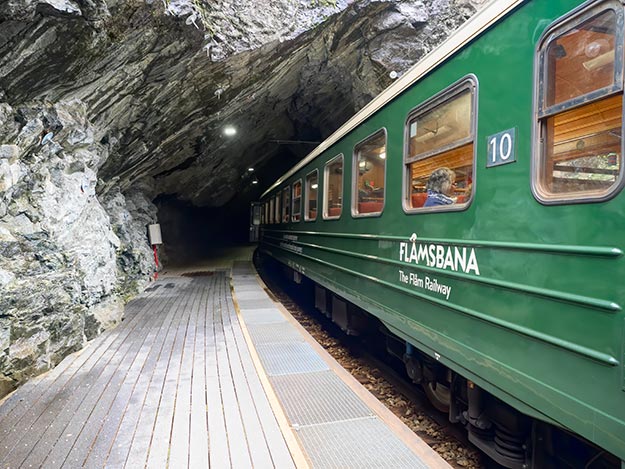 In Norway, I added another great train ride to my quiver, the Flam Railway. Construction of this line began in 1924 and was a major challenge for railroad engineers of the day. It is one of the steepest standard gauge railway lines in the world, with 80% of the journey running on a gradient of 5.5%. Engineers decided to focus on tunnels rather than bridges due to the risk of avalanches in the narrow valleys through which the train would travel. By the time it was opened in 1940, the route of the Flam Railway traversed 20 tunnels and one bridge. Construction of the tunnels was so difficult that 18 of then had to be excavated by hand, with each meter requiring a full month of labor from railroad crews!
The result is a breathtaking journey through a verdant landscape, where waterfalls cut deep ravines into mountainsides as they tumble to the valley floor. In some spots, jagged, rocky walls encase the train like a crypt. In other places, swift rivers have carved wider valleys, rewarding passengers with views over idyllic mountain farms with their traditional red barns.
From May through September, there are nine or ten departures in each direction per day. During the rest of the year there are four departures per day. Though I've ridden the Flam Railway in the summer, I can only imagine how stunning it must be in the depths of winter, with precipitous snow-capped mountains looming over the rails. That means one thing – I will have to come back during the winter. And next time I'll ride the rails all the way from Oslo to Bergen.
Author's note: I was a guest of Collette during my Spectacular Scandinavia tour. However, the receipt and acceptance of complimentary items or services will never influence the content, topics, or posts in this blog. I write the truth, the whole truth, and nothing but the truth.