I vividly remember the first time I heard about Copper Canyon. I was working in a chemical plant in east central Illinois and my boss casually mentioned that he had taken the train through Barrancas del Cobre. He described visiting reclusive Tarahumara Indians, the remoteness of the canyon, and its profound beauty. Something clicked. I filed it away as another of my "must visit someday" destinations. So, when I decided to spend a couple of months backpacking around Mexico, seeing Copper Canyon was my highest priority.
Visitors to Copper Canyon ride the train known as "El Chepe," officially the Chihuahua-Pacifico Railroad, which makes a daily run between the cities of Los Mochis and Chihuahua, traversing the canyon along the way. Although the thirteen-hour ride can be made in either direction, it is best done from west to east in order to see the most stunning scenery during daylight hours. I opted for this route and modified it even further; I took a bus from uninteresting Los Mochis to El Fuerte (2 hours for 120 pesos/~$10 USD), and caught the train from there. Not only is El Fuerte a gorgeous town worthy of a two or three day stay, departing from there allowed me to board the train at 9 a.m. rather than 6 a.m.
Chal Gamez, owner of the lovely Rio Vista Hotel in El Fuerte (600 pesos/ $50 USD per night) drove me to the station on the morning of my departure, no extra charge, and the train arrived right on time. I quickly grabbed a seat on the right-hand side for the best scenic views (left-hand if traveling east to west), although for most of the journey I was hanging out the open windows between cars, snapping photos.
El Chepe chugged out of the station and rapidly picked up speed on the bramble choked plains, where the only interesting scenery was the occasional extinct volcanic cinder cone hunkering on the horizon. As we began to climb, the clackety clack of the wheels ratcheted up and the swaying cars made drunken sailors of anyone attempting to walk down the aisle. Almost without warning, we were in the Sierra Madres, surrounded by jagged peaks, mountainsides carpeted with pink and yellow blooming trees, emerald lakes, and sheer canyons as we passed through 89 tunnels and over scores of high bridges. The scenery between El Fuerte and Bahuichivo is the most impressive part of the ride, and I ran back and forth between the left and right sides of the train, frantically trying to drink it all in.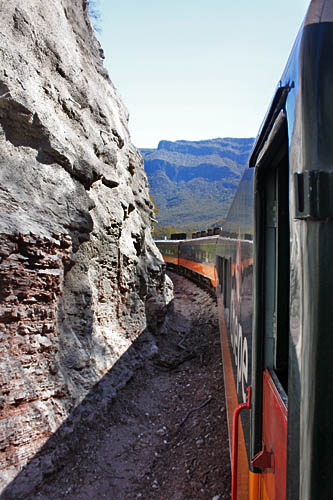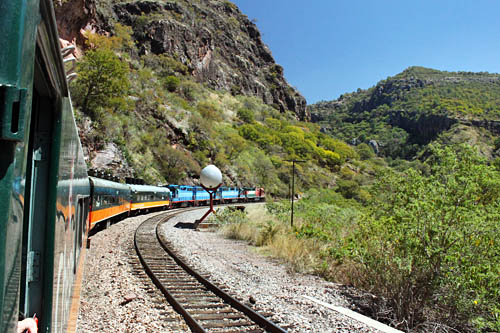 I even managed to shoot some video footage:
See more of the El Chepe journey by clicking each thumbnails below:
While most passengers are content to experience Copper Canyon from the windows of El Chepe, I wanted to backpack into the bowels of this deepest canyon in all of North America. I disembarked in Bahuichivo and looked around for the bus that would take me to the tiny village of Urique, located at the very bottom of the Copper Canyon complex, but the only vehicles waiting were vans bound for one of the few hotels in the area.
One man approached me hopefully. "Cabanas San isidro Lodge?" he asked hopefully. "No, me voy a Urique, pero no veo el autobus." No, I'm going to Urique, but I don't see the bus. We were in the same boat, my bus hadn't shown up and his guests had stood him up. Dejectedly, he explained that the bus to Urique would not arrive for another three hours, when the train coming from the other direction arrived. He brightened for a moment. "Tiene reservacion?" Do you have a reservation? When I answered affirmatively his face dropped again, but only until I inquired if there was a good restaurant in the village where I could wait. "Si. Venga." Yes, come. Since he also had to wait for the second train, we could eat together.
I clambered into the van with Mario and his niece and we headed up the steep hill into Bahuichivo, where he parked in front of a single story adobe building painted iridescent pink, inside and out. Halfway through a delicious lunch of tortillas, chips and salsa, refried beans, salad, and a heaping mound of sauteed shrimp, I told Mario that I am a travel writer. He mulled this information over for a few moments and then announced the new plan. We would go together to meet the second train,  where he would arrange for the Urique bus driver to pick me up on the highway near his lodge. That way, I could see his hotel, in case I wanted to write about it. I had no idea where his lodge was, where I was going, or whether the bus driver would really show up as promised but I thought, what the heck, and before long we were headed up into pine forests on the canyon rim above Urique.
To be continued….