I cannot cook. More accurately, I don't cook. As a full-time traveler with no home, cooking skills are rarely necessary. However, with my nine year anniversary of being on the road fast approaching, I've been toying with the idea of settling down again, of renting an apartment somewhere in Europe or Asia where I could take a break between extended trips. A place where I could cook a meal instead of eating in restaurants every night. So when Flavours Holidays invited me to experience one of their custom cooking, painting, or Pilates holidays in Italy, I chose cooking in Puglia, the southern region of Italy otherwise known as the "heel of the boot."
I wasn't quite sure what I was getting myself into. Cooking, you see, has always been a chore for me. Not only do I find prepping food to be tedious, I seem to be incapable of following a recipe. Recently, a friend who has attended cooking school suggested I try my hand at soups, as they all start with a simple stock made from celery, onions, and carrots. Last December, during my annual holiday visit with family, I took his advice. Five hours after chopping the first onion I ladled out a surprisingly edible bowl of split pea soup.
Encouraged, a few days later I attempted butternut squash soup. My online search for a recipe turned up nary a one that called for a stock made with onions, celery, and carrots. In my infinite wisdom, I assumed all the recipes were wrong and made the stock as before. Into it I tossed smallish chunks of the squash and set it to simmer. Eight hours later, the squash had finally reduced enough resemble soup, but it tasted truly horrible. I threw it down the disposal and gave up.
Thus it was with some trepidation that I stepped into the kitchen that first day with Chef Antonio, a stubble-bearded bear of a man with an easy smile and a spiked white crew cut. In Italian, he explained that we would be preparing dishes based on local ingredients including pasta, fresh seafood, risotto, homemade cheeses, and a variety of fresh fruits and vegetables. Our hostess, Annachiara, translated as Chef tossed out assignments. Handing me three large purple eggplants, he instructed me to cut them into half-inch slices for a Parmesan alla Melanzana casserole.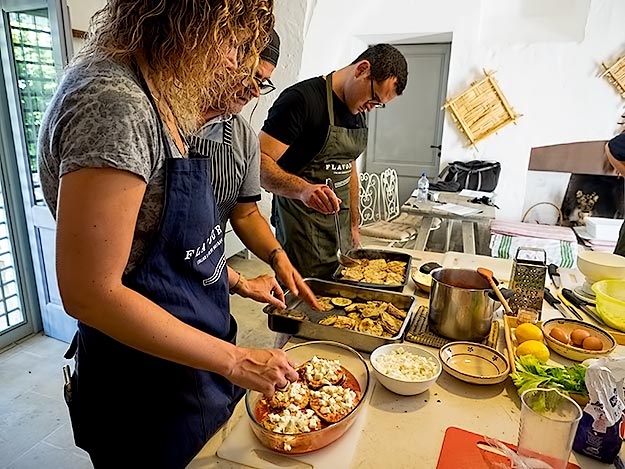 My co-participants, the ranks of which included a professional sous chef and two passionate amateur cooks, got right down to business. I, on the other hand, was already making a mess of what seemed a simple task. I'd been provided with two knives, but the one that was long enough to cut through the whole eggplant was dull as dirt (I realized why the knives were somewhat dull when, a few days later, I very nearly took a finger off), while the sharp knife was too small. I was embarrassed by my uneven slices and mortified when Chef looked over my shoulder and uttered one word: "thinner." I wanted to crawl under the table. Two hours later, Chef plated up our creation. Despite the ragged appearance of my slices, the eggplant Parmesan was delicious. A wee bit of my confidence returned.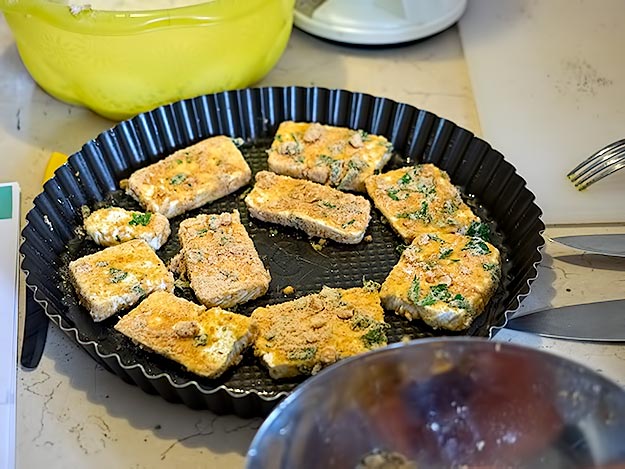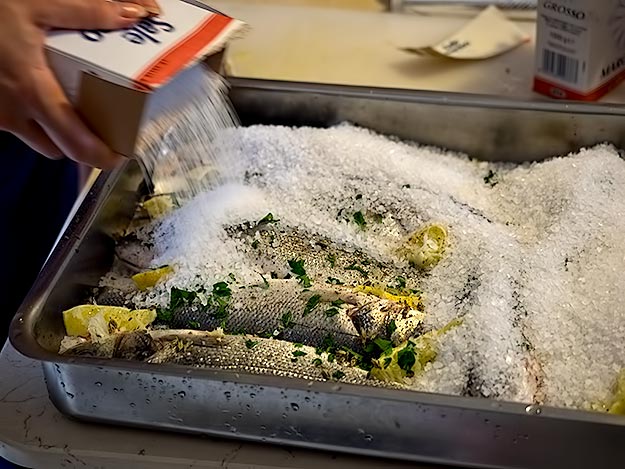 The following day I was tasked with chopping onions, one of the few things I know how to do well. Keeping the tip of the knife on the table surface, I reduced the onions to a heap of expertly diced cubes. "Chef Antonio wants to know if you are a chef," Annachiara said. "He is impressed with your chopping skills." The following day I was promoted from chopping to sautéing and managed not to burn a single thing. As the week progressed, I learned a few tricks and I began to realize that recipes don't need to be complicated to be delicious. Gradually, I stopped thinking about cooking as a monumental chore and actually began to look forward to our time in the kitchen each day.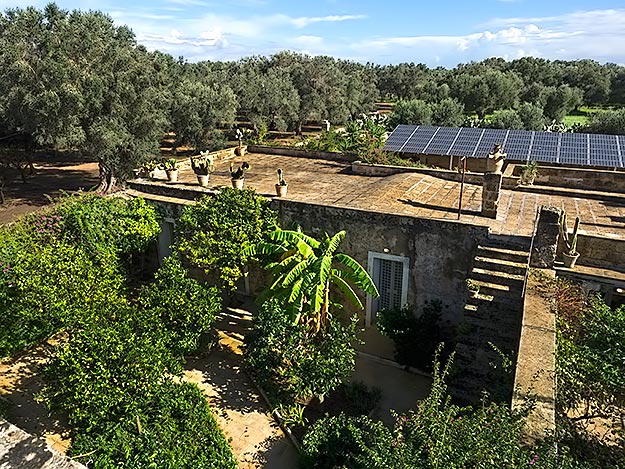 Between classes I explored our venue, Casino Pisanelli, a 17th century hunting lodge that has been completely renovated to offer up luxurious accommodations within its thick stone walls. Each morning, I carried my mat up to the sun-drenched rooftop patio for an hour of Yoga, breathing and meditation. Stress rolled off me like waves retreating from the beach.
While my room was beautifully appointed with a heavenly king size bed, it was the grounds of the villa that took my breath away. Plump pink and purple grapes hung heavy from arbors and flowers bloomed in riotous colors. Orange, pomegranate, and persimmon trees offered up ripe fruit for breakfast. Had it been summer I undoubtedly would have made use of the enormous pool, but with daytime temperatures hovering in the low 70's, I was content to recline in the chaises and soak up some of southern Italy's crystalline sunshine.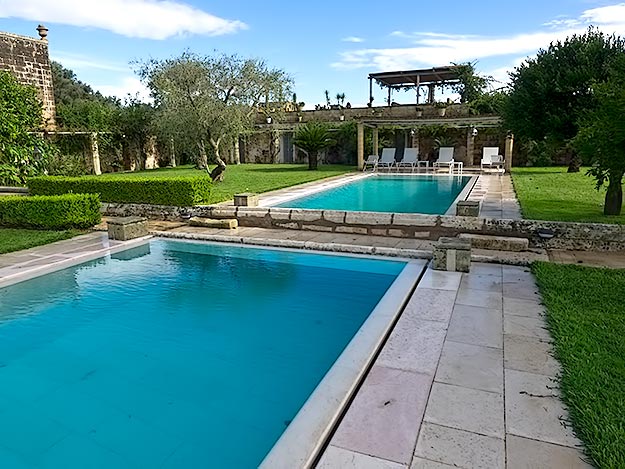 Casino Pisanelli even came complete with a tabby cat who conveniently showed up at mealtime, begging as much for a head scratch as for food. Our feline friend knew there was no lack of food. In fact, my only criticism of the cooking holiday is that three huge meals a day, many of which included five courses, was just too much food. By the end of the week, clothes that had been hanging off me were noticeably snug.
The highlight of my week was learning to make pasta from scratch. Our first recipe used zero-zero flour, which is milled so finely that it resembles powdered sugar. Chef poured a mound onto each of our wooden pastry boards and instructed us to dig a well in the middle, pour in a little salt, and crack an egg into the hole. With our hands, we kneaded the dough until it turned silky smooth and rolled it out thinly. Once the ragged ends were trimmed off, we cut the pasta into four-inch squares, which were set aside to dry for an hour while we prepared the fixings for what would become a delicious lasagna.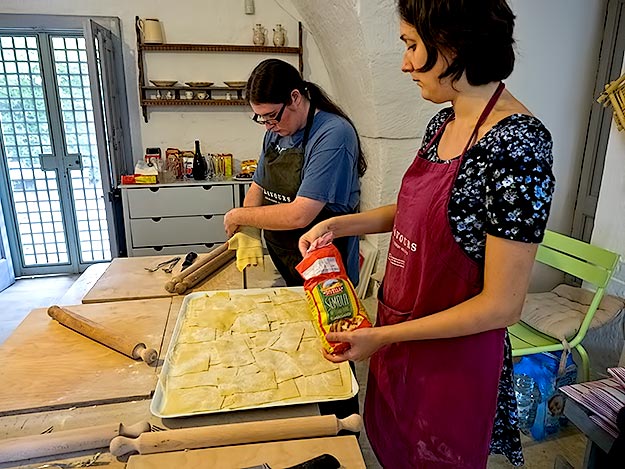 Two days later we repeated the process using only Semolina flour, salt and water. This time our dough was rolled into long cylinders the thickness of a finger and cut into small pieces that resembled tiny pillows. Half of them I flattened with a serrated knife and rolled backward over my thumb to form a little "cap." For the remainder, I pressed a thin metal wire into the center of the pillow and, using the fleshy part of my palm, rolled the dough into a tiny cylinder around the wire. Chef stuck his nose over my shoulder, examined my pasta tubes, and once again uttered a single word. "Perfetto!"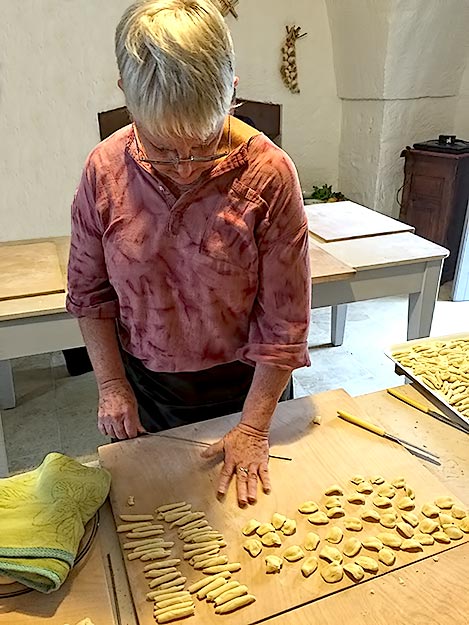 I walked on air the rest of the afternoon, thinking that if I ever get tired of travel writing, I can move to Italy and earn a living making fresh pasta. My enthusiasm lasted until the end of the week, when I transferred to the town of Bari for my flight the following day. In the historic center of the city, where tall stone buildings cast deep shadows over the narrow lanes, a dozen women sit at tables, making pasta as they gossip. Their practiced hands move at lightning speed, rolling out the dough, cutting the pillows, and forming their trademark shapes, without once looking down. I would be minus a finger or two if I attempted it.
It's probably best if I stick to writing and photography as a career path, but after my week long Flavours Holidays cooking holiday in Puglia, Italy, I'm confident that I can prepare a homemade dish the next time I'm invited to a party, rather than bringing potato salad from the deli. And believe me, that's a huge accomplishment for this kitchen-phobe.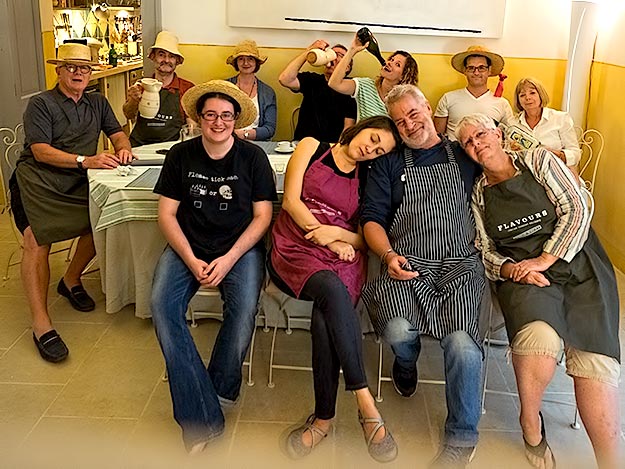 Note: I was a guest of Flavours Holidays during my week long cooking holiday in Puglia, Italy, however, the receipt and acceptance of complimentary items or services will never influence the content, topics, or posts in this blog. I write the truth, the whole truth, and nothing but the truth.