Honey cakes. Even the name sounded delicious! I first encountered these traditional Hungarian treats during a visit to Hortobagy National Park in far Eastern Hungary. They lined a table in the tiny museum displaying local arts and crafts, enticing me with their adorable shapes: hearts, maidens in traditional dresses, chickens, pigs, horses, curved knives with intricately carved handles, and giant spheres trimmed in satin ribbon. They looked so delicious I couldn't resist.
I peeled away the clear cellophane of the heart I'd purchased and bit down. The dough had been baked to a rock. I tried again and managed to break off a corner, then chewed, and chewed, and chewed some more. It wasn't the delicacy I had imagined. After a couple of bites, I gave up.
Fast forward a couple of years and I was again visiting Debrecen, one of my favorite Hungarian towns. My friend, Nora Erdei, who works at the Debrecen Tourist Bureau, asked if I would be interested in visiting the workshop of the family who makes all the honey cakes for Hungary. I jumped at the chance; I HAD to know why these tooth-breakers were so popular.
Honey cake making started early  in the 17th century and since then they have been produced in the exact same way. The only ingredients are flour, water, honey, and a few spices such as cinnamon. They are often referred to as gingerbread but they contain no ginger and to call them by this name is incorrect. Back in the early years, dough was prepared and left to "season" for months before being baked. Today, with the help of modern equipment that makes the production less laborious, the dough is mixed, rolled out, cut, and baked fresh each day.
All the day's baking had been done by the time we arrived at the home of László Radics, leaving him free to demonstrate how the honey cakes are made while his staff packaged tubes of cookies for shipment. Using his hands, he shaped a quantity of dough into a ball on his metal worktable, then rolled it into a cylinder. With a wooden rolling pin he deftly flattened it to a thickness of about a quarter-inch before cutting off a piece that was the precise size for the wooden mold he selected. When László married into the family that has always been the primary producer of honey cakes, he had no idea this would become his life's work, not to mention his passion. Now, decades and hundreds of thousands of honey cakes later, he can do it with his eyes closed.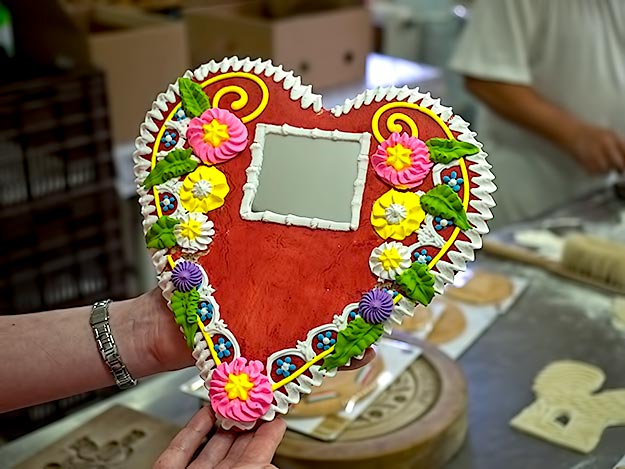 Nora picked up a large heart-shaped cake, frosted in red and decorated with flowers and swirls of multi-colored frosting, explaining that these are given as gifts on Valentine's Day and other special occasions. There are many stories about the significance of the mirror embedded in the center, but László's told us his favorite. One day a smitten young man wanted to let his sweetheart know he loved her, but he was too bashful to tell her. He ordered a honey cake with a mirror in the center and, upon handing it to her, told her that when she looked into the mirror she would see the person who had captivated his heart.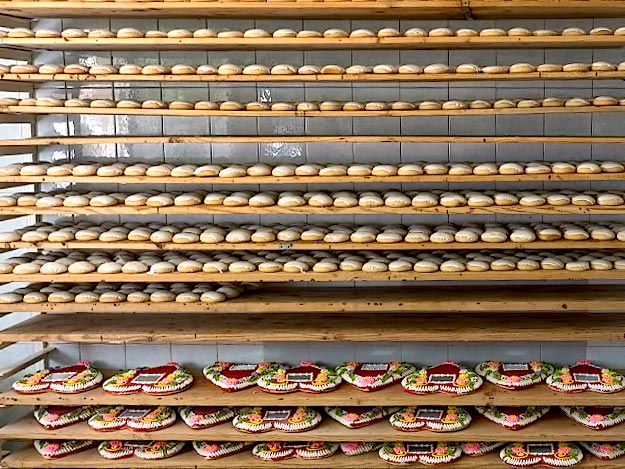 The cookies meant for gifting are baked to a hardness that allows them to be kept for many years as mementos. They are not meant to be eaten! I laughed and told Nora about my experience with honey cakes in Hortobagy. When she related the story to László, he smiled and handed me a bag full of small, round, soft honey cakes that are meant to be eaten.