I am on a rickety train, inching my way to Debrecen from the tiny village of Panyola in eastern Hungary. We are picking up speed now – making headway at perhaps 20 miles per hour. The 60 mile journey will take nearly three hours, with stops at every small town along the way. But I don't mind; I have all the time in the world. Slow travel allows me to soak in the landscape.
I spy on backyards with enormous vegetable gardens and farm fields planted with chest-high corn and golden wheat, rippling in the breeze like a giant inland sea. The train spooks a pheasant, elegant in his turquoise cravat, who flees into a field of golden sunflowers. Hungary is the world's leading producer of sunflower seeds and oil, and Szatmar county, where I have been been lounging for the past ten days, is its epicenter. In this achingly flat landscape, where rivers undulate toward the Ukrainian border, I have recovered my sanity and some of my physical strength.
The past 18 months were difficult for me. It was a blessing that my nomadic lifestyle allowed me to return to the United States to care for my father when he was terminally ill. Never a demonstrative man, Dad called me his angel in those final months and told me how much he loved me. The memory still brings tears to my eyes. I will be forever grateful for that time with him.
Despite the love between us, Dad and I rarely saw eye-to-eye on much of anything. Whenever he was forced to deal with people who spoke with accents, which he found impossible to understand, he complained bitterly, "Why can't I just speak to an American." He cared nothing about the environment, and called me a tree-hugging goody two-shoes. "Why do you care?" he would sneer when I railed about the plight of those sold into slavery or prostitution. It was hard to shield from his negativity, especially toward the end, when I couldn't even leave him alone for an hour.
There were times when I thought I simply couldn't go on, when I thought I would not be able to keep my promise that he would die at home rather than in a nursing home or hospital. But each time I thought about making other arrangements, something happened to keep me going. Sometimes it was the dreaded "thunk" – the sound of a human body hitting the floor – that sent me rushing to his side to staunch the flow of blood from his forearm, cheek, or skull. Though he could barely walk, pride kept him from using a walker. I had been advised not to try to pick him up by myself, but I did, injuring my shoulder so badly that I still wake up in pain some mornings. Another time, I called my sister, Nancy, in the middle of the night when Dad suffered a series of Grand Mal seizures caused by the scar tissue in his brain from an earlier stroke. While we anxiously awaited the arrival of the ambulance, she crawled into bed and wrapped her arms around Dad, while I made sure he didn't bite off his tongue.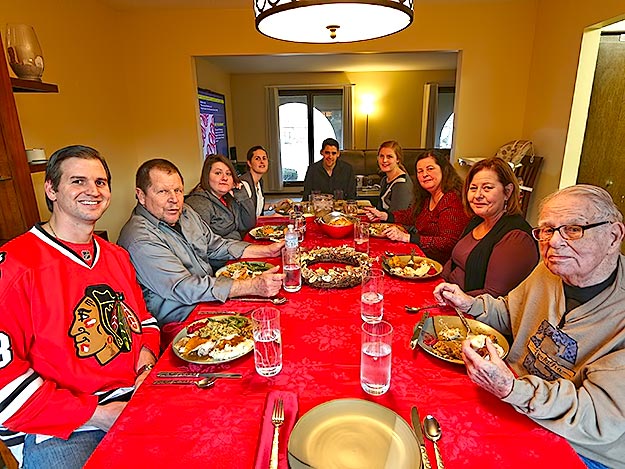 We all knew that this past Christmas would be his last. He was weak and I was not sure he was up to the 1.5 hour drive to my niece's house, but he showered and dressed and dove into dinner like a starving man. Afterward, he stood in the kitchen, a shrunken shadow of his former self, and told us how much he loved us, how proud he was of us all. And therein lay the true goodness of my father. He may not have cared about the environment or the plight of immigrants, but he loved his family fiercely.
One of my greatest regrets is that my father never traveled with me. He never quite understood what I do for a living, or even believed that I had a "real" job, but that didn't stop him from following me around the world via my blog. He read every one of my stories at least twice and often returned much later to read the comments readers left. As I ride this clickety-clack train to Debrecen, I wonder if he is watching over me. I wonder if he is sitting next to me, looking out the window at every village we pass. Somehow I think he is, and that is a comfort to me, but I miss him so much.