Well, another Christmas has come and gone. I think this was the best one ever. It's the morning after and I'm sitting at the kitchen table with my 81 year old father and his new iPod. There was some anxiety in the family over whether or not Dad would accept the iPod; he can be resistant to new technology (can't we all). But he has taken to this like a fish out of water; says he'll never again be without his iPod. He's just begun to figure out all the ways he can use it.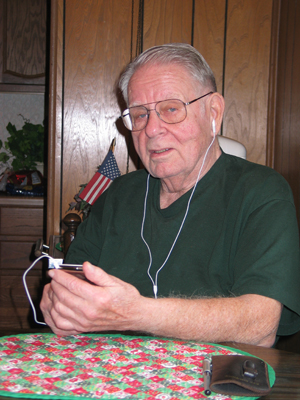 His first thought was that it would be great on his walks. Then he figured out it would be great on his pontoon boat. Dad lives on the Kankakee River in Illinois and in the summer he takes the boat out almost every day. Sometimes he sits out on the water until late in the evening, just drifting along and fishing; he says the only thing the boat is missing is music and now that problem is solved. I think I've even convinced him that he should get a Transpod for the car.
One of my favorite things to do is to get Dad talking about the past. Normally that's hard to do, but for some reason the iPod got him going. First he was aggravated:
"How long have these iPods been around?" he asked.
"I don't know, maybe four or five years. Why?" I said.
"I'm gonna have to start keeping up on all this new technology stuff. Just think about it. I've missed out all this time. I like this iPod so much that if I lost or it broke tomorrow, I'd go right out and get anther one. This thing is fabulous."
That led to Christmas memories about technology in other eras:
"You know, I gave my mother a CB radio as a gift one Christmas and showed her how to work it and told her she could listen to the truckers talk to one another. She put that radio right next to her bed and listened every night. It wasn't long before she discovered there was a big truck stop not too far from the house and she could listen in on the truckers' conversations about the prostitutes at that truck stop. Got so she knew the names of all the prostitutes. Then one day she did something to the radio and she couldn't tune in on the truckers any more. She was on the phone to me within minutes, demanding I come over and fix it."
Ah, amazing technology! It paints my grandmother in an entirely different light. There's so much we don't know about our parents and grandparents: the lives they led, the way they felt about things, the risks they took and the foolish things they did. I treasure every kernel of information I am able to pry out of my father.
Love you Dad.
Hope everyone had an amazing Christmas.