Turning my back on the tiny settlement, I walked into brittle yellow grasslands that swept to the horizon. An occasional cluster of trees broke the otherwise unrelieved flatness of the endless Puszta, the Great Hungarian Plain. The sound of vendors hawking fur hats and cracking leather whips gradually faded and was replaced by songs of some of  the 340 species of birds that inhabit Hortobágy National Park. Off to my right, burbling water rushing beneath the historic Nine-Arched Bridge over the Tisza River.
Nora Erdei, my host at the Debrecen Tourism had suggested this side trip as part of my visit to the intriguing town of Debrecen. Perhaps I was a bit too enthusiastic, for just prior to boarding the bus she remarked, "I hope you don't expect too much. It's just a huge plain."
She couldn't have realized that too many big cities, filled with too many tourists, had left me exhausted. I closed my eyes, breathed in the sweet fragrance of dank earth mingled with manure and wildflowers. I spread my arms wide to embrace it, trying to burn the feeling of infinite space and serenity into my memory.
Encompassing more than 300 square miles, Hortobágy is the largest continuous natural grassland in Europe. Its alkaline steppes, meadows, and wetlands support a vast garden of salt-tolerant plants such as the Hungarian See Lavender, Rhone Aster, and Green-winged Orchid. They burst into bloom each spring in shades of violet and mingle with a sea of yellow and white Chamomile. Wet habitats that cover one-third of the park's total area are awash with evocatively named species such as the white-flowered Common Frogbit and Yellow-tailed Floating Heart, which drift on the surface of open waters.
The plain acquired its present-day configuration by the end of the Pleistocene period, when the River Tisza shifted course and cut it off from water-catchment areas to the north. Low mounds (tells) mark the sites of the earliest known human settlements, which began during the Neolithic Period (around 6000 B.C.). Taller burial mounds (up to 30 feet high), contain artifacts from nomadic groups that began to arrive in 2000 B.C. Descendants of present-day Hungarians arrived from east of the Carpathian Mountains at the end of the 9th century and occupied the lands around the Tisza River. By the 13th century, the area was being widely used for animal husbandry and settlements had sprung up across the region, but Mongol invasions soon caused the area to become depopulated.
Then, in the middle of the 16th century, a marvelous thing happened. Salt from the mines in Maramures, Transylvania (present day western Romania) began to arrive in Hungary. Transported by boats to the Tisza, the white gold passed directly through Hortobágy, fueling a new era of prosperity. The Nine-Arched Bridge, still the longest stone road bridge in Hungary, was completed in 1833 to facilitate shipping of salt and other goods that began to flow to the capital of Buda, far to the west. Scores of roadside inns (Csárdas) were built, the distance between them being the number of miles a wagon could travel in one day. Hortobágy Csarda, located at the foot of the historic bridge, is one of only a handful of original inns that survive. Today it is home to the Herdsmen Museum as well as a fine restaurant that features organic cuisine.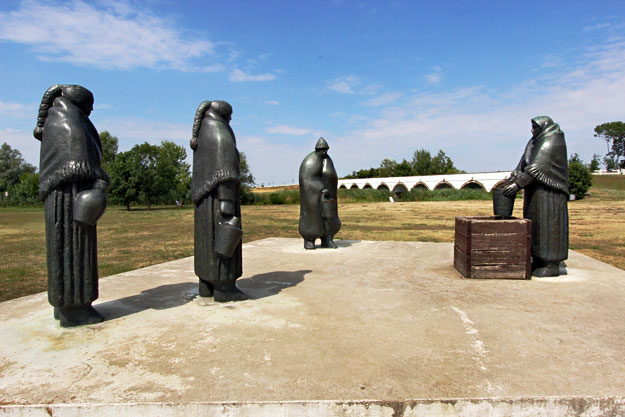 Taking advantage of this improved infrastructure, citizens of nearby Debrecen imported immense herds of Hungarian Grey Cattle; Racka sheep, with their peculiar corkscrew horns; and long-haired Mangalica pigs. They also began to develop the Nonius breed of horse, originally intended for the military but later prized for agricultural use. Hungarian Grey Cattle were used as draught animals, clothes and bags were made from their skins, buttons and combs were carved from their horns. These grey ghosts of the plain were even responsible for the famous Hungarian dish known as goulash. Herdsmen threw their meat into a large pot, tossed in whatever other ingredients were at hand, and cooked it all up together in a stew that became the mainstay of life on the steppe.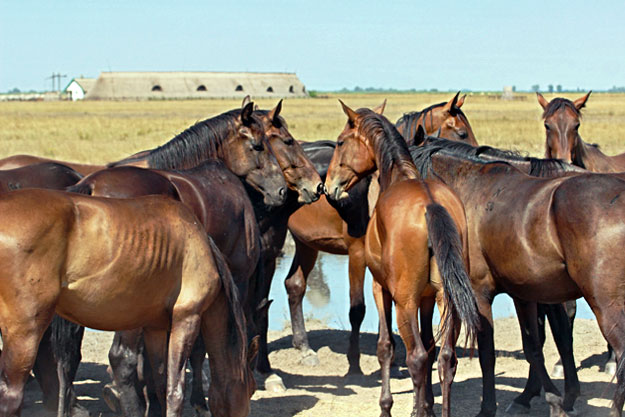 I got up close and personal with one of these giant beasts at the Hortobágy Mata Stud Farm one afternoon when I climbed into a traditional wooden carriage for a tour. Our sturdy Nonius horses took off at the crack of a whip and we jounced across the dusty plain on a rough track pretending to be a road. Some kilometers later we pulled to a stop in the middle of a vast, featureless plain, where mounted herdsmen wearing traditional dress stood around four bulls yoked to a wagon.
I climbed down from the carriage and was completely absorbed in taking photos until one of the herdsmen rode up to caution me. Lowering the camera, I turned around and found myself face-to-face with the biggest bull cow I'd ever seen. His unblinking eyeball stared at me with a crazed expression. A foot above me, his sharply pointed horns spanned five feet. With one toss of his head he could easily have impaled me. I backed away slowly, thankful for the herdsman's watchfulness.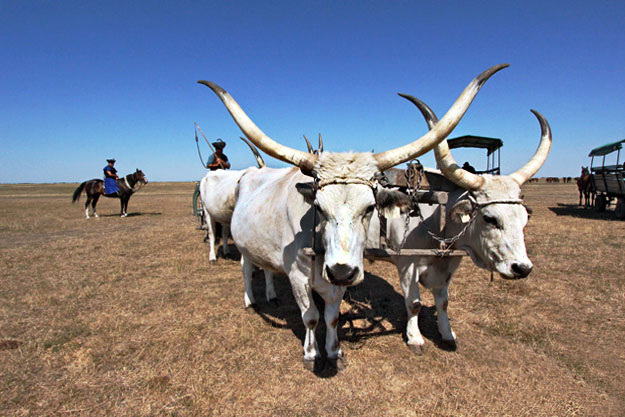 Herdsman have always been chosen with care, as the owners trusted them with their livestock in the spring and expected to get them back in the fall, fat and in ever greater numbers. There was a distinct hierarchy among them, with the chiefs of the horse and cattle herds being the most influential. Being a herdsman demanded a certain way of life. The herdsmen were expected to obey the rules without exception. They stayed out with their animals for weeks at a time, ever vigilant against attacks by wolves and thieves, against which they were expected to protect the livestock even if it cost them their lives. They smeared their shirts with hog's lard and bacon fat and wore them for an entire summer without washing as a protection against wild creatures. Fortunately, my rescuing herdsman was not smeared in pig's lard. His bright blue puffed-sleeve shirt, ankle-length blue pleated skirt, black button-down vest, and feathered hat were freshly laundered and crisply ironed.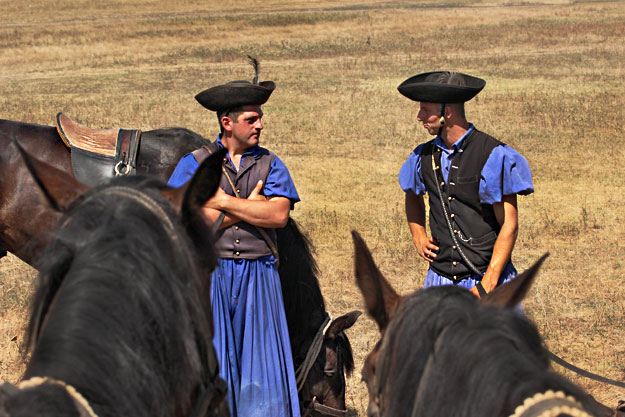 Today, more than 9,000 cattle, 50,000 sheep and 350 horses are managed by 200 shepherds in the area of the Hortobágy National Park. They have a special relationship with their animals, which I witnessed when one of them stepped right up to a big bull and stroked his horn. The look in the bull's eye was decidedly not crazed in this instance. He not only tolerated the contact, he seemed to relish it.
Outside of the cultural program, herdsmen in Hortobagy National Park no longer wear the traditional costume in everyday circumstances. However, they still prepare Hungarian goulash; sing the old songs; and make their own long ornamental whips, cowherd's stick, and clasp-knife keeper. And they retain the very practiced horseman's skills that allow them to control the herd, which they exhibited for us at the end of our tour. Mounting up, they made their steeds bow down on bended front legs, sit down, and roll on their sides while they stayed seated in the saddle. Then the horses lay down and the herdsmen stood on their flanks while flicking their whips. It was an astonishing demonstration of complete and unreserved trust between man and beast.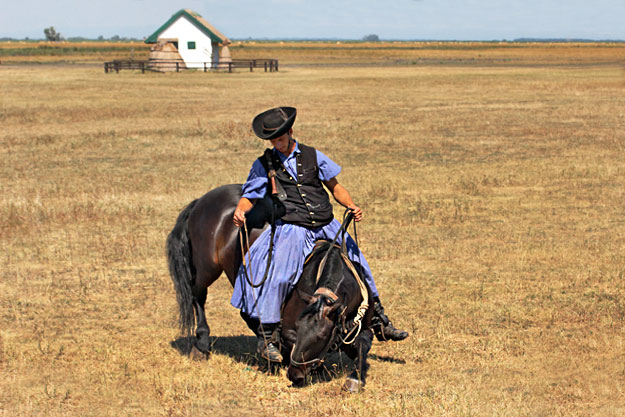 Hortobágy, Hungary's first and largest National Park, became a UNESCO World Heritage Site in 1999. In part, UNESCO's decision was based on the fact that, "The Hungarian Puszta is an exceptional surviving example of a cultural landscape constituted by a pastoral society." The culture has survived intact, however many of the indigenous animal species that once roamed freely in the Puszta have long since disappeared. Some are extinct, including the cattle-like aurochs, which had disappeared by the beginning of the 17th century. Others are rare or listed as endangered. Happily, Hortobagy Wild Animal Park allows visitors to see species that were indigenous in ancient times but are no longer present in the park. A species of cattle that historically interbred with the aurochs carries the outward appearance of the ancient aurochs, allowing us to see how they might have looked. White Pelicans, White Horses, and White Storks all have homes in the park, as do Wolves, Red Fox, Wildcats, and Vultures.
Can't view the slideshow about the Wild Animal Park in Hortobágy National Park, Hungary? Click here.
I spent an idyllic afternoon trying to spot animals in their open enclosures. While waiting patiently for them to appear I became aware of plop-splash sounds coming from the irrigation canals. Hundreds of toads of all colors were hunkered down in the muddy banks or half-submerged in the water. Their bulbous eyes peered up at me warily. From green to brown to dark grey, they mimicked their surroundings in an attempt to remain invisible. Looking between the tall green reeds I spied dragonflies with transparent wings, delicately veined in black. Bees bumbled back and forth between purple thistles and a trail of ants marched to who knows where.
Hortobágy National Park is different things to different people. It is a cultural treasure and a historical march through time. It can display an exquisite pastel palette or the blackness of a Puszta thunderstorm, rolling in across the vast emptiness. To a visitor just arrived from the clangorous city it can seem silent, yet still be filled with the sounds of insects and birds. One can focus on the immensity or squat down to examine the micro world. I cannot imagine all the variables but I do know this: I definitely wasn't expecting too much.
Where to stay in Hortobágy National Park:
Ökotúra Guesthouse and camping site kindly provided my accommodations while visiting Hortobágy National Park. My room was wonderful, with late afternoon sun that filtered through the sheer curtains and flooded it with light. The owner, Boda Mihály, spoke no English and I speak not a word of Hungarian, so we communicated in our mutual limited German and much sign language. We understood one another and had a lot of laughs along the way. As much as I liked the room, my included breakfast was phenomenal. Fresh yogurt and baked bread, with fresh cheese made by the husband of one of the guesthouse employees, homemade jam, and even fruit, along with a huge cup of steaming hot coffee. And they even sent me on my way with a bag of goodies to munch on as I toured the park. I later learned that Boda has a huge organic garden on site, from which he supplies most of the ingredients for his restaurant. The guesthouse is located a short distance from the village, located alongside the new asphalt bike trail which makes for a pleasant walk or ride beneath overhanging trees.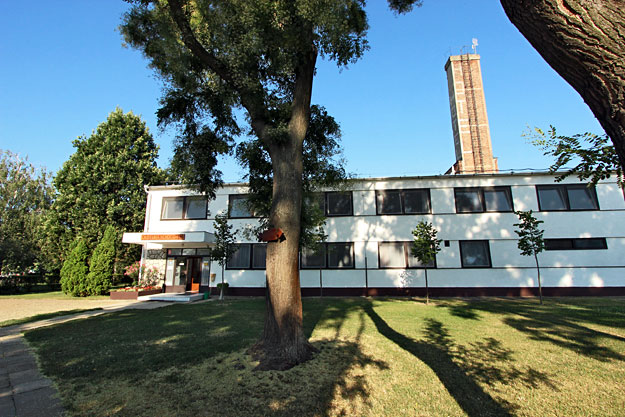 I was a guest of Debrecen Tourism during my stay in Debrecen. However, the receipt and acceptance of complimentary items or services will never influence the content, topics, or posts in this blog. I write the truth, the whole truth, and nothing but the truth.