It all started with a tweet. I shared a fellow travel blogger's story about stargazing in Florida on Twitter and Amanda at St. Mawes Retreats replied:

I didn't know anything about St. Mawes Retreats, but Cornwall was a part of the world I had been itching to visit. A year earlier I'd spent time in Dorset, where I went hunting for Ammonite fossils on the Jurrasic coast in Lyme Regis and hiked the South West Coast Path between Lulworth Cove and Durdle Door. It was a place of unexpectedly stunning beauty, with soaring white chalk cliffs swathed in thick green grass, and turquoise coves framed by heaved-up, twisted rock formations that provide evidence of the tortured geologic history of the area. Each time I mentioned the gorgeous Devon scenery to a Brit, I was told, 'If you think Devon was pretty, you must visit Cornwall.' I replied on Twitter and we began chatting back and forth.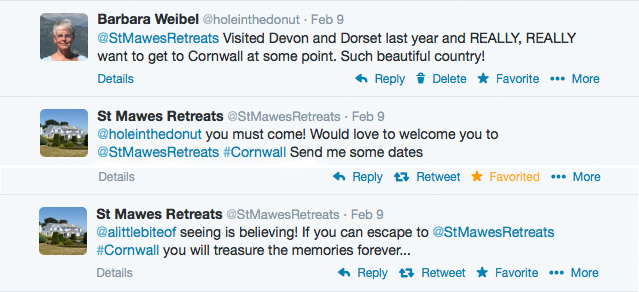 It was an easy decision. Since I would be flying back through London following my quest to see the Northern Lights in Norway, I rearranged my schedule to spend a week in the Stargazers holiday rental home in St. Mawes, a small village on the Roseland Peninsula. Flybe Airlines got me as far as Newquay and Amanda arranged for a taxi for the 45-minute ride to St. Mawes. In the pouring rain, my lead-footed driver careened through the narrow, serpentine roads. Beyond our headlights, everything was pitch black, relieved only by light pouring from the windows of occasional roadside cottages. No stargazing that night, I thought, but my damp spirits quickly vanished when we pulled into the driveway of Stargazers. Lights blazed from the picture windows and the property manager welcomed me with a broad smile, keys, and a comprehensive walk-through.
An hour later my friend, Heather Cowper, arrived from Bristol for the weekend and we were soon chatting happily in the spacious living room. Heather and her husband, Guy, had previously stayed at Stargazers. They nicknamed it the "gadget house" because it was equipped with so many amenities: a free-standing fireplace in the enormous living area; commercial grade stove and oven; thermostats with timers; giant flat-screen HD TV's with Freesat in both living rooms, each bedroom, and a small TV in the kitchen; wifi throughout the house; heated floors and a giant soaking tub in the master bathroom; even a separate mother-in-law suite with a private kitchen and sliding doors to the rear patio. We chuckled at the five remotes lying on the coffee table, trying to figure out which one to use for the myriad electronic devices in the living room alone.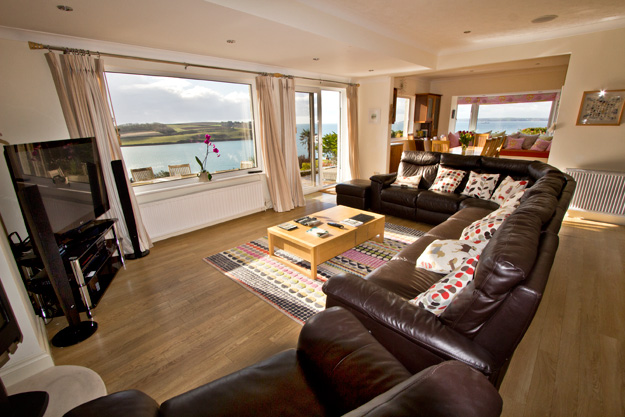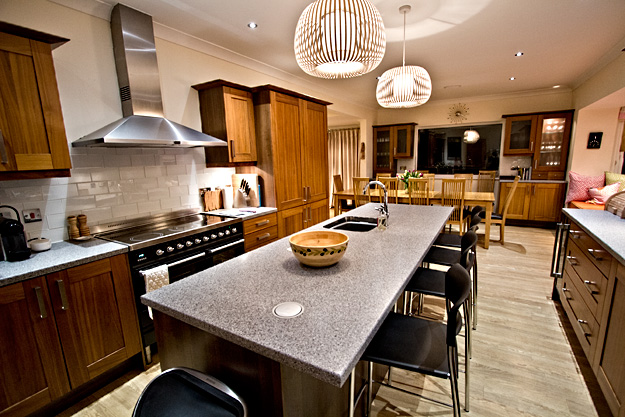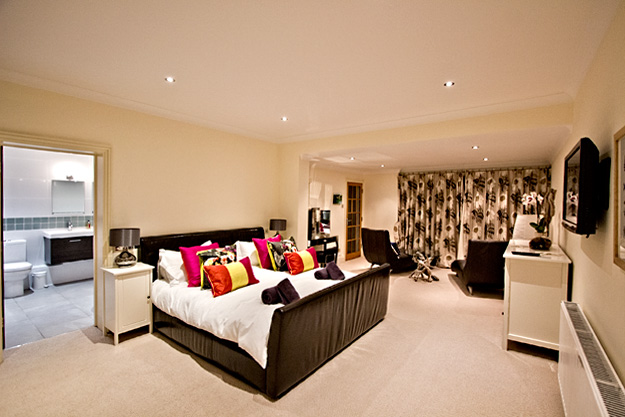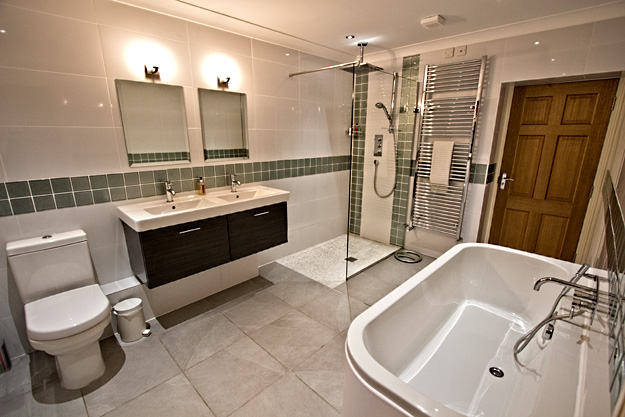 While discussing potential weekend activities, we dug into the veggie lasagne and salad that Amanda had thoughtfully arranged to be waiting for us and topped it off with generous slices of toffee-caramel cake. Heather's car was a luxury to which I was not accustomed, and for which I was thankful, as Cornwall is decidedly rural and attractions are spread far and wide. We spent the first afternoon at The Lost Gardens of Heligan, one of Cornwall's many famous public gardens, before rushing back to change for dinner with Amanda at the fabulous Michelin Star Driftwood Restaurant in nearby Portscatho.
The following morning dawned blustery but sunny. I threw open the drapes to a jaw-droppingly gorgeous view over St. Mawes Bay that was so crystal clear we could see the lighthouse across the bay at St. Anthony Head. Taking advantage of the good weather we headed for the lighthouse and hiked a couple of miles on part of the South West Coastal Path, stopping to inspect old WWII bunkers and trying to spot falcons from a stone aerie perched on the edge of a canyon.
Heather and I said our goodbyes late Sunday afternoon and Amanda stepped in, keeping me busy for the next two days with visits to three more gardens and topping it off by arranging for me to have an in-home traditional Lomi Lomi massage. The week went by so fast that I'd not yet had an opportunity to roam around the small village of St. Mawes, so on my final day I braved drizzle and grey skies and hiked down the hill to the seaside. I wandered through galleries filled with fine photography and paintings by local artists and walked a couple miles along the shore, happily munching veggie pasties from the local bakery and watching members of the Roseland Gig Club practice their competitive rowing in courses set up alongside bobbing sailboats.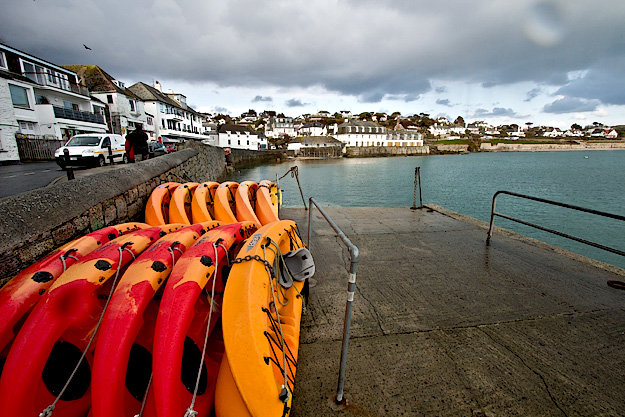 A week was simply not enough time to see everything the area had to offer. I would have loved more thoroughly investigate the charming town, had afternoon tea at one of the local hotels, taken the iconic ferry ride to Falmouth, or visited St. Mawes Castle, located just a short stroll from Stargazers. While all of that gives me good reason to return, I have an even better excuse. Believe it or not, I was so busy that I completely forgot to check out the night skies!
Author's note: St. Mawes Retreats offers five luxury self-catering holiday rental homes on the Cornish coast (Moonrakers, Stargazers, Dreamcatchers and Shellseekers in St. Mawes; Sunseekers in nearby Fowey), which can accommodate from two and 12 guests. You can choose to see the sights, as I did, however if you just want to relax and enjoy the view you need never leave the property, as Amanda can provide complete concierge service, right down to catering all meals.
Disclosure: My visit to Cornwall was hosted by St. Mawes Retreats, however, the receipt and acceptance of complimentary items or services will never influence the content, topics, or posts in this blog. I write the truth, the whole truth, and nothing but the truth.