I never know what will ignite my travel imagination. Sometimes it's an overheard comment made by a fellow wanderer. Other times I read about a city or place of great natural beauty and think, "I have to go there." In this case, it was a map that piqued my curiosity. Knowing that I like to hike and that I'm also nuts about rocks, my friend and fellow travel blogger Heather Cowper, suggested that I consider Dorset, England, also known as the Jurrassic Coast for the proliferation of fossils that can be found along its beaches. I promptly pulled it up on Google maps and began examining the southwest coast of England. Midway between Swanage and Portland, a perfectly circular cove caught my eye and I zoomed in. Just above the cove was the town of West Lulworth, gateway to hiking the South West Coastal Path, one of many incredible hikes found across England. I followed the map westward to Man O' War beach and Durdle Door. Even the names were intriguing! And that was all it took. I was hooked; I simply had to visit Lulworth Cove and hike the trail.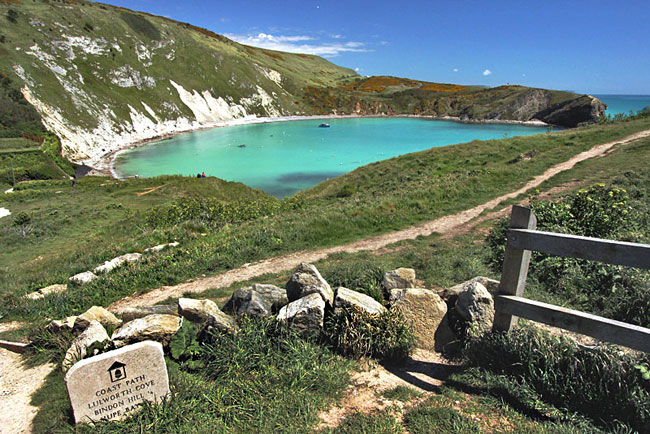 I arrived late in the afternoon on a chill, blustery day. Too excited to wait for morning, I snuggled into my crushable down jacket and headed out for my first view of the cove. Tentacles of icy air crept down the back of my neck as I trudged down the hill past ancient stone cottages with two-foot thick thatch roofs, but I would not be deterred. Tugging the zipper up to my chin, I lowered my head into the wind and plodded on. Minutes later the cove spread before me. Low grey clouds spit fat drops of icy rain, but not even the abominable weather could dampen my wonder at the perfectly circular inlet, broken only by a narrow entry at the headland, where choppy seas poured in.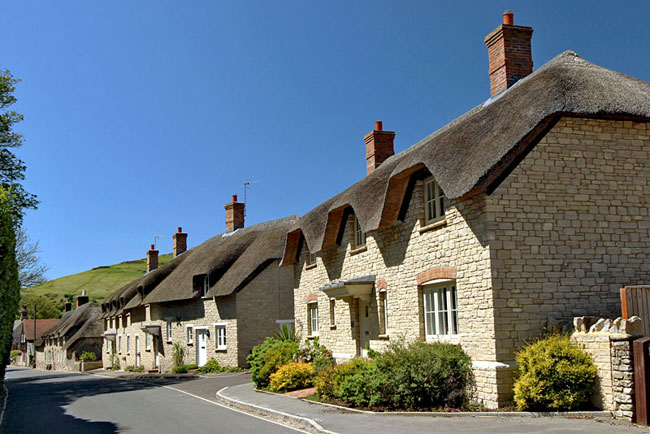 The next morning, awakened by beams of sunlight filtering through the lace curtains of my room at St. Patrick's B&B, I hurriedly dressed, wolfed down breakfast, and raced back down the hill. From gray and choppy, Lulworth Cove had been transformed into a sparkling ultramarine gem, framed by a headland of charcoal Portland limestone and white chalk bluffs, tied up with a ribbon of golden beach at the base of the cliffs.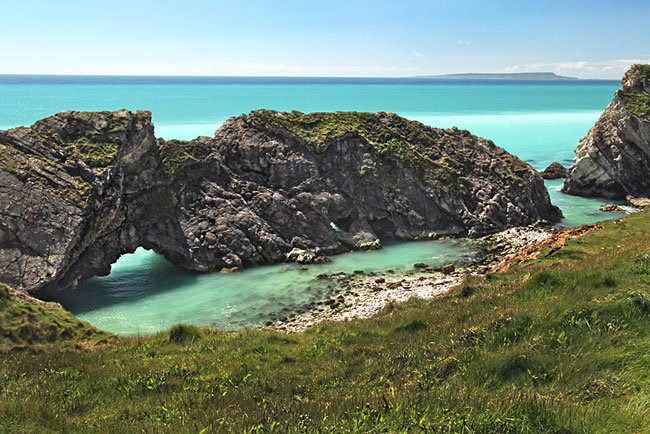 For three glorious days I explored the Lulworth Cove area, with its exquisite beaches, bays and stunning geological formations. The South West Coastal Path led past Stair Hole, with its caverns and blowhole-pocked limestone, then climbed a steep headland carpeted in lush green grass before dipping back down toward the sea. Here I stood atop a precipitous, narrow finger of limestone that points out to sea, forming a natural boundary between crescent-shaped Man O' War Cove and the long sweep of Durdle Cove that hunkers beneath startlingly white chalk cliffs. Eons of battering wind and waves have pierced the promontory, carving a giant arch in the rock near its tip and earning it the name Durdle Door.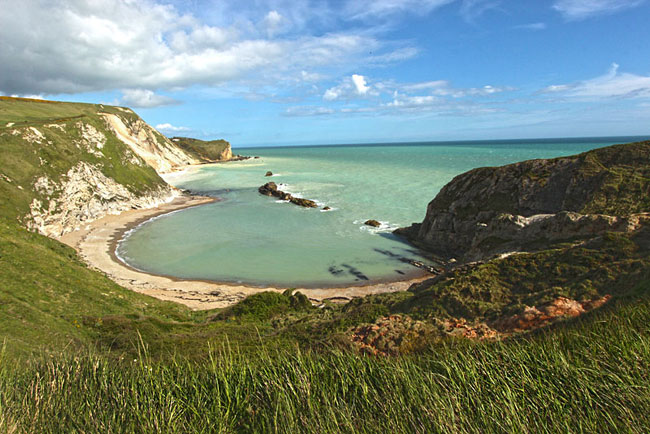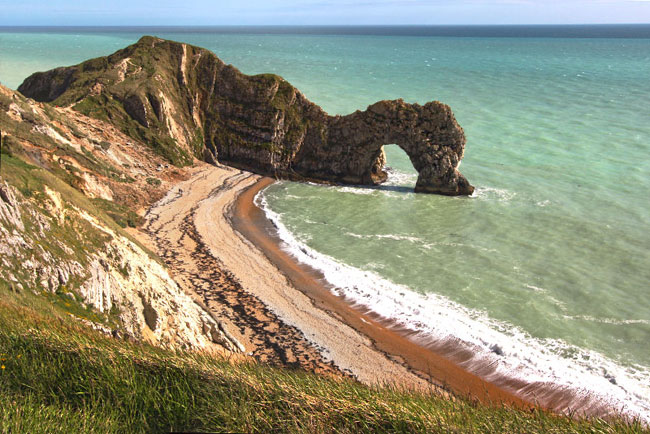 Geologists say that the forces of nature will eventually erode Durdle Door completely. I was inclined to pass that idea off as something unlikely to happen in my lifetime until I encountered a detour; less than two weeks earlier a massive chunk of cliff had slumped into the ocean, slicing through the trail. Just months before that, the steps leading down to Durdle Cove had disintegrated when erosion undermined them. Though the rock promontory appears to stand strong, conceding little to the massive power of the ocean, I was acutely aware that it could topple in an instant and did not venture too far out.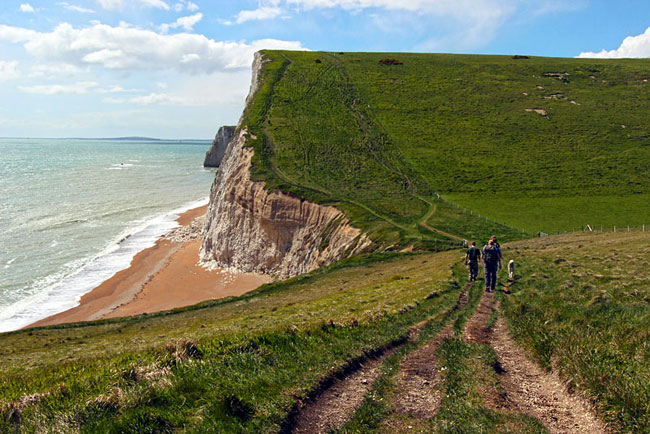 On my final evening, I made the by now familiar trek down to the sea for one last look. I planted my toes in the sand, playing tag with dull green waves that temperamentally lapped the shoreline, and pondered the different moods of Lulworth Cove. I could spend a lifetime gazing at that view and no two would ever be alike. Aside from weather and light, the forces of nature inexorably chip away at the coastline. Ten million years from now the hungry ocean will have wiped all these features off the map. Lulworth Bay, Stair Hole, Man O' War, and Durdle Door will have merged into one continuous bay. I cannot conceive of what it might look like at that point, but I can't imagine that it could be any more beautiful than it is today.