I've never been a "bucket list" kind of traveler. At the very least, the idea of checking places off some tally before I die seems crude; at worst it seems an irreverent measure of one's worldliness. And yet, I must confess to having one item on what I prefer to call my "travel wish list." I keep trying to find the best place to see the Northern Lights.
It's not as if I haven't tried. For an entire year, at the tender age of 19, I scanned the skies nightly from my unheated log cabin, deep in the north woods of Wisconsin. One winter night, during the decade I lived on the Outer Banks of North Carolina, auroral activity was predicted to be strong enough that the Northern Lights would be visible that far south. I sat up all night on the rear deck of my house, which was surrounded by 12 acres of maritime forest,  shivering violently inside a thick down comforter. No lights appeared that night either.
Last winter, Norway Tourism invited me to visit Norway, offering an itinerary that almost surely guaranteed seeing the coveted Aurora Borealis. Alas, I could not accept because I had spent the previous 90 days in France and Spain, and regulations demanded that I leave Europe, as Americans can only be in any of the 27 countries that comprise the 'Schengen zone' – a border-free area that includes 23 European Union member states – for 90 out of every 180 days.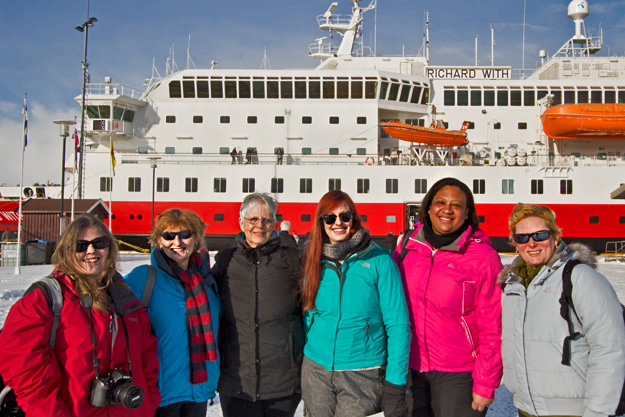 I had just about given up when I received an invitation from Hurtigruten to sail around the northern tip of Norway aboard one of their working ships. I weighed the offer carefully. I am not a good sailor; rough seas always defeat me, and sailing above the Arctic Circle sounded like an adventure for someone with better sea legs. On the other hand, I had managed heavy seas during an eight-day sail around the Galapagos Islands. How much worse could the Arctic Ocean be? In the end, my yearning to see the Northern Lights won out, especially since we would be sailing in remote seas where there would be no light pollution.
Factoring strongly into my decision was the history of Hurtigruten, a shipping company that arguably provides one of the world's most unique forms of public transportation. The rugged coastline of Norway is slashed by fjords that endow the country with undeniable beauty but make large parts of it virtually inaccessible by road, especially during the harsh winter months. Ironically, high above the Arctic Circle, the Norwegian and Barents Seas remain free of ice due to the influence of the Gulf Stream, thus it is no surprise that ships have always been the chosen means of transport in this area. These days, Hurtigruten's fleet may be primarily focused on tourism, but every voyage still includes scores of stops to deliver supplies and ferry local residents between remote northern outposts, a vital lifeline for residents of these communities.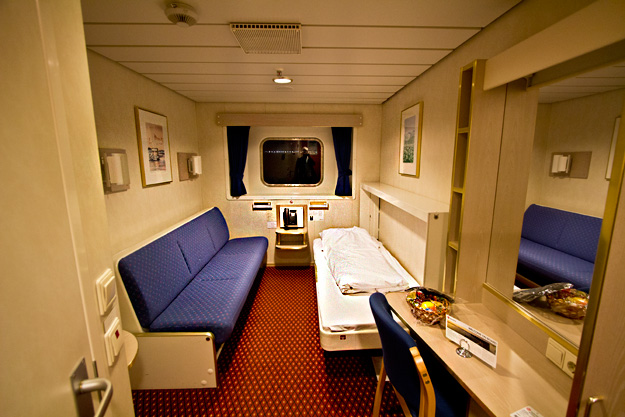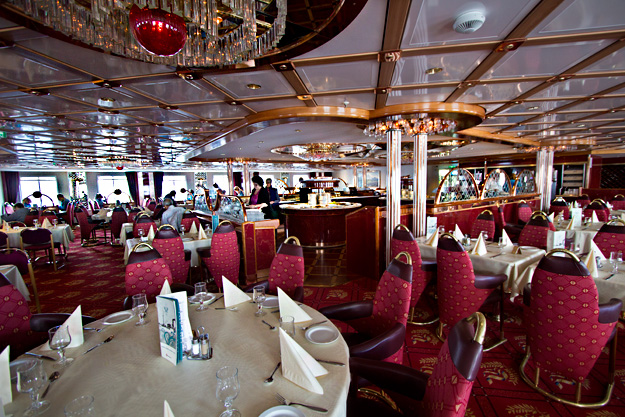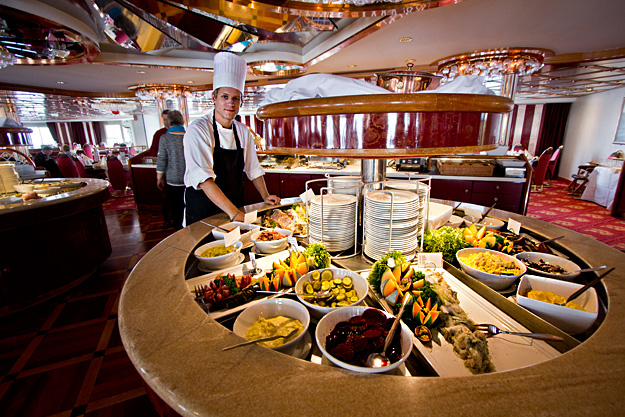 The seafaring tradition of Norway has been documented as far back as the Medieval days, when a trader named Ottar began sailing from his home near Tromso to present day Sweden, Denmark, and Russia to sell skins, dried fish, and dried meat. By the time Europe was emerging from the Middle Ages and up until about 1850, traditional Norwegian boats known as jekts were sailing between villages, their broad wooden beams loaded with up to 100 tonnes of cargo and passengers. In the spring of 1827, the Parliament of Norway authorized the purchase of two steamships to provide mail and passenger services that would connect the northern and southern portions of the country. Though the venture was successful, the journey was less than pleasant; the ships were plagued with mechanical problems and had insufficient power for the treacherous Arctic seas, thus they could only sail between May and September. Yet despite the discomforts, a few intrepid travelers began exploring Norway during the 18th and 19th centuries, which fueled demand for passenger service. According to Mike Bent, who has written extensively on the history of seafaring in Norway:

"Paul du Chaillu, a French traveller, made visits to northern Norway in 1871 and 1878, publishing his experiences a decade later in a work of two volumes (in English) entitled 'The Land of the Midnight Sun'. The title caught on as an advertising slogan the world over, and the publication also aroused the interest of Thomas Cook & Sons in London. It was this travel agency, founded in 1841, which in 1875 organised the first ever escorted excursion to Nordkapp." (Note: Nordkap is the Norwegian term for North Cape, a sheer rocky promontory that thrusts from the Arctic Ocean and is said to be the northernmost point in Europe).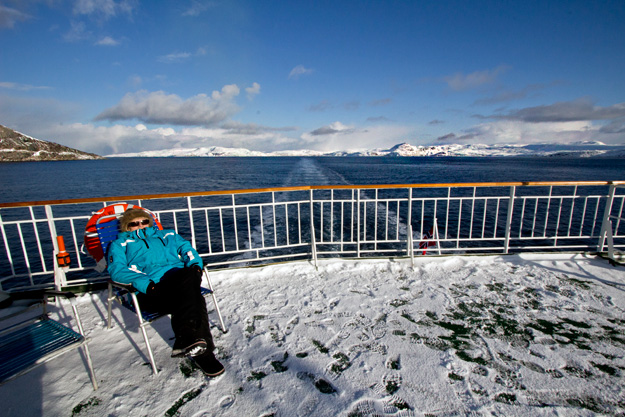 By the mid-19th century, tourism was off and running in Norway. Luxury cabins became de riguer in all new steamers and, despite an economic recession in 1847, one ship offered eleven round trips between Trondheim and Hammerfest, the northernmost city in the world. By 1855, four State-owned steamers that could each accommodate up to 70 passengers in addition to cargo, were offering weekly service between Bergen and Hammerfest. Understandably, commercial shipping firms lobbied for a piece of the action and the State ultimately bowed to pressure, agreeing to privatize mail and passenger services. However, their acquiescence came at a price. The government let bids for a "Hurtig ruten" (a fast route) that would operate year round between Trondheim and Hammerfest, on a 48-hour timetable. This meant sailing in largely uncharted seas during winter months, when there were more hours of darkness than light.
Only one bid was tendered – by the company that would become the present day Hurtigruten – and only because they had in their employ Captain Richard With and his pilot, Anders Holte, who had been sailing the seas of northern Norway all his life and knew short cuts between the islands that could save hours of sailing time. Captain With assured his employers that not only was the voyage possible, it could be done in 34 hours rather than 48, a feat which competitors claimed to be impossible. Indeed, on the inaugural voyage, Captain With sailed into Hammerfest harbor at 3:30 a.m., 20-minutes ahead of schedule!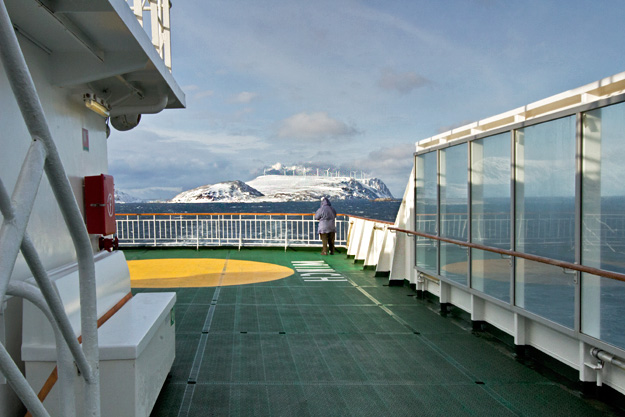 In one of those lovely twists of fate, my voyage was aboard the Captain's namesake, the MS Richard With, one of 13 ships in the company's current fleet. We set sail almost immediately after boarding that evening and I spent my free time before dinner investigating the public areas of the ship, determining which decks would be best for photography, and making sure the public address system in my cabin was on in the event the captain spotted the Northern Lights in the middle of the night. Sure enough, out first announcement came shortly after I had climbed into bed. I scrambled to get dressed and grabbed my equipment, but by the time I made it up to the top deck the lights were all but gone. With only seconds to capture them, I had no time to tinker with exposure and got only one very grainy, dim shot that might (or might not) have been the Northern Lights. Shivering from sub-zero conditions on the exposed deck, I climbed back into my toasty warm bed, certain I would have many such opportunities during my four day trip.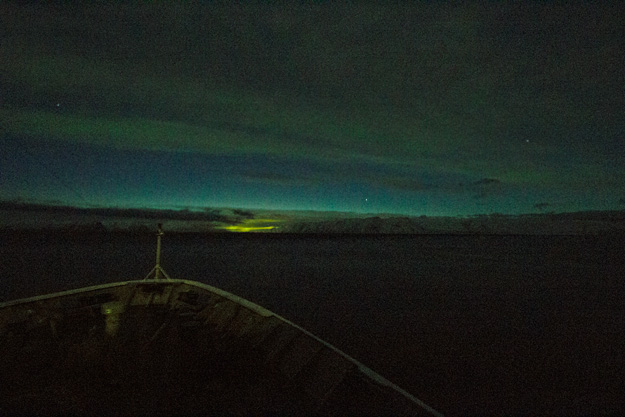 On our third day at sea, the announcement came just as dinner was being served. A mad rush ensued as diners rushed out on deck. Unfortunately, for the previous hour we had been sailing through an Arctic storm and each time the ship lurched, my stomach flip-flopped. I made it as far as my cabin and curled up in the fetal position, trying to fend off mounting waves of nausea. The next morning I congratulated my fellow travel-writers on their photos of the lights, wishing I'd had the fortitude to power through my seasickness. My luck did not improve during the rest of the voyage. It was as if the heavens purposely decided to put on a show whenever the motion of the ship was at its worst.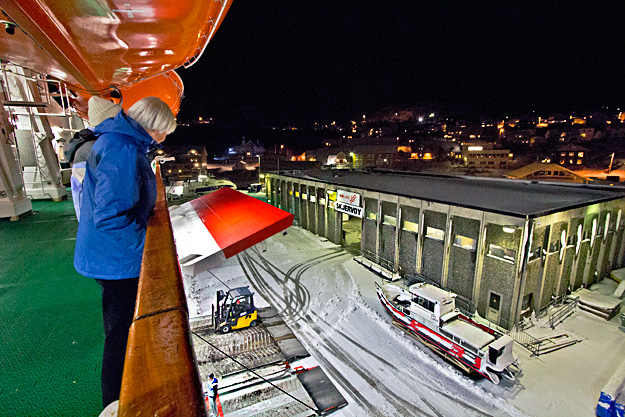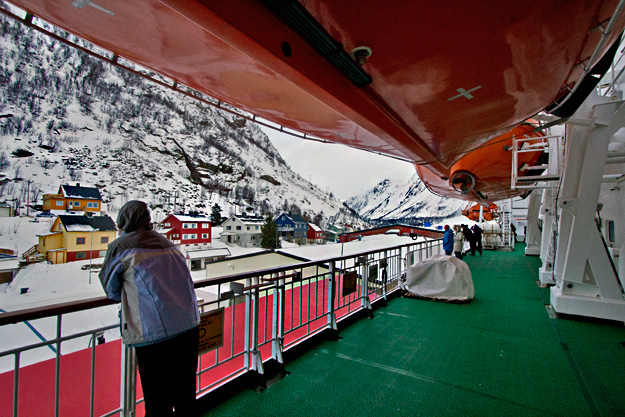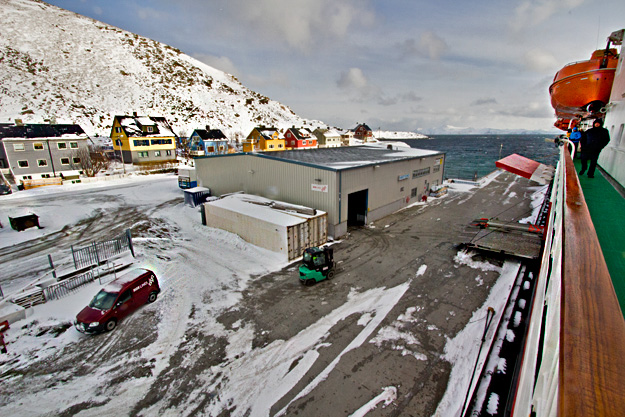 Fortunately, not all my time was spent curled up in bed. As they have always done, the ships in Hurtigruten's fleet still deliver supplies to numerous villages along Norway's long northern coast. My cabin was level with the docks and throughout the night, each time the thrusters signaled we were pulling into a port, I climbed out of bed and watched through the porthole window as forklifts scurried between the ship's cavernous hold and warehouses, marveling at the efficiency of it all, despite being done in the wee hours of the morning. I did eventually get my sea legs and was able to enjoy some onshore activities, as well as capturing some photos of the unexpectedly exquisite scenery in this part of the world during a final day of brilliant sunny skies and calm seas.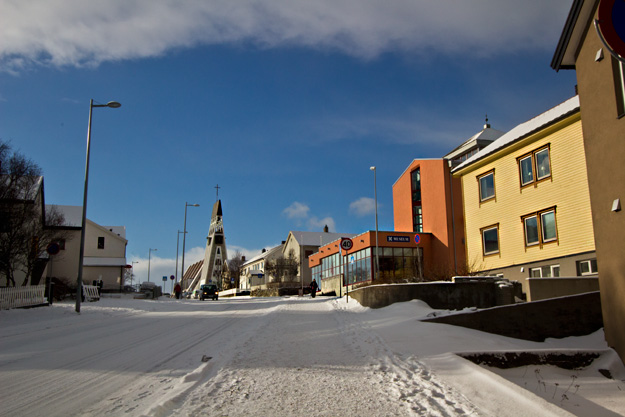 I went on this remarkable voyage hoping to see the ethereal green of the Northern Lights, but I will forever associate Norway with the color blue: the deep cobalt of the Barents Sea, pale powder blues reflected from the ice and snow, azure skies that melted into a kaleidoscope of colors under the setting sun, and prim homes painted in sapphire jewel tones against a backdrop of snow-clad mountains. The best place to see the Northern Lights may still be eluding me but my Hutigruten voyage was a remarkable glimpse into Norwegian culture that was much more interesting than a momentary flash of green light in the night sky.
Hurtigruten's Arctic Highlights Package:
Pricing starts from £999 per person (approximately $1,683 USD at the time of writing) and includes the following:
-Flights from the UK (£999 pricing is for Bristol, London and Manchester packages)
-Transfers from the airport to the ship (and back)
-Voyage Tromso  to Troms0 (Tromsø, in Norwegian) in an inside twin cabin including half board (breakfast and dinner*)
-One night in a Tromsø hotel post-voyage, including breakfast. I strongly encourage you to tack on a few extra days at the completion of your voyage because there is so much to see and do in Tromso in the winter. And if, like me, the Hurtigruten doesn't turn out to be the best place to see the Northern Lights, there are myriad opportunities to see them during night jeep tours from Tromso.
*Lunch isn't included because people often choose to eat in the ports of call, however it may be purchased on board if preferred. Shore excursions are also additional. For instance, the North Cape tour is £102 ($172 USD), Kirkenes Husky Sledding is £129 ($217 USD), and the Midnight Concert at Tromso's Arctic Cathedral is £49 ($83 USD).
Disclosure: My trip aboard the M Richard With was provided by Hurtigruten UK, who invited me to experience their Arctic Highlights Package around the northern tip of Norway. However, the receipt and acceptance of complimentary items or services will never influence the content, topics, or posts in this blog. I write the truth, the whole truth, and nothing but the truth.