I heard them long before I saw them. The Huskies were barking and whining excitedly at the approach of our van, knowing that a van meant people, and people meant they would soon be doing what they love most – pulling a dogsled. Our guide had warned that the dogs would raise a ruckus, but assured us that most were friendly and loved attention. "If you hold out your hand and a dog backs away, just leave that one alone."
I clambered out of the van, donned a black burglar face mask as protection against the cold, and headed into the fray. Squat wooden dog houses sprouted from the snow in neat rows, each duplex housing two Huskies. Between the rows, two-passenger sleds were loading up and heading out on the heels of those arriving. The din grew louder each time a sled appeared, with dogs yipping and straining at their chains, hoping it would be their turn.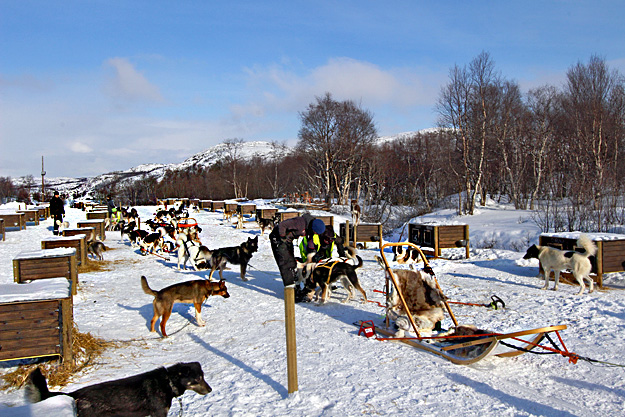 It was hard to tear myself away from a particular blue-eyed, white-ruffed Husky who nuzzled me as I scratched his neck, but my sled awaited. The driver, known as a musher, helped me into the slightly elevated rear seat. Once I was settled, my tour-mate, Marianne, straddled the sled and lowered herself to the bottom, snugging up against me. At a word from the musher we were off! We flew out of the yard and through a clump of trees, building up to a remarkable speed. Our sled raced down a small hill, hitting hard enough at the bottom that I bounced up in the air, hitting Marianne in the head with my camera as I came back down.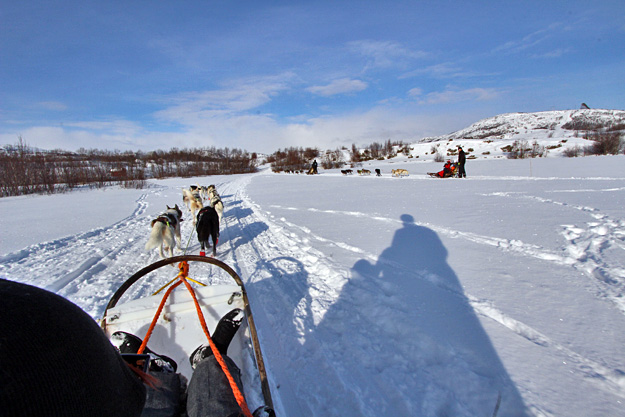 The ride was faster and rougher than I had expected. Being so close to the ground, it felt like we were going a hundred miles per hour, and the lower than normal snowfall meant we felt every bump. Beyond the hill we zoomed onto a frozen lake that offered sweeping views of humpback hills frosted with snow. Now there was really room to run. On the wide open expanse of the lake, our lead dogs decided to chart their own course. Each time another team came into view, they made a beeline for that team. It took every ounce of our musher's skill to get them back on track.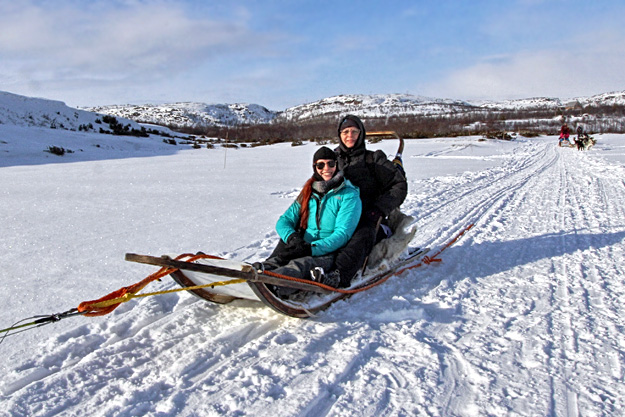 "They're all females and they're all in heat," he explained. "All they want to do is get together with the males." Every precaution is taken to make sure this doesn't happen, as breeding the Huskies is a serious business. Dogs who show leadership and the best ability to obey commands are mated in order to produce new generations of lead dogs.
"For instance, I would never breed our lead dog because she does not obey well," he explained, adding with a chuckle that he never knew he was going to be "in charge of ten bitches" when he applied for the job of musher. He did, however, admit that the job has its side benefits. "I get to spend every day outdoors and I can eat as much as I want because working in such cold temperatures burns a lot of calories."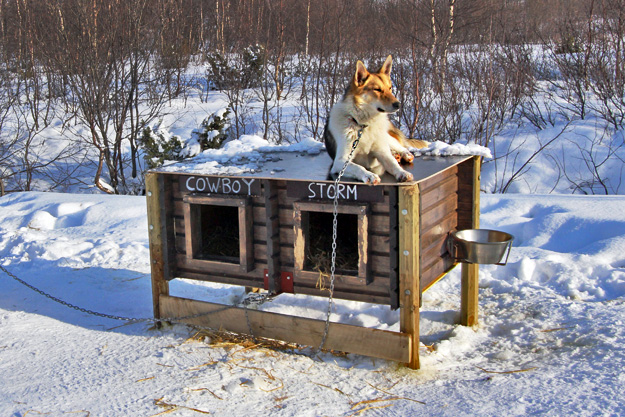 After a brief stop to take photos, we headed back. There were no more detours; like weary horses after a long trail ride, our team of Huskies double-timed it on the return journey. This time I was prepared for the roller-coaster hill as we entered the kennel area, but we were moving so fast that I flew up and came down hard in my seat, once again banging poor Marianne on the head with my camera. As you can see  in the video below, however, she was a trooper about it.
Over the past seven plus years of travel I've used some unconventional modes of transportation. I've ridden a camel through a sandstorm in the Sahara desert and a let an elephant carry me to the top of a temple in Siem Reap, Cambodia (read why I'll never do that again here). I've traveled in bicycle rickshaws, Moto-rickshaws, and pedicabs. I've toured back roads across Asia on motorcycles, hopped aboard chicken buses and old pickup trucks in Latin America, and endured restless seas in ferries and boats far too many times, but I have to say that riding in a dog sled pulled by a team of female Huskies in heat has to be one of the most unique form of transportation I've ever experienced.
Disclosure: My dog sledding in Norway adventure was provided by Hurtigruten UK, who invited me to experience their Classic Winter Voyage around the northern tip of Norway. However, the receipt and acceptance of complimentary items or services will never influence the content, topics, or posts in this blog. I write the truth, the whole truth, and nothing but the truth.