The smiling faces behind the front desk at St Christopher's Inns hostel in Barcelona, Spain were a welcome sight after my bad experience with Equity Point Hostels the previous week. Their warm greeting was quickly followed up with an efficient check-in process and instructions for finding my females-only dorm room. My first big surprise was the attention that had been paid to security. I had to scan my key before the elevator would move, use it a second time to access the hallway leading to my dorm room, and yet  third time to enter my room. Inside my room, the pleasant surprises continued. Double bunks were securely attached to the wall and each had dark gray privacy curtains, an individual light and an outlet. Below the beds were large metal lockers on wheels that were easily pulled out for secure luggage storage, using a padlock that I carry with me. My 22″ rolling suitcase and my mid-size backpack both easily fit into the locker. Best of all, with three wifi routers on each floor, there was free rocket-fast Internet available in all rooms.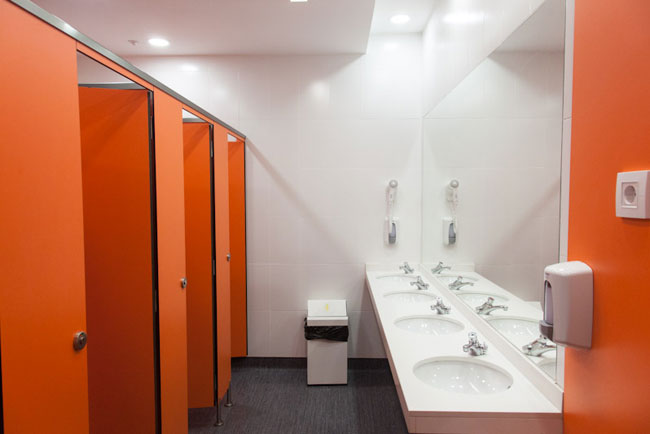 That afternoon I headed out to explore Barcelona and quickly realized that the hostel is ideally located just half a block from Plaça Catalunya, the heartbeat of the city. La Rambla, the famous pedestrian mall leading directly to the waterfront and marina began at the southern corner of the square, while just a few blocks to the north were the famous houses designed by artist Antoni Gaudí, La Pedrera and Casa Bartllo. Double-decker tour buses parked on either side of the plaça offered one and two-day hop-on, hop-off tours of the city. Less than a block away was Teresa Carles Cocina Vegetariana, a fantastic vegetarian restaurant, and a short walk down La Rambla I discovered a Divan Mediterranean Cafe, which made the most delicious hummus and falafel pitas I've ever tasted.
Mornings began with the included breakfast provided by the hostel and once again I was surprised. Rather than the bread rolls, jam and butter provided by most hostels, St Christopher Inns offered cereals, juice, fresh cut fruit, peanut butter, and even a cheese platter. On the days when I wanted a bit more, I hit Barcelona's fabulous Boqueria Market, just a five minute walk away. And when I wanted to explore further afield, there was both a Metro stop and a Renfe Train station at Plaça Catalunya.
On the days I decided to write I could stay in my room or lounge around the common area, which doubled after-hours as a nightclub for the hostel's in-house Belushi's Bar and Restaurant. In warmer seasons, I could also have chosen the outdoor patio, located adjacent to the common area and separated by floor-to-ceiling windows.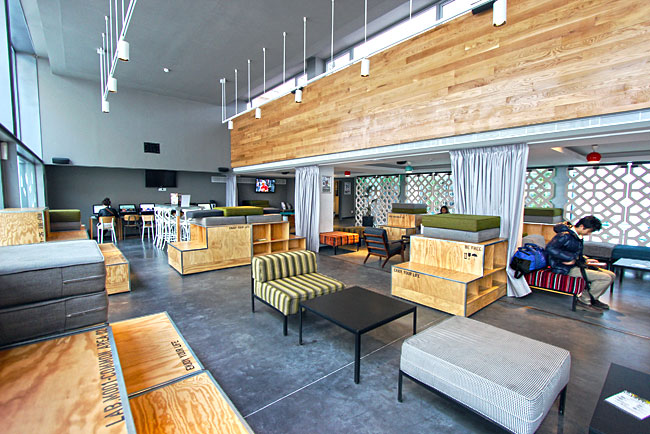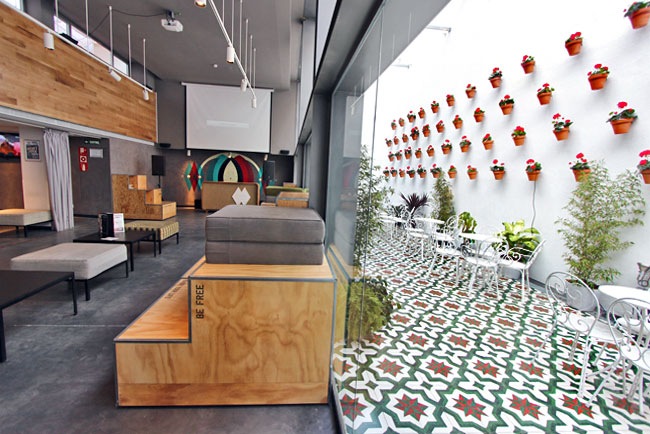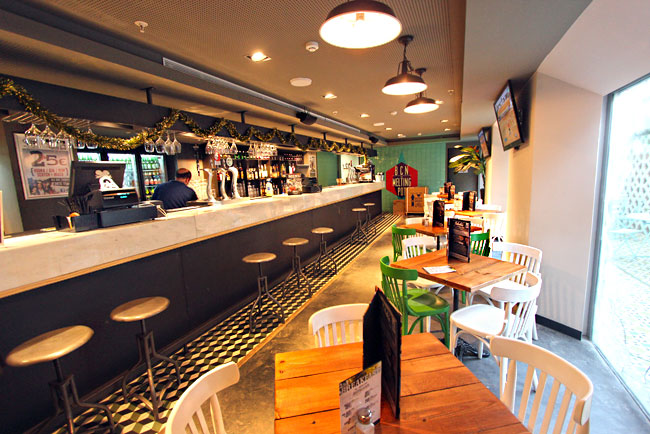 For those of you who are reading this and shaking your heads, thinking, "I wouldn't want to stay in a dorm room with a bunch of partying teenagers," I can assure you that this stereotype of hostels is completely unfounded. I have stayed in dorms all over the world and only once have I suffered from a drunk roommate. In fact, hostel customers nowadays are not all teenagers; in Mexico, an eighty-year old woman slept in the bunk above me one night. In Quito Ecuador I shared a dorm with a lovely young teacher from Lima, Peru. We became fast friends and later, when I was visiting Lima, she spent two days showing me around.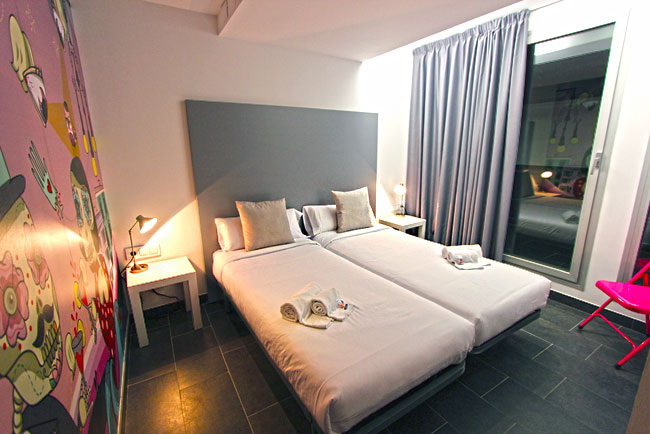 Still, I understand that not everyone wants to sleep with strangers and use shared bathrooms. The good news is that almost all hostels now offer private rooms as well as beds in dorms. St Christophers Inn in Barcelona has twin ensuite rooms (with a private bathroom) for about $54 per night, including breakfast. Dorms range from about $15 for a 16-bed female ensuite dorm to about $24 for an eight-bed female dorm with shared bathroom. I've long had a favorite hostel in Bangkok, Thailand, Lub-d; now I have a favorite in Europe, as St Christopher's Inns have facilities around the UK, as well as in Rome, Paris, Berlin, Amsterdam, and Bruges. So if you've been putting off travel to Europe because you think hotels are too expensive, you no longer have an excuse.
Disclosure: St Chrstopher's Inns Hostels did not host my stay at their Barcelona facility, nor provide me with any discounts. If you're considering a visit to St. Christopher's Inns, my favorite site for finding the best prices is Booking.com. I earn a small sum if you book by clicking on the links in the above story, which helps keep this blog free for you to read.