I'd been riding the bright red double-decker tour bus for less than ten minutes when I realized there was something very special about Lima. At every stoplight, people standing on street corners smiled up and waved effusively; it was obvious that Limeños wanted tourists to feel welcome. At this point, Lima was just an overnight stop, a halfway point on my way to Cusco and Machu Picchu, but I planned to return. Two months earlier, in Guayaquil, Ecuador, I'd shared a hostel dorm room with Karina Gonzalez, a Peruvian schoolteacher on holiday. When her vacation was over, Karina drew me a map of Peru and highlighted the best places to see in her country. "And you must let me know when you are coming to Lima so I can give you a personal tour," she added. It was an opportunity I wasn't about to pass up; there's nothing better than being introduced to a city by an in-the-know local.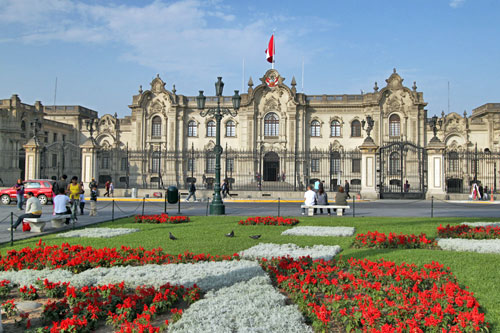 Two weeks later I rolled back into town and called my new friend. The next morning we hopped on an express bus, bound for the historic center of Lima. We stopped briefly at Plaza de San Martin to check out the city's fabulous new Gem and Mineral Museum before shouldering our way into Jardin de la Union pedestrian mall, where we rode a tidal wave of shoppers into Plaza de Armas. Ivory and daffodil yellow colonial buildings ring this expansive square, which is the focal point of Lima's historico centro. The stately Government Palace covers one full block, while Lima's stunning cathedral occupies another. Tucked between these two monolithic structures is the Archbishop's Palace, with its twin ornate wooden balconies. The design of these balconies, which allowed Spanish ladies to watch the streets below without being seen, is said to have been brought over by conquering Spaniards, who were in turn influenced by architectural styles introduced by invading Moors.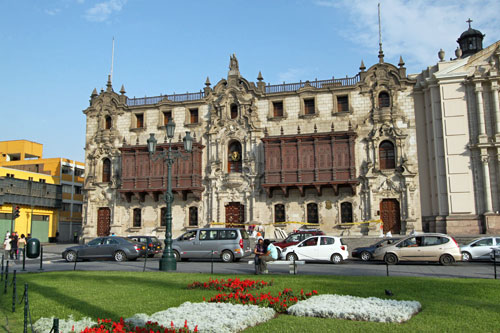 We had made a complete circuit of the plaza and were about to move on when I heard music playing nearby. Down a narrow side street, a brass band blared in front of Rosario Basilica and Santo Domingo Convent as members of the congregation hefted a palanquin containing a flower-bedecked statue of the Virgen de la Puerta (Virgin of the Door). The bearers inched down the street, rocking side-to-side as they bore the sacred icon of their church on their shoulders. Three nuns in pale blue habits with white lace mantillas cascading from their grey heads walked backwards in front of the bier, waving smoking censers. Behind them, a cadre of worshipers danced backward to the beat of drums, their burlap sackcloth and black-painted faces representing slaves that the Virgen de la Puerta is said to have freed. We soon departed, but hours later, long after the sun had set, we ran into the same procession, still carrying the virgin through the streets of old Lima in a remarkable display of faith and endurance.
Our good fortune continued for the rest of the evening. At Parque de la Muralla, just a block from Plaza de Armas, we happened upon a performance of traditional dances from the coast of Peru; a short while later we arrived at Lima's Water Park, which the Guinness Book of World Records claims is the largest fountain complex in the world, in time to view the daily laser light show. As the evening wound down, I treated Karina to a Sushi birthday dinner at Larcomar Mall, a glittering shopping center perched on a high cliff overlooking the Pacific Ocean.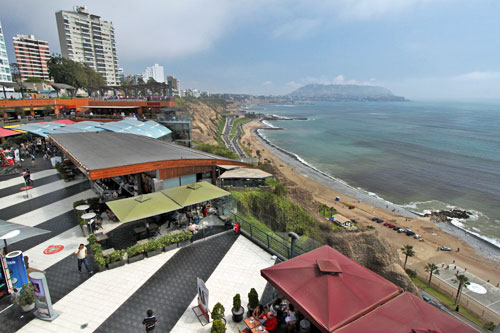 By this time, I was entirely smitten with Lima, but the best was yet to come. Karina insisted we meet again two days later so that she and her mother, Lissy Zavala, could treat me to a day at their private oceanfront club. Since she had to work half a day, Karina suggested I spend the morning in the cute Bohemian neighborhood of Barranco, home to the famed Puente de los Suspiros, the Bridge of Sighs. "Be sure you make a wish before crossing the bridge," she instructed, "because your wish can only be granted the very first time you cross."
Can't view the above slideshow of Lima, Peru? Click here.
Puente de los Suspiros wasn't hard to find; again, I followed the music. At the foot of the bridge, Rafael was playing a caja del percución, his percussion box. Sitting on a low stool, he balanced the hollow wooden box against his legs and began slapping it rhythmically. Soon he was serenading me at the top of his lungs, belting out a ballad like those written by Isabel Granda Larco, the famous Peruvian singer/songwriter who found her inspiration in this very same neighborhood. He finished with a flourish and swept his hand across the entrance to the bridge, bidding me enter. Remembering Karina's admonishment, I made my wish before setting foot on the bridge, asking for good health for me and my balladeer.
Soon afterward I clambered into the SUV with Karina and Lissy and we were off to the Club de Regatas. Founded in 1875 by a group of young men who were passionate about the sport of rowing, the club began as a single wooden shack built on pilings over the ocean. That simple clubhouse is long gone, replaced with extensive facilities that include three beaches, three restaurants, two pools, and buildings dedicated exclusively to squash and volleyball.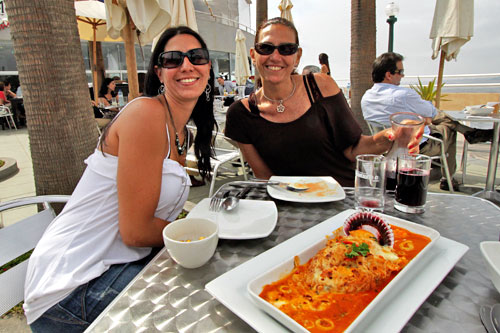 We basked in warm sun at the oceanfront restaurant as Lissy and Karina ordered enough food to feed three families, insisting that I MUST try the specialties for which Lima is most famous. Practically drooling, I shoved food in my mouth as fast as the dishes rolled out: Causa (mashed Potatoes wrapped around crab on a bed of avocado Sauce), two types of ceviche (marinated raw fish); and Tacu Tacu (a mixture of rice, beans and egg molded into a loaf, covered with seafood and Mozarella sauce); all washed down with a pitcher of my favorite Chicha Morada, a sweet punch made from purple corn. Bursting at the seams, we walked off the calories with a tour of the grounds. At the end of the day, when Karina and Lissy made me promise I would return to Lima one day and stay in their home, I had an epiphany. Lima is an exquisite city by the sea, but the shining faces and gracious smiles of Limeños are what make it so alluring.
Where to Stay in Lima, Peru:
On my first stop in Lima I stayed at Kokopelli Hostel in the Miraflores District of Lima, where most tourists stay. While the facilities were acceptable and the price was right, I had no sleep for two nights straight. The rooms are above a noisy restaurant and bar, which grows more raucous as the night wears on and didn't close until 4 a.m. both nights I was there. Unless you want to party all night, I suggest you steer clear of this hostel.
For my return visit I chose 151 Backpacker Hostel. The price was $25 per night for my private single room with ensuite bathroom, TV, and in-room wifi. Private twins are available for $15 per night, and dorms for $10 per person per night. The owner, Marcello, could not have been more accommodating, providing me with an introductory tour of the facilities and setting me up with maps of the area and suggestions about what to see and do. Though this 88-year-old renovated house is also located in the middle of the historic neighborhood of Miraflores, it is on a side street, away from traffic and tourist noise. It is within easy walking distance of restaurants, nightclubs, Larcomar Shopping Center, the oceanfront Malecon, the historic ruins of Huaca Pucliana, a movie theater, and grocery store.
Day Tours of Lima:
To book a day tour of Lima on the double-decker, open-topped bus, walk down to Larcomar Shopping Center; the buses park outside the center and tickets are available at the tour booth on the ground floor of the center.