The arrow on my discomfort meter didn't move up much in Paris. True, Parisienne women were exquisitely dressed and coiffed, but there were enough tourists around that I didn't feel too out of place in my khakis and hiking boots. My spartan traveling wardrobe raised no eyebrows when paying my respects at the Normandy beaches, touring Mont Saint Michel abbey, or visiting chateaux in the Loire Valley, but when I stepped off the train in Bordeaux I became painfully aware that France had succeeded where all other countries had failed; I officially felt like a slob.
I rode the tramway four stops to Place de Bourgougne and walked half a block to The HomeAway holiday rental apartment that would be my home for the next week, courtesy of HomeAway.co.uk.  The property manager, Charlotte, peered down the stairwell as I wrangled my luggage to the third floor.
"Do you need help?" she offered.
I shook my head and plodded on, thinking that the day I can't handle my own luggage is the day I need to stop traveling. I struggled up the last few steps, gratefully shed the heavy backpack that holds all my camera and computer equipment in the front hall, and followed Charlotte into the living room. My  Home Away Rentals apartment was drop-dead gorgeous! Floor-to-ceiling windows looked out on beautifully restored 18th century buildings and the serene Garonne River.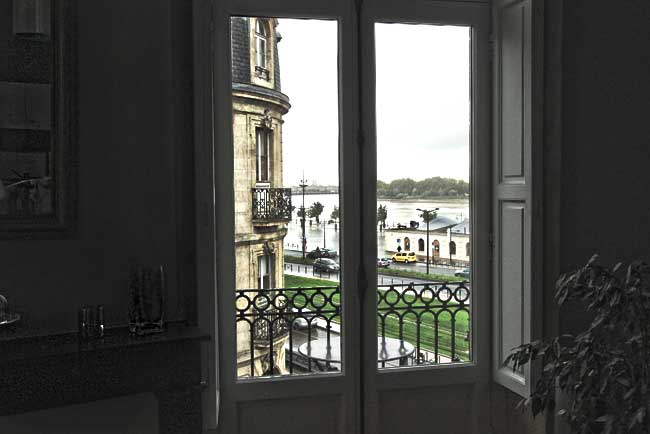 In the unlikely event that I grew tired of the view, a flat panel TV mounted to the wall offered hundreds of channels. The kitchen was superbly equipped and the bedroom, with a double bed topped by a faux fur comforter, looked oh so tempting. I perused the tasteful contemporary French furnishings and then looked down at my boots and cargo pants; once again, I felt shamefully under-dressed.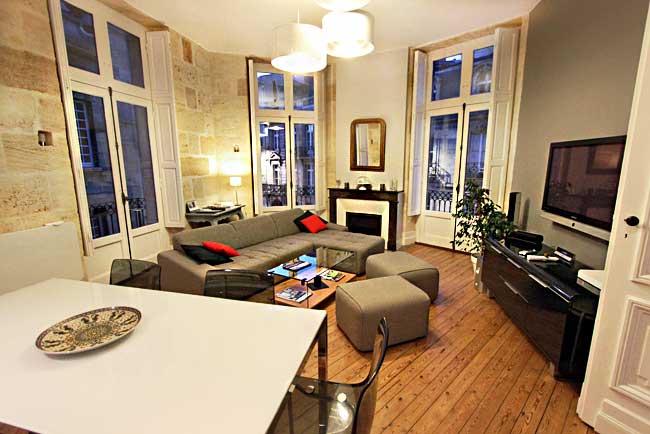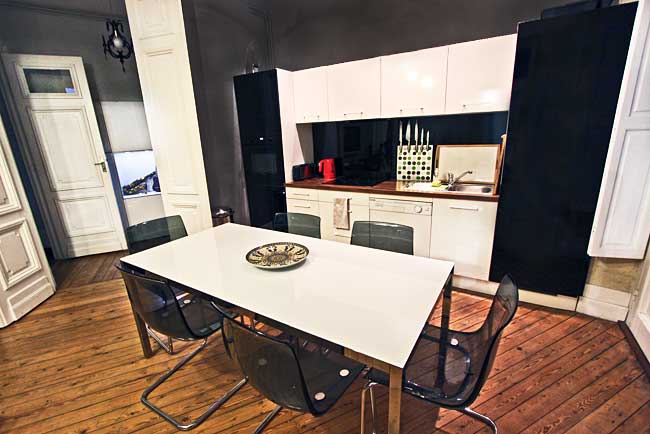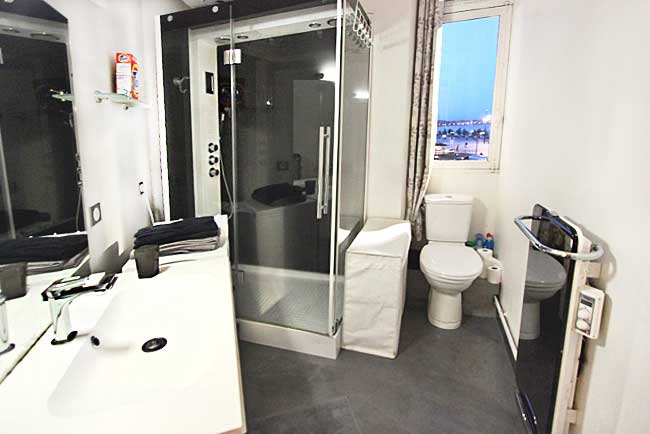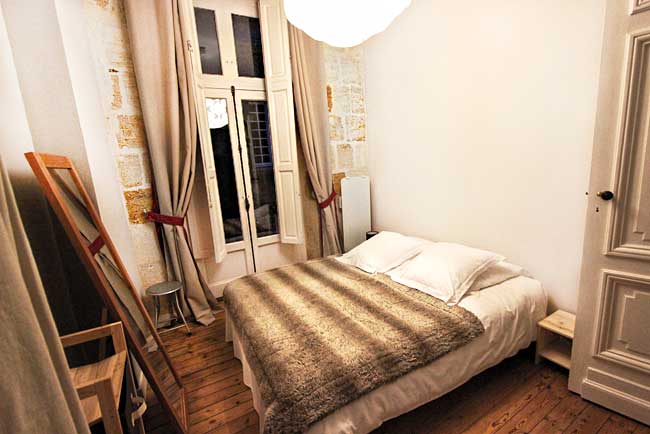 Before departing, Charlotte provided a brief orientation, pointing out Saint Andre Cathedral, just a few blocks away, as well as grocery stores, squares where I could find cafes and restaurants, and a pedestrian shopping mall filled with upscale shops. Amused by the latter, I contemplated my reasons for visiting Bordeaux. Most come for wine-tasting tours of the surrounding vineyards but as a teetotaler the area's fine wines held no allure for me. I had chosen Bordeaux because, according to UNESCO, the city is one of the finest examples of architecture from the Age of Enlightenment. With 347 historic buildings (more protected buildings than any other French city except Paris) enclosed in a fairly small geographic area, it was the perfect city for long walks and discovery. Now it seemed that my stay in Bordeaux would have a secondary theme: shopping.
Can't view the above slideshow about Bordeaux, France? Click here.
I quickly settled into a routine, breakfasting each morning on warm bread from the nearby bakery, drizzled with rich green olive oil and topped with chunks of mouth-watering Comté cheese. Despite gray skies and persistent drizzle, I spent the afternoons exploring the city on foot, alternating between visiting historic buildings and shopping. Each evening I whipped up simple dishes with fresh ingredients from the local grocers and wrote long into the night.
As my departure date grew near, I ramped up my quest for a more appropriate wardrobe and finally found a lovely shop that had just what I needed. The saleswoman explained that French women buy just a few pieces of fine clothing and change the look by accessorizing. She helped me pick out black pants, a black and white V-neck sweater, which she layered over a 100% cotton ivory top embellished with gray and white patterned silk turn-up cuffs. To that we added a grey silk scarf and Voila! – I was transformed. It set me back a cool $200, but when I departed two days later, I did so with the assurance that I looked like a true Parisienne.
My stay at the Bordeaux River View from Home Away Rentals apartment was provided by HomeAway.co.uk, the UK's number one holiday rentals site that connects private home owners and property managers with holidaymakers around the world who enjoy the space, freedom and value of a private holiday home over a hotel. However, the receipt and acceptance of complimentary items or services will never influence the content, topics, or posts in this blog. I write the truth, the whole truth, and nothing but the truth.