In the latter half of the 15th century, events conspired to create a perfect storm in France. The Hundred Years War with England drew to a close and, in 1494, King Charles VIII returned victorious from his invasion of Italy, bringing with him the Italian Renaissance. The mighty Medieval fortresses of the Loire Valley, no longer required for defense, were converted into stunning chateaux designed for recreation and pleasure. Embracing the Renaissance philosophy that valued culture above all, monarchs and noble families filled these palaces with stunning artworks and furnishings and threw parties that spared no expense.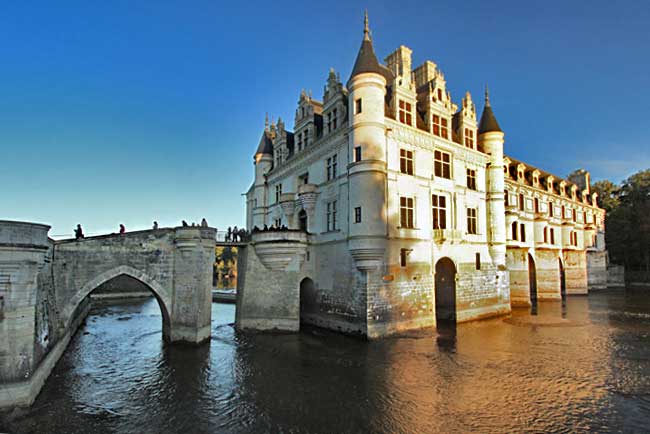 Hundreds of these chateaux still dot the Loire Valley, many of which are open to the public. With only three days in Tours, I opted for back-to-back morning and afternoon van tours that would allow me to see four of the most famous. We began at the smallest, Chateau de Clos Luce. Though not stunning in the manner of a grandiose, multi-turreted chateaux, this castle is notable as the place where Leonardo da Vinci, who had been induced to leave Italy by King Francis I, spent the last three years of his life. It was the perfect setting for da Vinci, who wanted to be away from people, in a peaceful atmosphere that allowed him to pursue his scientific work. Today, the low buildings surrounding the gardens contain reproductions of da Vinci's inventions and his Mona Lisa, one of three painting he carried upon leaving Italy for France, hangs in the Louvre Museum in Paris.
Can't view the above slideshow of Chateau de Clos Luce in the Loire Valley, France? Click Here.
The second stop on our tour, Amboise Chateau, was a favorite of monarchs for decades. This castle, which lies less than half a mile from Clos Luce, was confiscated by King Charles VII in 1434 and remodeled by Charles VIII in the Italian Renaissance style. From my spot on the ramparts I looked down on the medieval town of Amboise, which stretched along the Loire River. Turning away from the town, my eyes swept past the expansive, perfectly manicured lawn to the massive chateau. My imagination conjured up scenes of ladies in flowing silk gowns with powdered faces and shining coiffed locks piled upon their heads. I envisioned tables laden with wild game, fruit and cheese; wandering minstrels; and ladies playing hide and seek with suitors in hedgerows studded with fragrant wild roses.
Can't view the above slideshow of Amboise Chateau in the Loire Valley of France? Click here.
The height of ostentation, however, had to be Chambord Estate, the largest chateau in all of the Loire Valley. Francis I constructed it as a hunting lodge, which he used just a few weeks each year, although he also hosted his enemies at Chambord on occasion, hoping to intimidate them with a show of his power and wealth.
Can't view the above slideshow of Chambord Estate in the Loire Valley of France? Click here.
My favorite was our last stop of the day, Chateau de Chenonceau. Unlike the masculine designs of the previous three, this chateau oozed femininity. Enormous fresh flower arrangements hung from the ceiling of the entry hall and decorated tables in the bedrooms. Flaming candles in crystal chandeliers sent sparks of light flashing around the rooms and gleaming copper pots hung from the kitchen walls. There were certainly parties at Chenonceau during these early years, but they were of a different kind; after ascending to the throne, King Louis promptly gave the chateau to his mistress, Diane de Poitiers. Following Henry's death, his widow, Catherine de' Medici, forced Diane out. Catherine took the chateau as her primary residence and threw lavish nighttime parties for the next 30 years, including one which featured the first display of fireworks in France.
Can't view the above slideshow of Chateau de Chenonceau in France's Loire Valley? Click here.
As the sun set, I strolled back to our van on a tree-lined pathway and pondered what life must have been like in the early 1500's. It could not have been easy. In all four chateaux, I had seen not a single bathroom. Chamber pots were used in lieu of toilets, and bathing was unpopular, as many believed that water carried disease into the body. Until the 18th century, people tended to wash only the parts of the body that were visible to the public. The freely flowing wine and cloying fragrance of garden roses may have given an impression of luxury in that era, but the stench of unclean bodies must have been overwhelming.
How to see the Loire Valley Chateaux:
Can't view the above slideshow of Tours, France? Click here.
I chose to base in Tours, which is one of the major stepping off points for visiting the castles. While Tours is a nice little town, I did not find much else to do there (see slideshow above), and it is a good distance away from many of the more popular chateaux. As a result, we had barely enough time to see the interiors. Instead, consider basing in Amboise, which puts two chateau within easy walking distance. Alternatively , stay in Bloise, an adorable little town that is centrally located for visiting most of the important chateaux. If you choose the latter, consider renting a bicycle and cycling between the sites. Both Amboise and Bloise are served by train.