Aunty Irene flashed a wide, genteel smile as I arrived for the Ho'okipa Cultural Program offered by the Four Seasons Resorts Lana'i. Seated on a sofa in the lobby of The Lodge at Ko'ele, her red flowered mumu draped to the floor and the large yellow flower tucked behind her left ear perfectly complimented her wavy silver hair, pulled back in a prim bun. On the coffee table in front of her lay all the accoutrements of her lesson: Plumeria blossoms for lei making, ti leaves for weaving bracelets, and two gleaming wood ukeleles. Great, I thought, I'm finally going to learn a little bit more about traditional Hawaiian culture. What I had not anticipated was the "price" attached to the lesson. Aunty Irene and her cousin, Aunty Sandra were not there to demonstrate; they were there to teach.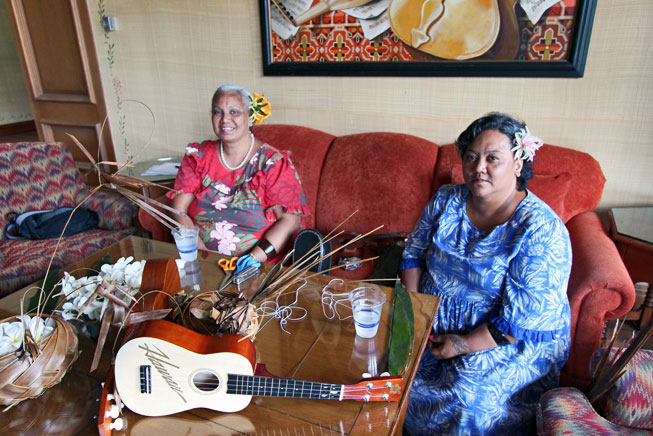 She handed ukeleles to me and my sister, Nancy, and, balancing the diminutive instrument against her ample body, began demonstrating how to hold it and where to place our fingers for certain chords. I must digress here to explain that I have not one whit of musical talent. I have tried to play the organ, piano, flute and guitar, all with disastrous results. My one and only modicum of success has been with the tambourine, and even then I can barely hold a beat. Unsurprisingly, the ukelele was no different. On the rare occasions I got my fingers in the proper places for the chords, my forefinger kept getting tangled up in the strings when I strummed. And doing both things at once? Impossible. I left the learning to my more talented sister and did what I do best, filmed.
"We're not professional players; we play because it's part of our culture," Aunty Irene explained, adding that the ukelele is not a Hawaiian instrument. "The Spanish people brought it over (in the form of a) mandarin. Hawaiians liked the sound to it and…they took it and made it into this shape and then they downsized it."
I breathed a sigh of relief when Aunty Irene gave up trying to teach me to play but I was hardly out of the woods, as hula lessons with Aunty Sandra were next on our itinerary. I bumbled through the moves a few times, my ability to follow any kind of dance steps as incompetent as my ability to play a musical instrument, until I could gracefully escape using the familiar excuse of needing to take photos. Nancy, on the other hand, having taught aerobics for years, caught on right away and was able to do the entire hula without error.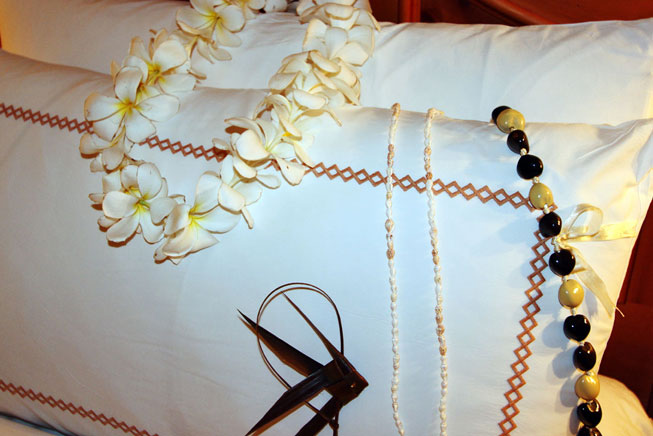 Following our hula lesson, the two cousins sat us on the floor for stringing leis with fresh-picked Plumeria flowers and weaving bracelets from ti leaves. Finally! Something I could do. I wasn't exactly nimble-fingered about it, but I got the job done and as I pulled the long needle through the center of the blossoms I queried Aunty Irene about other customs unique to Hawaii.
"Hawaiian religion teaches that everything in life has a purpose. We always ask for permission to take or gather lei flowers and ti leaves. Everything revolves around nature and everything is from the creator."
Hawaiian culture, repressed in past years, is once again being embraced. "Kids learn the Hawaiian language from kindergarten to sixth grade and then they learn about the Hawaiian monarchy and history. And we still follow the old customs; for instance, when we go to a house we don't just knock on the door. As we approach we sing out 'HOO-eee!' to give them time to prepare."
As I strung the last Plumeria on my lei and slipped the finished strand around my neck I was curious about one last thing. "Why are you referred to as Aunty?"
"It's a term of respect for elders who are 70 or older," she explained. "There are only seven of us left on Lana'i.
I hope they last another 70 years and continue to teach their heritage to young Hawaiians and visitors alike.
The Lana'i Visitors Bureau kindly hosted the author's stay as part of the #VisitLanai Artist in Residence Program. However, the receipt and acceptance of complimentary items or services will never influence the content, topics, or posts in this blog. I write the truth, the whole truth, and nothing but the truth.