By the time I arrived in Cuenca I was stressed out and beaten down. Though rewarding, traveling through Ecuador had not been easy. I'd been seasick during my spectacular cruise with Ecoventura in the Galapagos Islands; sweaty and smelly in the Amazon jungle at Cuyabeno Lodge; and sardined into a bus full of Ecuadorians, where a mother and her young son crammed into a single seat next to me for the entire three-hour ride to Chugchilan. I had a severe bout of altitude sickness while attempting to hike parts of the Quilotoa Loop and been targeted by thugs in Quito who'd unsuccessfully tried to steal my backpack. I needed a rest.
Fortunately, I had a plan for making Cuenca seem more like home. Shortly after arriving in Mexico in 2010 I received a comment on my blog from Nancy and Paul Dardarian, American expats who had moved to Mazatlan some years earlier and subsequently launched the popular expat travel blog Countdown to Mexico. We met for a leisurely lunch at an oceanfront palapa and I got the benefit of all their knowledge about Mazatlan. When Nancy and Paul wrote about our meeting, several of their followers became followers of my blog as well. Among them was Ken Smith, an American expat living in Lake Chapala, Mexico. Ken had been "lurking" around my bog for a while but when he learned I was Cuenca bound he contacted me and suggested I get in touch with a friend of his, Regina Potenza, yet another American expat who lived for more than 20 years in Lake Chapala but had moved to Cuenca a couple years earlier. It is indeed a small world.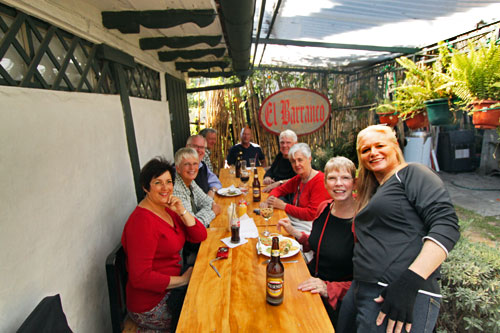 Regina and I exchanged emails and she suggested I stay at the Hotel Milan, which turned out to be a wonderful family-owned hotel in the middle of downtown, affordably priced at only $17 per night for a private room with private bath. But this was just the beginning. I'd barely arrived when Regina phoned with an invitation to meet up with other expats at the regular Tuesday evening get-together at DiBacco Italian Restaurant, which is half-owned by another American expat, John Buskey (excellent food, by the way).
Over the next week, Regina and others among the expat community welcomed me into their fold to such a degree that it felt like instant family. I joined them for Sunday football at the Inca Lounge, tagged along on a furniture shopping expedition, and attended their writer's group reading one evening. They made sure I knew which attractions were worth the price of admission and which should be skipped; which areas of the city were safe to walk alone at night and which should be avoided; and what nearby artisan towns were worth a visit. Perhaps the best tip of all came from Regina herself, when she told me not to miss the free museum inside the Banco Central, which has an astonishing and thorough display about the various cultures of Ecuador, and the adjacent Pumapungo ruins.
Can't view the above slide show about Cuenca, Ecuador? Click here.
I was having such a good time that I didn't want to leave. My initial three days in Cuenca stretched to five and then to seven, but by the end of the week I really needed to get back on the road; I had wandered around Ecuador for nearly two months and was due back in the States to visit my family over the Christmas holiday, leaving barely a month to travel though Peru. But my new friends were having none of that. Barbie DiPalma and John Vitale made me an offer I just couldn't refuse: they invited me enjoy Thanksgiving dinner with all the trimmings in their home with a few of the other expats I had already met. And if I stayed, Regina added, I could walk in the First Annual Cuenca Turkey Trot, a two-mile race along the Tomebamba River to benefit Fundacion El Arenal, an after-school program for at-risk kids who work long hours beside their parents at the largest produce and meat market in town.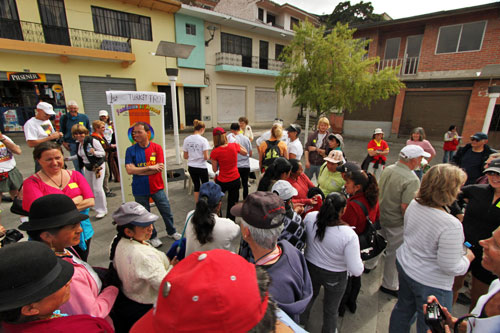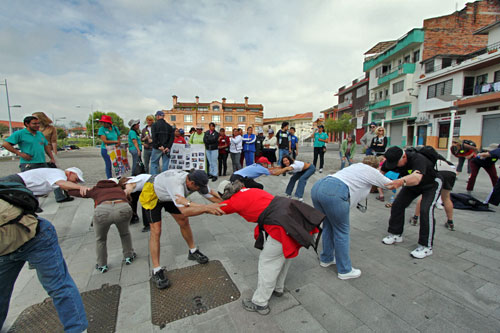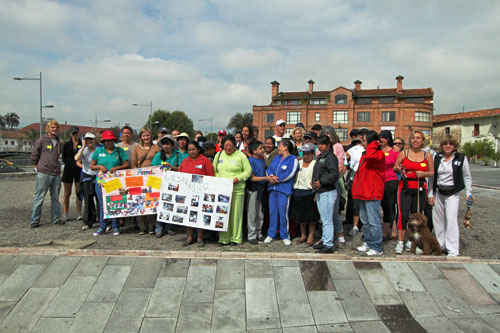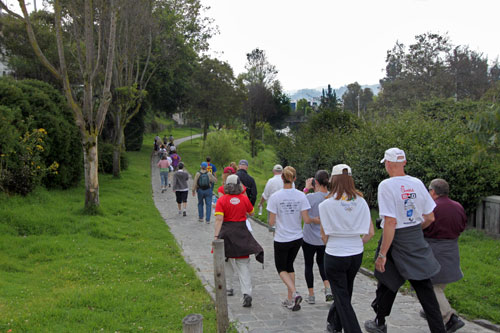 Luckily, as a perpetual traveler I have no concrete schedule. Each time I added a few more days to my stay the owners of Hotel Milan smiled and nodded knowingly; it seems many visitors get "sticky feet" in Cuenca. What's another two days, anyway? So, early Thanksgiving morning I put on my jogging duds, walked down to the starting point for the Turkey Trot, and paid my $3 entry fee. I hot-footed it to half-way point and "kissed the bridge" before reversing direction to our ending point, the Kookaburra Cafe, where we stuffed our faces with coffee and delish pastries. A couple hours later I was schmoozing with the expats and stuffing my face from the mouth-watering Thanksgiving spread laid out by John & Barbie.
I did finally depart the following morning. For many, Cuenca is the ideal place to retire overseas. Food is incredibly cheap and fresh organic fruit and vegetables are abundant; gas is only $1.50 per gallon; the city is quite safe and clean; there are sufficient cultural activities available; and the Ecuadorian government and people are welcoming to expats, thus it is fairly easy to gain permanent residency. But Cuenca is not quite the paradise I seek; at an elevation of 8,400 feet, the evening temperatures are just too chilly and I know the clouds that roll in every afternoon would eventually begin to depress me. I learned long ago that paradise on earth doesn't exist, but Cuenca is close…very close.