Gravel spit from beneath the van's wheels as we climbed into mountains erupting with picture-postcard spring colors. Though I enjoyed my time in Cuenca, it had been difficult to connect with the local culture in a city of half a million people, so I had opted for a day tour to explore tiny artisan villages in the surrounding countryside. We crested a hill and rolled down into a verdant valley, where terra-cotta roofed houses clustered around the stately white church. With its dilapidated homes and stray dogs, San Bartolomé would have been unremarkable except for the sculptures in the main plaza; rather than requisite religious statuary, giant guitars paraded across the plaza toward the church, hinting that something about this town was very different.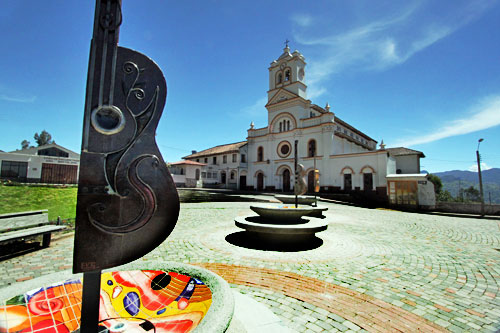 Many rural towns scattered across Ecuador still adhere to the "guild system" inherited from Spain, where each community specializes in a particular craft. My travels had taken me to towns where giant round loaves of bread were stacked in every storefront window; to villages that produced incense, soaps, and oils from the fragrant wood of Palo Santo trees; and to still others that specialized in pottery and leather goods, but the hills around Cuenca may be home to the most interesting artisan traditions in the country and San Bartolomé is the gem in the collection.
In the foothills just above the town's main plaza, we climbed out of the van at the home of master craftsman Jose Uyaguari. The tools of his trade were spread across a rough wooden table set up in his front patio: two long silver wood planes, chisels, awls, and a giant tub of glue. Using exotic woods such as Capuli and African Ebony, Uyaguari fashions some of the world's finest guitars without using a single nail, then adorns them with intricate inlays painstakingly pieced together from tiny bits of multi-colored wood shavings. His customers are said to include famous artists such as Freddy Fender and Judy Collins, and though he wouldn't confirm this, Uyaguari did acknowledge that musicians come from all over the world to buy his instruments, which are priced from $75 to $1,000. Perhaps most astonishing, Uyaguari cannot play a note!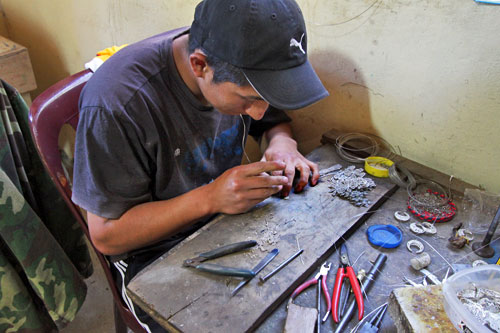 Next up was the town of Chordeleg, famous for its jewelry, where silversmith Jorge walked us through the art of crafting exquisite filigree earrings, rings, and necklaces. He fed a silver ingot into a rolling mill, allowing it to flatten and extrude with each repeated pass, until it took the shape of a rough wire. This was further rolled out by hand on an anvil until it became a delicate flexible strand. With awl and tweezers, Jorge deftly twisted the silver into a series intricate figure eights, which were dusted with silver powder and melded together with a soldering torch. Each piece is unique and is priced according to the difficulty of design and weight of the silver; I purchased a pair of silver dangle earrings for $15. Jorge's affordable prices are undoubtedly due to low overhead (his shop is in his home and the silver is sourced from mines in the nearby hills that are still worked by independent miners), but later when we stopped for lunch in central Chordeleg I realized what a bargain I had gotten. Scores of jewelry stores lined the central plaza and not one offered a similar pair for less than $50.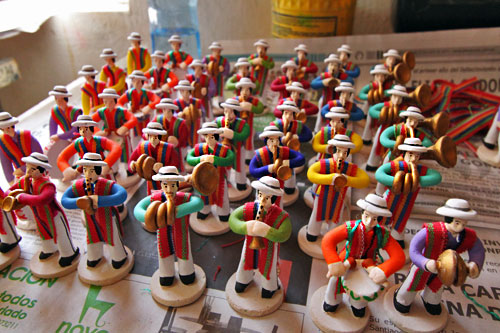 On the other side of Chordeleg, the Fernando family was busy making miniature ceramic folkloric figurines. Using special clay imported from the jungle, the body and limbs of a figure were rolled out and cut to the appropriate length, and a ball was hand-carved into a face. The painstaking process of making the face by hand limited production to 20 figurines per day, a number far less than the demand, prompting Mr. Fernando to develop a face mold that now allows the family to increase production to 100 per day. Still, the family cannot fill all the orders they receive. A full set of traditional musicians (8-10 figurines) costs $12 to $15.
Our final stop of the afternoon was Gualaceo. Following a visit to the town's extensive fruit and vegetable market, where we sampled unfamiliar fruits like Guaba, we were off to visit weavers who produce startlingly beautiful scarves and shawls from local wool. From raising the sheep to weaving the finished products, everything in this operation is done by hand. Wool is gathered, carded and spun, then formed into long strands that are knotted at intervals. These strands are dipped into brilliant dyes made from natural ingredients that color the wool wherever there are no knots. After drying, the knots are removed to reveal a striking two-tone pattern that is then used to weave the final product on old-fashioned wooden looms.
Can't view the above slide show of artisan villages near Cuenca, Ecuador? Click here.
As Ecuador becomes more developed, fewer people are interested in learning these ancient arts. According to our guide, only two traditional sheep's wool weavers remain in the entire country and, although Mr. Fernando's children hope to become part of the business when they complete school, no one outside the family seems to want to learn how to make ceramic figurines. The day will likely come when all these items are mass produced in factories, but for the moment Ecuador is a veritable treasure trove of "guild towns" and unique handcrafted items.