I'd been in Mazatlan, Mexico for exactly one day when I received an email from Nancy Dardarian. She and her husband are American expats from the Seattle area who retired to Mazatlan more than two years ago. When they first started thinking about moving permanently to Mexico, Nancy and Paul launched a blog, Countdown to Mexico, in order to chronicle the entire decision making and relocation process. Not only is it a great resource for anyone considering moving to Mexico, it's full of the most interesting information about Mazatlan.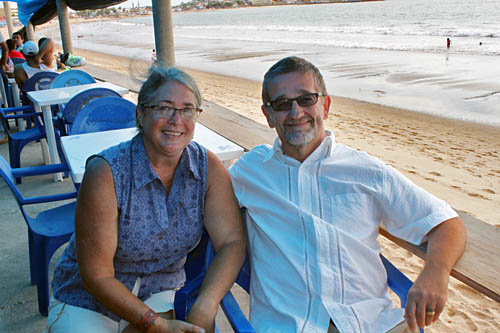 But here's the fun part. Nancy has Google alerts set up to email her when anyone writes about Mazatlan, so when my first blog post appeared about her adopted city, she read it and emailed, asking if I would be staying long enough to get together. They picked me up at my hotel last Sunday and treated me to lunch at one of the beach palapas along the Malecon – the traditional Ceviche they served me was so huge I could hardly finish half of it. Even better, they invited another expat friend, Michael, to join us for lunch, because they knew of my plans to hike Mexico's remote Copper Canyon and Michael has hiked it twice. As a result I now have a remarkable amount of information about Copper Canyon – the kind of stuff that can't even be found on the Internet. Serendipitous events like this aren't uncommon; they happen to me all the time when I travel slow, without plans, and allow the path to unfold before me.
One thing is for sure. It's definitely a small world out there.