A cocoon of ethereal fog enveloped me as I walked to the end of the dock on Piseco Lake in New York's Adirondack Park. The hush of dawn was interrupted by the gentle splish-splash of a solitary man walking languidly through calf-high water, far out into the lake. In the distance a white wolf-dog stood motionless in water up to his belly, staring intently at something on the shore. Beyond man and dog, all was swallowed up by the white curtain, beyond which echoed the lonely whoop and chuckle of an invisible loon, on the hunt for a mate.
I turned toward shore and let my gaze wander up the hillside, where even the  Irondequoit Inn was obscured by the fog. Though my arrival at this rustic old inn had been unplanned, it had been no mistake. My press trip in Adirondack Park had drawn to a close the previous week but my inner voice told me I wasn't yet done with the Adirondacks. Several years earlier I had visited Lake George during a leaf-peeping tour of the northeast and had written about the area with glowing words that rivaled the color of the fall foliage.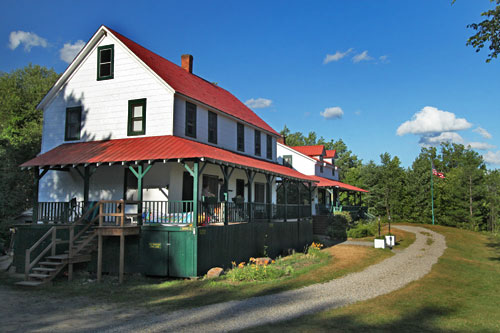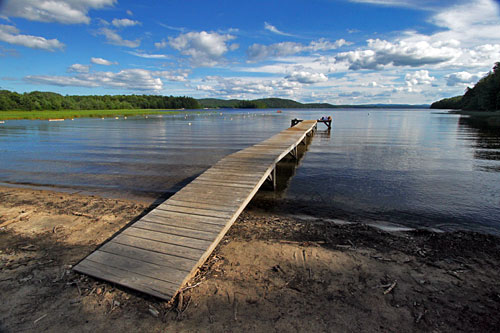 After reading my article, friends wrote to tell me about the Irondequoit Inn, their favorite place in upstate New York. Their coffee shop in the Outer Banks of North Carolina, Front Porch Cafe, had been named in honor of  the many happy hours they had spent in rocking chairs on the porch of the Inn, gazing out over lovely Piseco Lake. I dug through my old emails and found their three-year old recommendation. Remarkably, Irondequoit Inn was smack in the middle of the only part of Adirondack Park I had not yet investigated. A phone call later, I had wrapped up the only remaining room and spent the next two days hiking to area waterfalls, attending craft fairs, digging for semi-precious gems, and rocking on the front porch.
Can't view the above slide show of the southern Adirondack Park in upstate New York? Click here.
The sun burned white-hot, slowly dissipating the mist. As the old Inn emerged atop its grassy hill, I realized that life is a lot like fog. I can't see where the path leads; it meanders just beyond the edge of visibility. But I know if I trust the process and listen to my inner voice, it will always take me where I am supposed to go. In this case, it led me to the Irondequoit Inn, an oasis of serenity in this complicated, over-stressed world. There are no coincidences.