Despite patchy fog and spitting rain this morning, the views from the Interstates of eastern New York were spectacular. From the Hudson Valley, past the Catskills, and up to Albany, the fall foliage was at its peak. North of Albany, many of the trees had already been stripped of their leaves, and I began to worry that the fall colors at my intended destination for the evening – Lake George in the Adirondack Mountains – would be past their peak. I will simply say – not so! I think the following photos speak for themselves: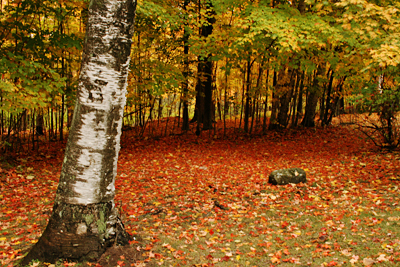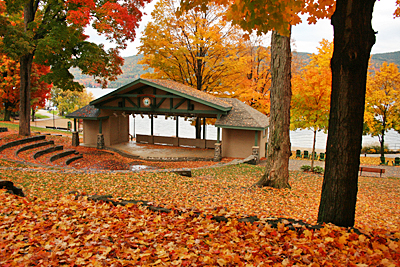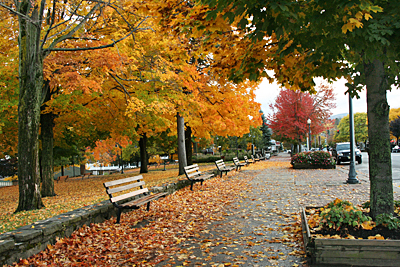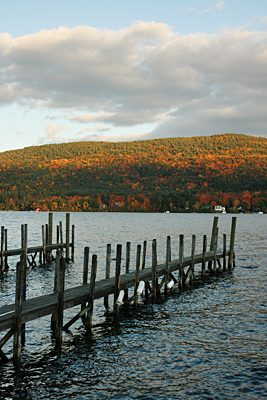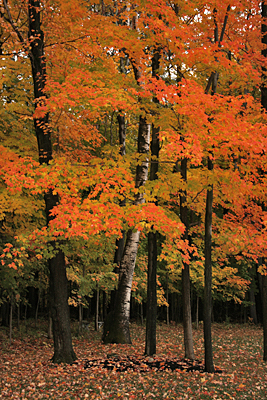 Although the leaves were beautiful at Lake George, the town was deserted; it seems they roll up the sidewalks after Columbus Day. Rather than stay overnight as originally planned, I chose to press on a few more hours. At dusk I rolled into the tiny hamlet of Whitehall, just west of the New York/Vermont State line. The sign at the town line declared Whitehall to be the "Birthplace of the United States Navy." I simply could not pass by without investigating this claim.
Apparently, this small settlement at the very southern end of Lake Champlain was the site of one of the most important battles of the American Revolution. Benedict Arnold led our country's rag-tag fleet into battle against the British Navy on Lake Champlain in the summer of 1776. Although most of his tiny fleet was defeated, Arnold held the British navy off long enough for winter to settle in and the enemy fleet was forced to go back to Canada and wait for warmer weather. This provided the American forces with valuable time to gather, arm, and prepare for the British campaign of 1777 that ended with the American victory at Saratoga, the "turning point" of the war. This was the first naval battle of strategic importance during the Revolution, making Whitehall, the place where America's fleet was assembled, the "Birthplace of the American Navy."
Today, Whitehall is undergoing a renaissance of sorts, beginning with its historic waterfront. A small park and museum both sit along the banks of the Champlain Canal and Lock 12, which leads out onto Lake Champlain.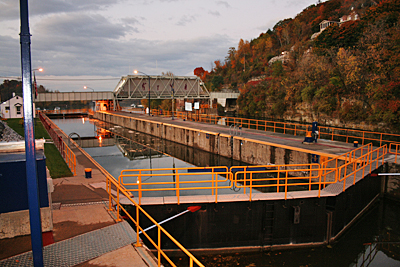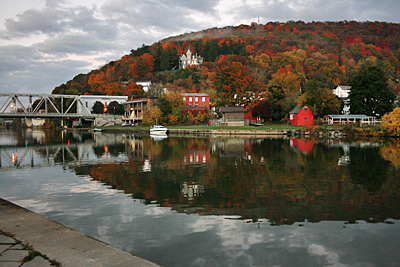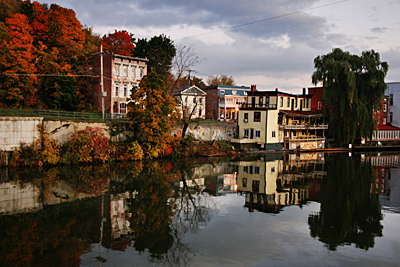 The remains of the hull of the USS Ticonderoga, built in 1812, are housed here, and the Skene Manor, originally the home of Whitehall founder Philip Skene, is open for tours spring through fall (it is the white castle on the hill in the background of the top photo, below). The town's historic houses and riotous autumn colors were reflected in the placid waters of the Champlain Canal:
I finally stopped for the evening in Rutland, Vermont. Tomorrow my plan is to visit a working cheese and maple syrup farm; photograph a half-dozen covered bridges; and to hike Quechee Gorge, better known as "Vermont's Little Grand Canyon." If all goes well, I will reach Franconia Notch State Park in New Hampshire before dark. But, as with all my travel plans, this is subject to change, so stay tuned.