Yesterday I was 1 for 2. Originally I had planned to return to I-95 North and and take the I-495 loop around Washington, D.C., but my friends in Fredericksburg, who travel this route every day, told me that traffic begins backing up 30 miles outside of D.C., which is only 50 miles away. Since my ultimate goal was to head north into Pennsylvania and New York, I instead chose to travel the smaller westbound country roads that would take me to I-81. I left at 6:15 a.m. in the pre-dawn darkness. By the time the sun came up I was passing through rolling Virginia farm country with well-kept barns and immense green pastures shimmering with dewdrops. I crossed over the Shenandoah Mountains, enjoying the occasional brilliant red or pumpkin orange tree that popped out at me as I rounded the curves in the road through the National Forest.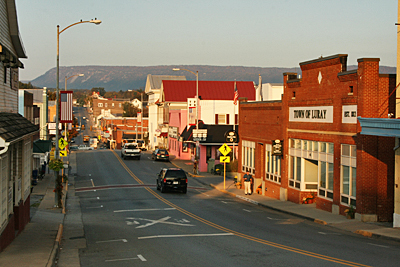 On the downhill side, signs began to appear for Luray Caverns. Having been a rock hound all my life, I have long been fascinated with caves. Some years ago I camped in Shenandoah National Park and drove a portion of the Blue Ridge Parkway. I had spotted Luray caverns during that trip but was unable to visit due to time constraints. Thankfully, I have no time constraints on this trip. As it was too early for the caves to be open, I diverted into Luray Village in search of a wake-up cup of coffee. Not only was this an adorable little mountain town, I also discovered a gem of a bakery where I stuffed my face with fresh-baked raisin scones and the most delicious whole-grain blueberry muffin I have ever tasted. I lounged for a couple of hours, listening to the locals gossip and lament about the election and caught up on my blogging while waiting.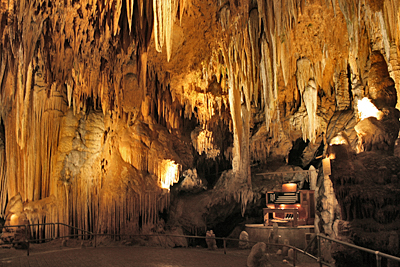 Through the years, I have visited a number of spectacular caverns, each of which has a particular charm. Mammoth Cave in Kentucky has its snowball room, a giant domed room with rock formations on the ceiling that look like snowballs. The caves at Halong Bay in Vietnam are interesting for their sheer immensity and the caves at Ajanta, India, are known the world over for their Buddhist sculptures. Luray's claim to fame is its "Great Stalacpipe Organ." Deep in the bowels of the cave, the keys of a pipe organ have been wired to various stalactites that hang from the ceiling. When the organ keys are pressed, a small metal hammer gently touches the stalactites, each of which resonates in a different tone. As I listened to the music reverberating around the cavern, I moved to avoid the cold water dripping on me from stalactites that are still being formed, but when our guide explained that each of these "cave kisses" means one year of good luck, I moved back under the dripping stalactite. I can use all the good luck I can get.
Other parts of the cave were equally impressive. The formations here are unlike any I have ever seen: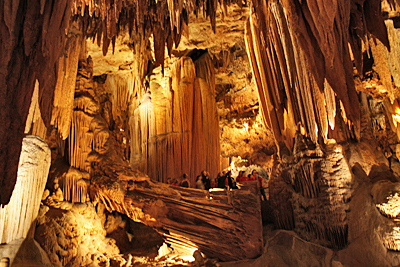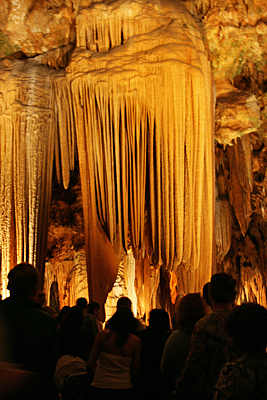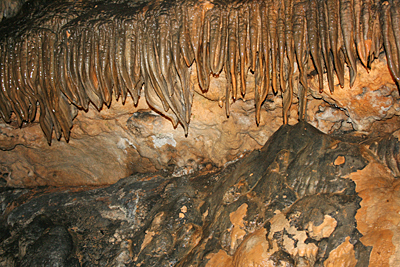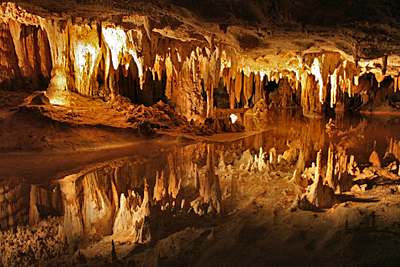 Luray was definitely a Grand Slam!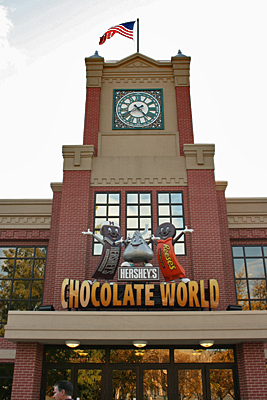 From Luray I drove west just a bit further and picked up I-81, which carried me north into Pennsylvania. In the late afternoon I needed gas and was getting hungry. The map showed that I was just a few miles from Hershey, Pennsylvania, home of the famous Hershey candy factory. Wow! I've always wanted to tour a chocolate factory, I thought. To my disappointment, I discovered that the factory stopped doing tours 37 years ago. Instead, I was directed to Hershey Chocolate World, a large theme park on the outskirts of town. The amusement park, with its intimidating roller coasters, was definitely not for me. I opted for the The Great American Chocolate Tour, a theme park-like ride through an exhibition that featured animated cows and a simulated Hershey's chocolate factory. I assume the intent was to create a Disney-esque ride ala "It's a Small World," but it just came off as shameless self-promotion, not the least of which was the chocolate aroma-suffused room through which I rode right before the ride dumped me out at a store that sells every candy bar made by Hershey's. The whole experience was definitely a strike out. Well, except for the chocolate store. And I don't think I have to tell you whether or not I bought any chocolate.