When my friends, Dorothy and Ricky, invited me to visit them in Edinburgh, Scotland, on my way back from Laos and Thailand, I jumped at the chance. I am, after all, part Scottish. My mother was a MacDonald, a lineage that hearkens back to the days of the famed MacDonald-Campbell feud. The clash between these two ancient Celtic houses lasted for hundreds of years and still evokes strong sentiments in the Scottish Highlands. I found this paragraph on some obscure site about Scotland:
"Clan Donald traces its roots to the great 12th century Gaelic-Norse warrior king, Somerled. His name meant "summer wanderer" and was the name given to the Vikings, who at that time controlled much of the western Isles."
That explains a lot. It seems I owe my vagabond nature to old king Somrled. Praise be to my Celtic genes.
My whirlwind tour of Scotland began with tickets to the cultural extravaganza, "Taste of Scotland," an evening of Scottish music, costume, bagpipes, fiddles, dance and food in the historic Prestonfield House. Earlier in the day Dorothy had perused the contents of my backpack and shook her head. My raggedy khakis simply would not do for the gala evening. She dragged me into her closet and dolled me up from head to toe, right down to purse and shoes.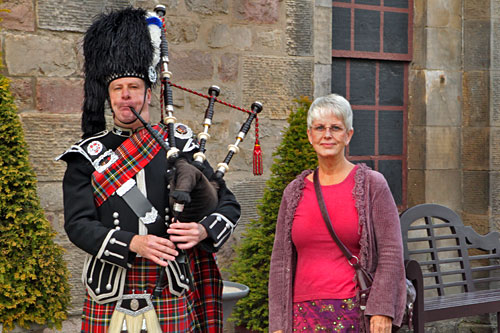 For the next week I was treated to the sights of Edinburgh Scotland. We walked the Royal Mile, where I witnessed men in kilts on their way to the office. We visited exquisite stone structures, including St. Giles Church and Greyfriars. On a narrow side street Dorothy ran into Norrie Rowan, who graciously offered to give us a personal tour of The Caves, a bar carved from the rubble of underground caverns that once formed the sub-structure of the 18th Century South Bridge in Old Town Edinburgh. Lost for more than 100 years, the hidden vaults were rediscovered by Rowan and his son, who have been painstakingly restoring them. We groped our way through dark, narrow passageways with sloping stone floors, emerging into one cavern after another, each lit in dazzling jewel-tone neon lights. Every vault had a story to tell, from those that served as stables for the French Cavalry who were body guards to the Royal family to a recently discovered ancient well.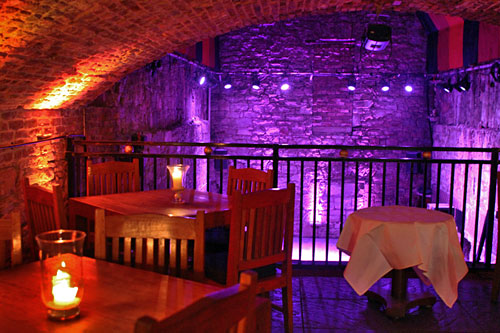 Back outside, the dull light of overcast skies seemed a more fitting complement to the monolithic stone architecture that dominates Old Town, not the least of which was Edinburgh Castle, a colossal stone fort that hulks above the city on a high bluff. As luck would have it, we arrived just in time to witness a special changing of the guard ceremony in honor of the 90th birthday of Prince Philip, Duke of Edinburgh and husband of Queen Elizabeth II. Threatening black clouds began to roll in just as the ceremony concluded. I eyed the skies with concern but my friend Dorothy just laughed. As we ducked into the castle for a tour of the interior she explained that grey skies and rain are ever-present in Scotland. Fortunately, there are plenty of things to do in Edinburgh on a rainy day.
Over the next couple of days I was treated to sights around Edinburgh that tourists rarely see. The lovely Almond River, just steps from my friends' house, led to a serene waterfall, harbor, and causeway leading to Crammond Island in the Firth of Forth. Further upstream we watched the sun set one evening over the Firth of Forth bridge, famous with engineers the world over for its unique design. One afternoon was spent wandering through gardens at Lauriston House, which looked more like a castle to me, while some days I was content just to accompany Dorothy to one of the many Yoga classes she teaches.
Can't view the above slide show of Edinburgh, Scotland? Click here.
As the weekend approached, I was in for another surprise. Ricky and Dorothy treated me to a tour of the romantic Scottish midlands, with its misty moors and drenched-green landscape. My tongue tripped over town names like Pitlochry and swooned over an ambrosial scone with raspberry jam and heavy cream in the enchanting village of Luss, located on the shores of famed Loch Lommond. In Killin, we rested on sun-warmed rock slabs that pocked the Falls of Dochart, warding off the mid-June chill.
Can't view the above slide show of the midlands in Scotland? Click here.
Nothing compares with having a personal tour from locals who know all the secret spots! But the best was yet to come. Stay tuned for part two of my Scottish adventure.
Update December 2018: I just received great news from my Scottish friends, Dorothy and Ricky, who so kindly showed me around Scotland. They recently converted an old office building into three holiday rental units that are located a 10-minute walk to the Edinburgh city center. Knowing my friends I'm sure the apartments spectacular. So, if you're thinking about visiting Edinburgh, check out the floor plans for Beaverhall apartments here.