"This is the only stoplight on the island," announced Yodying, my guide for the day.
"Where?" I asked, not seeing the normal pole topped with red, yellow and green lights.
He pointed to a three-foot high metal tripod with a red light mounted on top, shoved under a tree between intersecting sand roads. "We use it once a year during the Songkran holiday," he explained with a mischievous grin. That was the moment I knew I had discovered paradise.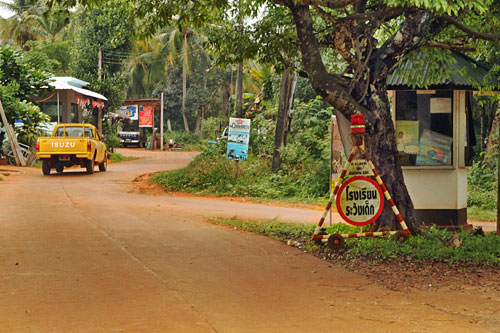 This virtually unknown Eden where I unexpectedly found myself was Koh Mak, a small island on the far eastern side of the Gulf of Thailand. Of the few tourists who visit each year, most arrive on day trips from Koh Chang, its better-known and very touristy neighbor located a mere 12 miles to the north. Determined to change that, Yodying had invited me to be a guest of his Good Time Resort, located atop a high ridge of land overlooking exquisite white sand beaches on either side of the narrow isle.
A month earlier I had visited Bangkok for the first time in ten years and came away saddened by the changes I witnessed. The famous Thai smiles seemed to have been replaced by stressed-out shoppers and the crowds, though always immense in Bangkok, seemed more overwhelming than ever before. I wrote it off as another country rushing headlong toward Western ways and checked Thailand off my list of favorites. However, after touring the sights and several of the 20 resorts on Koh Mak, I was ready to recant.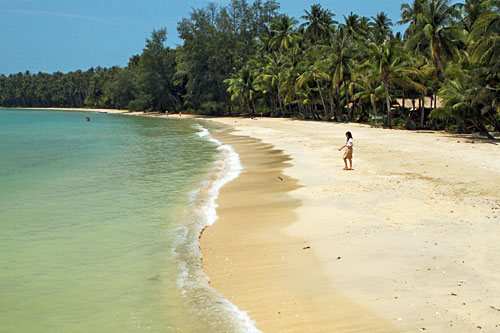 There are no high rises here, no jet skis, no quads, no banana boats. And there never will be. Ninety-five percent of the 9.6 square mile island is still owned by a single extended family whose members are committed that it will never become another Pattaya, filled with beer bars, sex trade, nightclubs and souvenir shops. According to Yodying, their resolve withstood a test recently when a Frenchman began building on one of the few parcels owned by an outsider.
"First I noticed that his enormous house had almost no windows and was surrounded by a tall wall. Next, nine jacuzzis arrived by boat." He alerted his uncle, the chief executive of the island's administrative organization, who called an emergency meeting of resort owners and residents. Since the owner had applied to build a residence rather than a business, construction on the suspected house of ill-repute was stopped.
The lack of nightlife, however, does not mean there is nothing to do on Koh Mak. Pristine beaches stretch for miles along stunningly clear turquoise waters, and the island's location within the National Marine Park offers some of the best diving in the country. Windsurfing, kayaking and guided boat trips to neighboring islands are all readily available. Hiking trails through the lush vegetation abound, as do newly developed bike tracks, and viewing the quirky collection of antiques in the local museum makes for an interesting afternoon jaunt. If relaxation is the goal, sink into a hammock or get a traditional Thai massage. After witnessing one of Koh Mak's famous sunsets, walk barefoot down the beach to one of many restaurants that string colored lights between swaying palms and serve up seafood fresh off the boat.
Can't view the above slide show of Koh Mak, Thailand? Click here.
Because residents could make a relatively comfortable living by selling coconuts grown on the island or tapping the dense forests of rubber trees for their valuable sap, resort development was slow to arrive on Koh Mak. By 1990 only two resorts had been built, but 20-year old Yodying understood the potential of the island. His uncle allowed him to sell coconuts from the palm groves on his land and keep the money, which he used to build huts on the beach. Back then, the only way to reach Koh Mak was a four-hour ride in a wooden fishing boat that ran only twice per week; there were no roads, no telephone, no TV, and electricity was only available from 6 a.m. to 9 p.m. Despite the hardships, unspoiled island life lured backpackers who gladly paid 150 Baht ($5) per night to occupy the crude accommodations. Yodying built more huts and more backpackers sniffed out the remote getaway.
Eventually Yodying had saved enough money to buy a parcel of land from his uncle and he began developing Good Time Resort. Rather than building a small hotel or guest house, he constructed individual homes in the traditional Thai architectural style that features sweeping upturned tile roofs and teak wood. Completed homes were sold to individual owners, who rented them out to vacationers when not being used personally.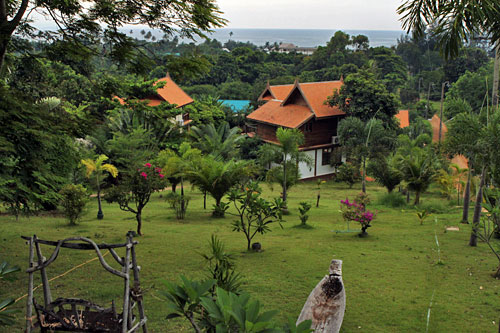 On my first morning, I stood on the upper deck of my temporary home and watched the sun rise over a misty blue ocean, painting the sand golden and the jungle a brilliant emerald as it climbed through the sky. My closest neighbor lay across a verdant grass carpet dotted with outdoor sculptures, close enough to see but far enough away to afford complete privacy. An hour later I made the short walk to the resort's main building and climbed to the open-air restaurant on the top floor. Sighing with contentment, I tucked into the dark German bread slathered with butter, artfully fanned slices of tropical fruit, coffee and juice, while I debated whether to walk to the beach or get a massage after breakfast.
Today there are still only 20 hotels or resorts on the island and I never saw more than a dozen people on the beach at any one time during my stay. To a large degree, locals still earn a living farming coconuts and collecting rubber sap; there is even a small open-air facility where visitors can watch the sap being turned into thick rubber mats. After three idyllic days, every iota of stress had drained away and I seriously considered staying on Koh Mak forever. In the end I had to leave, however I did so with renewed faith that there are still places where visitors can experience traditional Thai lifestyle and I added Thailand back onto my list of favorite places in the world.
How to get to Koh Mak from mainland Thailand
Take a bus from either Mo Chit station or Suvanaphumi International Airport to Trat city. From Trat you will need to take a local taxi to the pier.
From Mo Chit Bus Station (not to be confused with the Mo Chit MRT subway station):
Fare: 248 Baht (~$8 U.S.)
Travel Time: +/- 5 hours
Departure time from Bankok: 07:30, 11:00, 22:00
From Suvarnabhumi airport bus terminal.
Fare: 270 Baht (~$9 U.S.)
Departures directly to Laem Ngop Pier: 08:15 and 10:15; departures to Trat city: 6:40, 10:10, 11:40, 13:10, 16:10, 18:10 (in Trat take taxi to pier)
Boats sail to Koh Mak from Laem Ngop Pier in Trat. If you are taking a taxi or have rented a private van, make sure the driver understands that you need to go to Laem Ngop Pier rather than the pier that will take you to Koh Chang.
Please note that only some resorts accept Master Card and/or Visa, and there are NO ATM's on the island, so plan to bring enough cash in Thai Baht to pay for food, incidentals, and accommodations that cannot be charged.
Good Time Resort kindly hosted the author's visit to Koh Mak. However, the receipt and acceptance of complimentary items/services received will never influence the content, topics, or posts in this blog. I write the truth, the whole truth, and nothing but the truth.