I've always loved the Humpty Dumpty sidewalks and gaping sewer holes in Bangkok. The rat's nest of electrical wires atop telephone poles, tuk-tuks belching black smoke, and motorbikes clogging the broad avenues delighted me; not even the acrid odor of rotting trash mingled with fish sauce put me off. And so it was with great excitement that I headed back to one of my favorite cities in the world after a four-year absence.
Changes in my beloved Bangkok were immediately apparent. All the king's men have put the sidewalks together again and nary an open sewer hole is to be found. Cars now outnumber motorbikes, although ever-present tuk-tuks still scoot through the streets, preying on tourists who don't yet realize that riding through exhaust-suffused streets in these open-air carriages will leave them breathless and choking. But though the city's temples are as exotic and gilded as ever, the smiles of its residents seem slightly tarnished.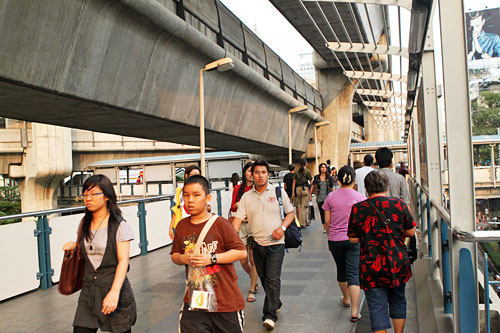 Perhaps my impression is skewed because I am staying in Siam Square this time, home to a glittering collection of some of the world's largest shopping centers. In years past I have chosen hotels in the Embassy district or hostels in Khao San Road, more commonly known as Bangkok's backpacker district. Each has its own peculiar charm: the Embassy district is loaded with great restaurants and is conveniently located just steps from the Sukhumvit line of the BTS Sky Train, while the city's two most popular temple complexes, The Grand Palace and Wat Po, are an easy stroll from KSR.
But for shopping, Siam Square is the place to be. Getting there is a breeze, since the Sukhumvit and Silom lines of the Sky Train converge at Siam Square, but it was even easier for me, since my hostel was a short two blocks away. After recovering from 36-hours of travel I headed out to get reacquainted with Bangkok. I climbed the stairs to the Sky Train's elevated walkway for a bird's eye view of the mega-retail complex. Through a constant stream of pedestrians and posters advertising upcoming concerts by Eric Clapton and The Eagles I spied the mirror-fronted MBK, a seven-story mall famous for its maze of shops and escalators designed to lead customers past as many of them as possible. On the other side of the intersection lay Siam Discovery, Siam Center, and Siam Paragon, all upscale shopping hi-rises in their own right. Further down the street, but still within easy walking distance, was Central World, perhaps most famous for the twin shrines at its entrance where worshipers pray to find an acceptable spouse.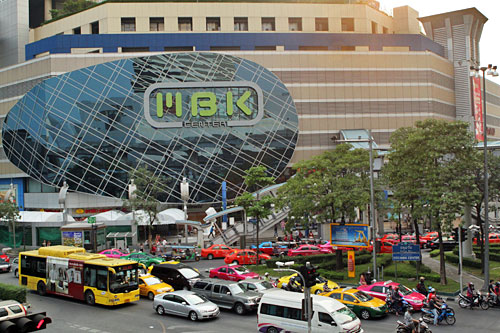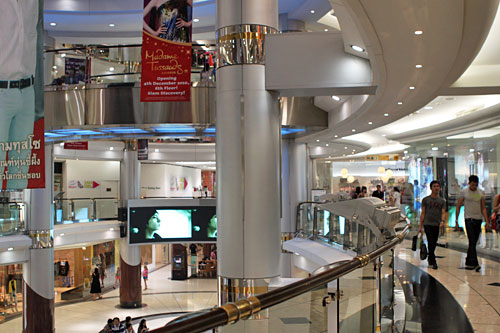 These monuments to retail had all been here for years and the Thai penchant for shopping seemed no more or less prevalent than on my previous visits, however something felt very different. In this country marketed as "Land of Smiles," no one seemed to be smiling. Shoppers rushed from store to store, toting huge bags overflowing with bounty, occasionally stopping to recharge at the Mc Donalds, Kentucky Fried Chickens, Taco Bells, and Starbucks that have taken over the food courts. As a result, prices in Bangkok have risen dramatically since my last visit. Starbucks asks $4 for a Latte and charges $8.50 for one-day access to their wifi. The line at Krispy Kreme went out the door of Siam Paragon and down the sidewalk. Watching this ode to American fast food, it suddenly dawned on me that Thais are getting heavier. Four years ago it was uncommon to see even a slightly overweight person; now hefty Thais are commonplace.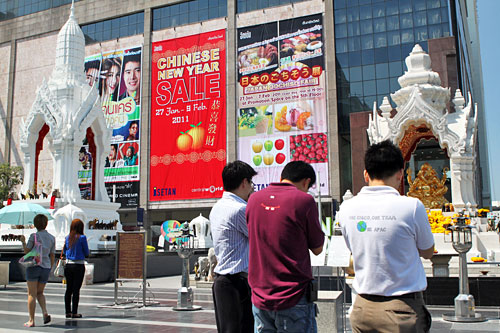 Would I have preferred Bangkok to remain suspended in time? Of course. But it is unrealistic to expect that places will not develop and change. Others want what Americans have and the Thais, more than most, have pursued those desires. However I worry that the pursuit of an ideal based upon material wealth and the accumulation of 'stuff' is dimming the grins in the Land of Smiles. It is a great mystery that many of the happiest people on earth seem to be those who have the least in terms of material possessions.
Where to stay in Bangkok:
On this trip to Bangkok I stayed at Lub-d Siam Square Hostel. Not only is it located just twenty steps away from the entrance to the Sky Train at National Stadium and adjacent to Siam Square, it is without a doubt the cleanest hostel I have ever seen. Initially I chose an Econo-double private room, which, at $42 per night, was well above my usual target of $10-15 per night, however I was tired after my long flight and needed privacy for a few days. As a single I had to pay for two people, since hostels around the world charge per person rather than per room. The room was on special for the month of February but would normally price out at $61 for two persons. The Econo-double provided a very comfortable double bed with linens, towels, and a shared bathroom with 24-hour hot water, kept sparkling clean and equipped with huge shower heads with great water pressure. Even better, each of the spacious shower stalls was equipped with shampoo and soap dispensers, sinks had soap dispensers, and hair dryers were lined up along one wall.
Following a visit to the southern Thai islands, I eagerly returned to Lub-d, this time opting for a bunk in the 4-bed female-only dorm for about $18.50 per night. Again, I found the same level of cleanliness, with crisp white linens and a fleece blanket, and paid about $1.50 rental for a large, fluffy bath towel. Each dorm room provides very spacious lockers for securing valuables. With free wifi throughout the facility, economically priced coin-operated washers and dryers, a theater with a library of videos for free use, cable TV in the common areas, phones for wake-up calls in the private rooms, food and drink service in the lobby, and closed-circuit TV and electronic keycard access throughout the facility, Lub-d has thought of everything. And the employees, unlike the shoppers I saw, were always smiling and willing to help. I wish every hostel around the world was as well-operated as Lub-d Siam Square.

This post is part of the April 2011 Lonely Planet Blogsherpa Carnival hosted by No Beaten Path, where some of the world's best travel bloggers share their experiences of returning to previously visited places. Tune in and discover if it's true that things are never the same the second time around.