One of the pleasures of Bangkok is the ability to get lost without worry. Yesterday we took the water taxi from the Taksin Bridge, on our way to see Wat Arun, the Temple of Dawn. We hopped on board and grabbed a couple of seats on the left side of the boat, soon to discover why every seat on the right was occupied but the entire left side of the boat was empty – the left-hand seats get sprayed with water as the boat makes its way down the river. We had been directed to get off at stop eight but not every stop had a number visible – at least not in English – so we ended up getting off at stop six by mistake.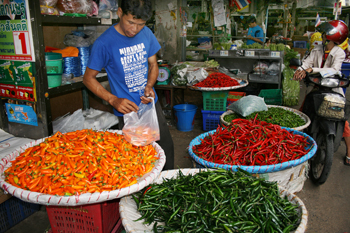 Our attitude, as with all things on this trip, was that all things happen for a reason, so we set off on foot along the river. Before going two blocks we found ourselves in the midst of an open-air vegetable and herb market. There were varieties of squash, pumpkin, melon and many other items I have never seen before. One man sat in front of wicker trays sorting hot chilies. Another loaded huge sacks of peeled garlic cloves. A third man loaded a pickup truck with green onions, their root ends pointing outward and looking like white fur. Yet another group sat in a circle peeling large white onions. And then there were the women bundling the same three-foot-long string beans I saw in Vietnam – they are delicious, by the way.
So much of Thai culture revolves around food and so much of it is incredible spicy – restaurants indicate how hot a dish is by printing tiny red chilies next to menu items, with one chili being mild and four chilies being extremely hot. Undeterred, Thais will often ask if the restaurant has any dish that is classified as five chilies, or even six.
After passing through the market we found our way to the pier across from Wat Arun where, for 3 Baht apiece (about ten cents each), we ferried across the river. Wat Arun, or the Temple of Dawn as it is often called, was the Grand Royal Temple for King Rama II. It is a grand elegant stupa that has been decorated with many thousands of pieces of chinaware. The temple is in deteriorating condition and I was glad to see that restoration work was underway. While it was interesting to see the site close up to examine the multitude of colored pottery and chinaware that adorns its walls, I think the most impressive view of it was from a coffee shop on the banks of the Chao Phrya River, directly across from the temple. From this spot we indulged in iced lattes as the sun set, watching as the temple lights slowly illuminated the towering stupa against the darkening sky.
Exhausted, we grabbed a taxi back to the hotel and fell into bed, too tired even to go out to dinner. Tomorrow we head for the weekend Chatuchack Market, the largest open-air market in the world. It makes me tired just thinking about it.