The trip to Phi Phi Island was ten hours long and not particularly pleasant. It began with an hour flight to Krabi on the southern peninsula of Thailand. From the airport we got a taxi that took us to one of the myriad tour companies in Krabi Town, where we purchased tickets for the 3PM ferry to Phi Phi. By this time it was noon and the temperature was more than 100 degrees – not pleasant when you are wearing a fully loaded backpack and dragging around your luggage. With two hours to kill before catching the shuttle bus to the ferry dock we went in search of food and finally found one place open on Sunday. Along the way every tour operator pressured us to book a hotel on Phi Phi. It was the same old refrain – this is high season, there is no availability, you will get there and have nowhere to stay – etc, etc, etc. I know this is a scam but there's always that nagging little doubt in the back of my head. It says, what if they are telling the truth this time and we get there and can't find a room? What do we do then – sleep on the beach? The tour operators bank on this. They are experts at instilling fear in order to get your business. Undaunted, we stuck to our plan to wait until we arrived on Phi Phi so we could actually see the hotel and the room before booking.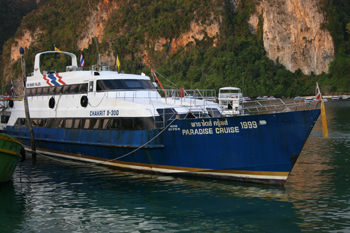 We sweated through our midday snack at the open-air restaurant and headed back to the tour company just before 2PM, where we were loaded onto a mini bus and taken to the ferry harbor, about 5 minutes outside of town. After another 45-minute wait in an open-air pavilion we were directed to go to the end of the dock and wait for the ferry. Finally, a rusty old bucket of a boat chugged into the dock and we were allowed to board. The locals were directed to the small enclosed upper seating area; we tourists were sent into a larger enclosed seating area in the lower bowels of the ship, a dark, damp hold filled with rows of peeling blue vinyl seats and reeking of diesel fuel. There was no air conditioning and the heat was oppressive. Windows ran down both sides of this passenger area but they were so fogged it was impossible to see through them. Everything made of metal was covered in bubbling boils of rust. At the front of the hold there were two exits – swinging glass doors that accessed a metal stairway leading topside – but one of them had been completely blocked with piles of luggage.
Many of the tourists opted to make the ride sitting topside on the foredeck, despite the hot sun beating down on them during the two-hour ride. My traveling companion, Joan, decided to go topside because, as she explained, if you are below decks when one of these old buckets goes down you are trapped. I stayed right where I was. I figured the ferry had been making this trip twice a day for years and had little doubt it would reach port safely, despite its deteriorating condition. And if the worst happened – if it sunk and I died – well, I would die doing what I love most. That got me thinking about the question of danger versus discovery. So many people, when they travel, limit their experience. They go to all-inclusive resorts and never leave the grounds. Or they won't try the local food for fear of getting sick. I am not interested I that kind of sanitized travel. I want to fully experience the places I visit. If I hadn't taken the shortcut through the Buddhist Monastery the other day I wouldn't have been bitten by the dog. But if I hadn't gotten off at the wrong water taxi stop in Bangkok and then wandered through the neighborhoods I might never have seen the locals trying to capture a giant monitor lizard that was trapped in the sewer. If, over the years of my travels, I had assumed that everyone who stopped me on the street was a scam artist or a tout, I would have missed out on meeting some wonderful people.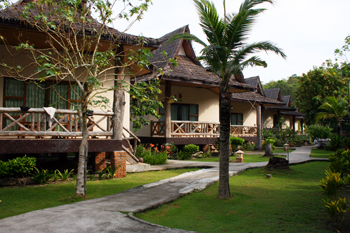 There is a fine line between danger and discovery. How does one know the difference? I don't know for sure. I only know that I rely on my gut a lot. If it tells me I am not safe, I leave immediately. If it tells me the person I am talking to does not have my best interest at heart, I end the conversation. But I always try to leave myself open to new experiences and not live in fear. People everywhere are basically good and if you treat them with respect it will be returned to you. So, go out there and travel the world. In general, it IS NOT unsafe, despite what our government wants us to believe. Use common sense and don't go to places that are dangerous, but there is a whole wide world of travel experiences that await you in places that are fascinating and beautiful, like Phi Phi Island. Yes, we finally made it and found a hotel room at the gorgeous Phi Phi Villa Resort. But more on Phi Phi later.