When someone learns that I am a travel writer, the next question out of their mouth is usually, "What's your favorite travel destination?" It's a question that's almost impossible to answer. There are so many incredible places in the world, and every destination has a different allure. I adore Italy for its passionate culture and colorful seaside villages where ancient buildings hang from cliffs. Zimbabwe was a particular favorite because the people were genuinely warm and welcoming, despite the political struggles and economic adversity they were enduring.  New Zealand had the friendliest people I have ever met, and breathtaking scenery, to boot. But, if forced to narrow it down to one place, my favorite travel destination would have to be Thailand.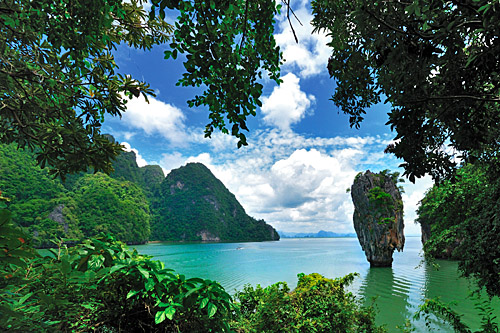 I've visited Thailand four times and will be traveling there for a fifth visit this fall. Just the thought of returning is exciting, but this time something extra special is in the works. I have been invited to stay at the the world's first Ritz-Carlton Reserve Phulay Bay, located in Krabi on Thailand's southern peninsula. I have been to Krabi – or I should say I have been through it; on my most recent trip I caught the ferry from Krabi to the Phi Phi Islands – but I have never stayed in Krabi. In this area of Thailand, jungle-clad limestone pinnacles protrude from a sea of such pure turquoise that it makes my eyes hurt. The scenery is so exquisite that it's it's how I imagine heaven must look, and the photos I've seen of the new Ritz-CarltonReserve Phulay Bay are equally gorgeous. I simply cannot wait!
The property has been designed for those who wish to escape the stresses of everyday life and immerse themselves in a personally-tailored-to-suit luxury vacation experience. Set on the shores of the Andaman Sea, Phulay Bay is a striking 54-villa and pavilion boutique hotel offering unspoiled views of the naturally rugged shoreline.
The resort is the vision and work of Thai architect Lek Bunnag, who has combined modern styling with distinctive accents from Thai, Middle Eastern and Moroccan cultures. Bunnag takes inspiration from beautiful things from around the world to create an environment where the senses are continuously triggered and enlivened.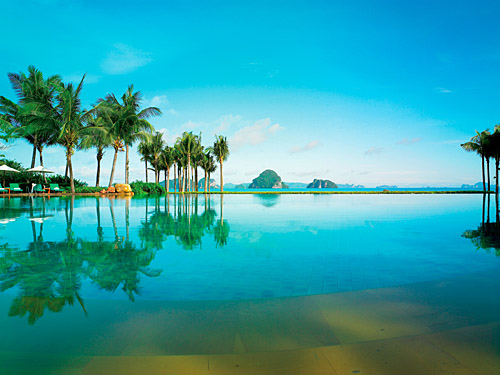 From the moment guests arrive, they will know they are somewhere special: 20ft high aubergine walls and 'hedges' made from indigenous trees create a sense of wonder from the outside and a great sense of peace and stillness on the inside. Guests enter the resort through the high walls and walk over a stepping-stone pathway leading to an island, where a magnificent Thai pavilion is surrounded by thousands of gently flickering candles. From the resort's own scent and signature drink to the 100% Thai silk soft furnishings and traditional story-telling Lanna art that adorns the walls, everything reflects the natural beauty of Thailand.
No two of the resort's 16 signature Reserve Villas are the same. Guests can opt for a villa with a lap pool and lawn area for sun worshiping, a private rooftop for alfresco dining and sunset viewing, or a completely secluded pool bathing area for total privacy. Inside, luxury prevails with oversize beds, deep sunken baths, walk in closets, expansive decked gardens and magical 'keyhole' doorways.
Can't view the above side show of Phulay Bay Resort in Thailand? Click here.
Guests can 'design' or tailor-make their experience at Phulay Bay. Their personal butler can organize a light BBQ lunch at a favorite beach spot, a meditation class with local monks, elephant trekking to a remote picnic spot, a sea plane tour of region's dramatic scenery, an in-villa personal yoga session, a boat journey to surrounding islands – the possibilities are endless.
World-class culinary experiences are available throughout the resort's six restaurants, each of which have been designed to accommodate a small number of guests for highly personalized and non-intrusive service. Chef will personally meet diners to better understand their tastes and preferences and all ingredients will be sourced from local markets and cooked fresh. Included is the resort's signature Thai restaurant, Sri Trang, a stylish restaurant set on its own jetty overlooking the shoreline. Guests can also choose to dine under the stars in a private sala at Lae Lay, the resort's seafront pavilion, beautifully appointed with oversize chairs and lanterns that hang among rustling trees.
By day, an infinity pool bar furnished with soft loungers and silk pillows serves more casual cuisine, while the resort's sunset lounge offers with day beds, oversize pillows, chill-out lounge bar music and candle lanterns for a truly intimate and relaxing feel. RAW spa café prepares fresh, uncooked and unaltered vegan products and has a green hydroponic bar growing the resort's own wheatgrass and lettuce (you all know me well enough by now to know the latter is where I will be hanging out).
ESPA Spa at Phulay Bay is a sanctuary for relaxation and rejuvenation. Stepping stones meander through the traditional Thai pavilions, leading to relaxation terraces surrounded by vegetation and reflection ponds. The Spa is equipped with 11 treatment rooms, including single and couples massage rooms and two VIP treatment suites with their own expansive decks for massage and showering.
The website for the new Ritz-Carlton Reserve at Phulay Bay describes the property as "spellbinding" and for once, I believe this is just not PR speak. Opening rates are as follows: Resort Pavilion 19,550 Thai Baht ($590 U.S), Ocean Pavilion 21,250 Thai Baht ($640 U.S.), Beach Villa 27,200 Thai Baht ($820 U.S.), Reserve Villa 44,200 Thai Baht ($1,333 U.S.), and Royal Beach Villa 68,000 Thai Baht ($2,051 U.S.), exclusive of 18.7% service charges and taxes.
All photos courtesy of The Ritz-Carlton Reserve at Phulay Bay