I'm back in Bangkok after an uneventful (thank God!) flight back from Siem Reap, Cambodia. This time I'm staying at the O Bangkok! Hotel, which is in the backpacker district, but a couple of blocks away from Khao San Road, so it's not so noisy and crazy. This place is pretty nice. It was built only a couple of years ago, so it is fairly new, relatively clean and you can't beat the price ($19 per night including breakfast, with 24 hour security and free safety lockboxes at the front desk). I think the third time might just be the charm, where hotels in Bangkok are concerned.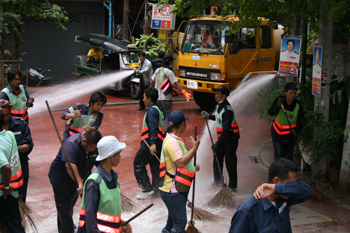 You just never know what's going to happen around here. I was sitting on the restaurant terrace of my hotel having breakfast this morning when I heard a really loud whooshing noise. I looked up to see an entire crew of workers approaching, clad in long pants, day-glo vests, and rubber boots. Closely following them were two tanker trucks filled with water. Fire hoses attached to the trucks were spewing a high velocity stream of water down the street. Between the fire hoses and the crew that was equipped with brooms and rakes, every bit of dirt and debris left over from the Thai New Year celebration of Songkran was swept away into the sewers. It was really pretty efficient, not to mention amazing to watch. I've been wondering how they get rid of all the dog poop.
My friend, Joan, arrives late tonight, so I just took it easy today and wandered the streets and back alleys of the backpacker district to see what I could discover. At one point I got about three quarters of the way down a narrow alley. Suddenly there were no more stores and I could hear a lot of noise down at the end of the alley – sounded like someone was hitting sheet metal with a sledge hammer – so I decided it was a dead end and turned around. Right behind me was a man who kept on going and as I passed him I asked what was down the alley. He spoke only French but he took me by the hand and led me toward a stairway at the end of the alley that turn out to be a shortcut to Khao San Road. Even better, the hammering turned out to be a Muay Thai Kickboxing ring, tucked away in a pocket of the alley. Lots of people were training here, including several women who I wouldn't want to meet in a dark alley. They packed punches and kicks harder than any I've ever seen.
The man who showed me the way turned out to be French Algerian. When he asked which hotel I was staying at I answered vaguely, saying something like, "Oh, some place at the end of Rambuttri Road – I can't remember the name." I figured that was pretty safe, since there are at least 300 hotels and guest houses on this street. He then told me where he's staying and gave me his room number. Laughing, I interrupted him and said I wouldn't be needing his room number. This is probably the fourth time this trip that I have been propositioned, which is pretty weird, since I haven't even had a date in something like eight years. Maybe I've gotten better juju on this trip.
There are a couple more things I haven't been able to figure out about Bangkok. I see people walking around all the time holding old-fashioned Vicks inhalers in their nostrils. I'm not talking about a quick whiff – they hold these inhalers in their nostrils for a half minute at a time. I also see men who walk around with their shirts pulled up over their bellies. I've been told this is because the Chinese believe the seat of our power is in the belly button so they pull their shirt fronts up to let their power spot breathe. That seems a bit far fetched to me, but who knows. The one thing that you can count on is that the sights of Bangkok are amazing; you just never know what you'll find around the next corner.