On the day I departed from The Sanctuary Resort on Koh Pha Ngan, the seas were again too heavy for the Koh Samui ferry to pick guests up from the beach, so we climbed into an inflatable rubber boat for the short ride to the larger boat, waiting out in the bay. As if serving up a crowning indignity on a visit that had been disappointing at best, the boat timed the swell poorly and dove through a wave, drenching passengers and luggage. Exasperation turned to laughter all around and soon I was comparing notes with Patricia and Martin Bourbonnais, who had spent the previous week at the resort.
They had chosen the Sanctuary for its famous detox and fasting program and were now bound for Koh Samui for a few days of relaxation at Zazen Boutique Resort & Spa. I  had wavered between spending time on Koh Pha Ngan or Koh Samui but eventually settled on the former because it was reputed to have lovely beaches and its remote location meant it would be less touristy and crowded. But the extra effort required to reach Koh Pha Ngan, which is accessible only by boat, hadn't deterred visitors, who arrived in droves to party hearty at the famous full moon parties held every Friday. I admitted that even the beaches had fallen short of my expectations; the soft, powdery sand that I prefer was non-existent on Haad Tien Bay.
Perhaps sensing my disappointment, when they learned my plane didn't leave until later that evening, Martin and Patricia suggested I join them for lunch at Zazen and relax on the beach rather than spending hours waiting around an airport. I gratefully accepted, delighted to have an opportunity to check out what Koh Samui had to offer. Despite my disheveled and still soggy appearance, the Resident Manager of Zazen, Diego Pignatelli, graciously welcomed me and provided a changing room where I could shower and store my luggage for the day. Refreshed, I joined my friends and dug into a mouth watering vegetarian coconut curry over rice at the resort's open-air Zazen Restaurant while drinking in the view – a perfectly manicured beach and shimmering seafoam green ocean that stretched to the horizon. After lunch my friends headed out to do some shopping while Diego stepped in and showed me around.
Zazen is a charming boutique resort with only 26 rooms, which allows the staff to make guest satisfaction their top priority. All the bungalows and villas are built in a split-level style and feature open Balinese tropical bathrooms, the latest entertainment technology, and Thai decorator touches that reflect the local ownership of the resort. On the beach, guests are pampered by a beach team that provides mini-massage sessions, cold towels, afternoon teas and fruit skewers. The on-site beach club offers a wide range of water sports activities, including free use of kayaks and wind surfers, while the resort's brand new Indian-Moroccan style wellness center, Le Spa Zen, features four treatments rooms, changing and relaxation rooms with lockers, sauna, steam room, cold-plunge pool and rain showers.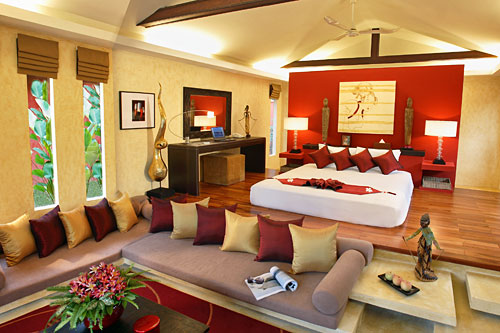 I was impressed, but the acid test was yet to come. I stepped onto Bophut bay, wriggled my toes in the silky soft sand, and sighed contentedly as I sank into the overstuffed lounge chair. Within seconds, one beach boy delivered a giant fluffy beach towel and adjusted my personal shade umbrella, while another rushed over with a plate of fresh tropical fruit. It almost seemed a crime to crack open my laptop in such a serene environment, but I had work to do and the resort boasted free high speed wireless internet in all rooms and around the restaurant, bar, pool & beach. After nine days with almost no Internet connection, I nearly wept to have a fast, reliable connection.
As the sun sunk toward the horizon, turning the sky an opulent gold, I took my leave, regretting that I would not be able to attend the Thai dance shows performed twice each week in the restaurant, participate in Thai cooking lessons held in the panoramic open kitchen, wrap myself in the silk dressing gowns provided with each room, or try out the eight varieties of bed pillows offered to guests. I had undoubtedly chosen the wrong island to visit, but the silver lining is that I now have a very good reason to return.
All photos courtesy of Zazen Boutique Resort & Spa