I first saw the acrobats on the beach at The Sanctuary Resort on Koh Pha Ngan, Thailand. One of the men was lying on his back on the sand, balancing a diminutive Chinese girl seated on his feet. Using only his feet, he turned the girl around so that she was facing away. She gracefully bent backward and hung upside down, allowing her head to hang suspended just above his abdomen.  When he reached up and gently stretched her neck I thought, oh, my god, that's what I need.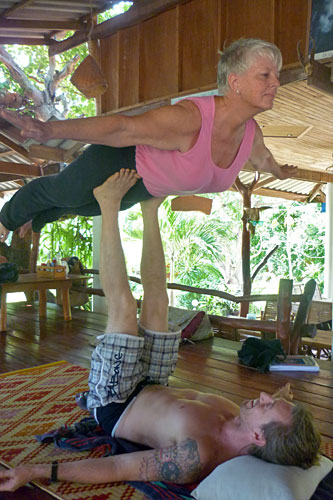 The position seemed ideal for relieving my chronic neck pain. But I quickly dismissed the idea. I could do all the poses they were demonstrating on my Yoga mat, but up in the air? No way. He probably couldn't even support someone of my size.
As luck would have it, the following afternoon the same acrobats sat down next to me in a restaurant on Haad Tien Bay and I couldn't resist asking about their unique practice.
"It's called AcroYoga," explained Richard Baimbridge, describing it as a playful and healing combination of partner Yoga, Thai massage, and acrobatics. "But informally, it's known as flying."
Baimbridge, who originally hails from Texas, teaches both AcroYoga and Vinyasa Yoga in Shanghai China. While at The Sanctuary Resort training for his Anusara Yoga certification he  met Surya Dancing Buddha, another AcroYogi staying at Haad Tien Bay. The two hooked up to compare notes on this still emerging form of Yoga and the impromptu beach demonstration was born.
I admitted my fascination but expressed doubt that he could support someone of my size. "I've flown people lots bigger than you," Baimbridge insisted, adding that he'd once flown a Japanese sumo wrestler. Before I knew it, he'd spread a wicker mat on the restaurant's wooden deck and waved me over. It was put up or shut up time. I stood in front of his upraised legs as he coached, "Just lean over my feet and grab my hands." As I bent forward he planted his feet on either side of my pelvis. "Now arch your back and take your arms out to the side." Tapping into core strength built up through years of Yoga practice, I let go and moved into Front Bird pose.
Excited to know more, we gathered again later that same afternoon in one of the Yoga shalas at The Sanctuary, where Baimbridge and his girlfriend, Susan Huang, demonstrated two types of AcroYoga: the more gentle massaging/stretching routines and the more complex acrobatic maneuvers. Afterward he grinned and beckoned me over once again, this time instructing me to bend backward over his feet. He supported my shoulders in his hands as I rotated upside down, bringing the soles of my feet together in the air. He gradually moved his feet from my lower back to my upper thighs and, once I was comfortably balanced, reached up to massage my neck. Oh, bliss!
But we weren't done yet. From a standing position I wrapped my left legs around his, balanced my left buttock on the sole of his foot, and leaned forward to grab his hands while he placed his other foot under my right buttock.
"Now let go of my hands and sit up!" Impossible, I thought. "You can do it," he insisted. Surprising myself, I swept backward, sat up, and placed my hands together in prayer position. Joy swept through me. I felt like an eagle, soaring free. Its real name may be AcroYoga, but it will always be flying to me.