The aroma of rich coconut milk and sweet, juicy mangoes stopped me in my tracks; someone at the Damnoen Saduak floating market was whipping up my favorite Thai dessert. Sniffing the air bloodhound-style, I wandered along the narrow canal hunting for the source of the delicious smell. Like a heat-seeking missile, a Thai boat lady paddled to the edge of the pier and grinned up at me. I may have had a nose for sticky rice and mango, but she smelled an easy mark. There would be no bargaining over this sweet treat.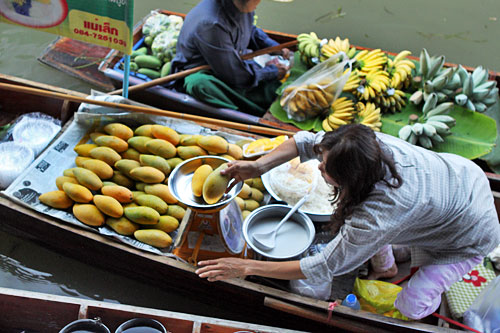 Deftly balancing in the gently rocking flat-bottomed boat, she leaned forward and scooped a mound of white rice from a steel pot perched on a cross slat, surrounded it with a circle of golden mango slices, drenched it all with some extra coconut syrup, and topped it with a handful of crunchy toasted rice. "Neung roi baht," she insisted. "One hundred baht." Helpless, I nodded my assent and dropped a bill into the plastic basket attached to a long wooden pole she thrust at me. Pulling the pole back into her boat, she replaced my bill with the platter and shoved it back over the water toward me. Practically drooling, I dug into my obscenely expensive dessert. The perfectly ripened mangoes melted in my mouth like lumps of brown sugar, while the starchy rice was sweetened with just the right amount of coconut milk. Heavenly! And worth every cent of its $3.50 price.
The sticky rice vendor serenely paddled back into the melee of floating vendors jockeying for position in the narrow khlong (canal), repeating a scene that has occurred daily since the King Rama IV ordered the Damnoenssaduak khlong dug in 1866 to to connect the Tacheen and Maklong Rivers. In an area with no roads, the khlong became the main means of transporting crops grown on the exceptionally fertile surrounding farmlands. Peasants dug more than 200 smaller offshoot canals in order to bring irrigation water to their farms and facilitate transport of their produce to Bangkok; before long they were launching flat-bottomed wooden boats loaded with fresh fruits, vegetables and handmade crafts each morning, selling and bartering goods to their friends and neighbors as they exchanged the day's news and gossip.
For nearly 100 years, vendors at Damnoen Saduak Floating Market paddled these placid waterways in a spectacle that remained unchanged until the market was discovered by the outside world in the mid-1960's. Overnight, tour operators capitalized on the new attraction, providing easy access with bus tours that delivered hundreds of foreign visitors to the floating market each morning. Today the pageantry is performed solely for tourists, and yet, as I meandered along the khlong, snatches of authenticity surfaced from beneath the tourist veneer. Women in wide-brimmed straw hats stopped in mid-stream to gossip or called out to friends on the shore, waving and smiling effusively. The daily scene may be played out for tourists but the sense of community has survived intact, satisfying my craving for a cultural travel experience.
Can't view the above slide show of Damnoen Saduak floating market near Bangkok, Thailand? Click here.
Like most of the visitors, I had come to Damnoen Saduak on a bus tour from Bangkok. We arrived too late; by 9:30 the sun was too high for decent photos, the crowds were intimidating, and we were allowed only an hour at the site. I will return some day, but next time I will catch a local bus to Damnoen Saduak and stay overnight so that I can be at the floating market at dawn, when it is still possible to experience what it must have been like before it became a tourist mecca. In the meantime, I sniffed the air and followed my nose to yet another boat lady who was filling crispy shells with fluffy marshmallow pillows, topped with orange and yellow shaved coconut. The woman looked up at me craftily; once again, my craving gave me away. I knew I would pay whatever she asked.
How to get to Damnoen Saduak Floating Market without a tour
By Car: Damnoen Saduak Floating Market, about 65 miles south of Bangkok, takes about two hours by car. On Highway No. 4 (Phetchakasem Rd.), turn left at Km. 80 and proceed for another 15 miles along Bangpae-Damnoen Saduak Rd. You will know you have arrived when you see the archway with the name Damnoen Saduak across the top.
By Bus: Air and non air-conditioned public buses leave from Bangkok's Southern Bus Terminal on Pinklao-Nakhonchaisi Rd. every 40 minutes beginning at 6 a.m.