For my very first trip to Thailand in 2002 I chose a week-long Yoga retreat on Koh Phra Thong, a little-known island in the Andaman Sea off the west coast of the country, and Yoga has been part of every subsequent trip. So as I made plans to return to Thailand for the first time in four years I researched destinations that would offer Yoga and beautiful beaches on the islands in the Gulf of Thailand, an area that I had never visited. Over and over, one name kept cropping up: The Sanctuary Resort at Koh Pha Ngan.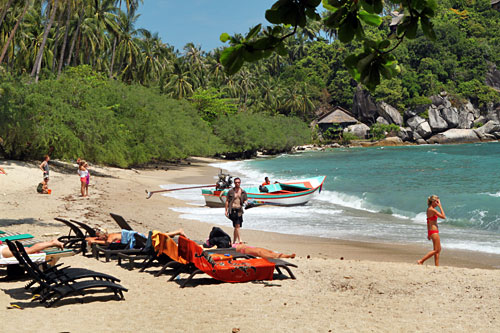 Although best known for its no-holds-barred full moon parties, the island of Koh Pha Ngan also has a tradition of secluded resorts that offer yoga, meditation, and fasting programs, and The Sanctuary was said to be the best of the bunch. I contacted the managers to explain I wanted to review the resort on my blog and inquired whether they offered a media rate; they offered me a discount and asked that I contact them a few days before my arrival to make final arrangements. However, when I did so they had no cabins available and suggested I try again in a few days. The following week, although they still had no cabins available, the resort manager offered to reserve a space for me in their dorm and, knowing the dorm rooms are usually booked on a first-come, first-serve basis, I eagerly accepted.
Following the instructions on their website, I flew to Koh Samui from Bangkok and took the Thong Nai Pan ferry boat from Mae Nam pier, which delivers passengers directly to The Sanctuary on Haad Tien Bay. Unfortunately, on the day I arrived the seas were too rough to land at Haad Tien Bay and the boat had to put me off at Haad Rin Town, but I had been forewarned about this possibility by the resort's website, which stated: "To get here by boat from Haad Rin Town, locate the taxi boat drivers at the port. They can bring you to The Sanctuary, which is a short 15 min journey." I began asking about onward transport to the resort but was told that the once-per-day jeep taxi that braves the horrendous dirt track masquerading as a road had already come and gone. The long tail boat operators wanted 2000 Baht to take a single passenger (about $67 US), which was astoundingly expensive, even in a country where things are getting pricier by the day. They insisted that my only other option was to hike up and over two steep hills with all my luggage on my back. Hot, sweaty, and by now frustrated, I decided to phone the resort for assistance. Stepping into an Internet cafe, I presented the number shown on the resort's website and in their emails, but the phone was out of service.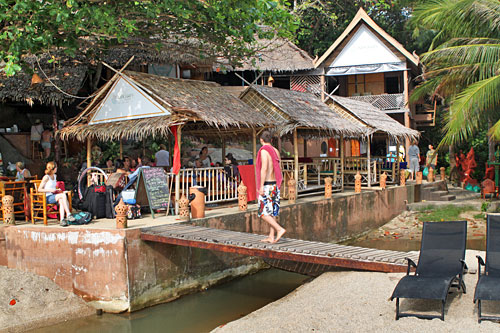 Fortunately, the woman in the Internet cafe pulled out a map and explained what I needed to do. My ferry boat had dropped me at the Haad Rin West pier, which is located on one side of a very narrow isthmus. Long tails departing from the west side have to make a long journey around the isthmus to the east side, where The Sanctuary is located, thus the high fare. Smelling a sucker, the boat owners didn't tell me that I simply had to walk five minutes to the other side of the isthmus.
Fifteen minutes and 200 Baht (~$7) later, I jumped into thigh-high water and hefted my backpack across sloping sand and up a stairway to the resort's front desk, where I introduced myself to the reception manager, Lenka. Unsmiling and brusque, she ran me through the drill. I was given a number that was to be used for all purchases during my stay and instructed to check my bill each day to make sure it was correct. This same number was written on a dry-erase board hanging at the end of the reception desk, in full view of every guest. When I expressed concern that anyone could use my number, she reiterated that it was my responsibility to check my charges each day and insisted I would not be charged for disputed amounts. Their emails had promised: "Last but not least for all you internet geeks we now have WiFi all over the Sanctuary in every nook and cranny and the houses also," but Lenka informed me that the wifi didn't work well because the resort was surrounded by rock. However, since my iPhone picked up the connection with no problem, she offered to sell me a 1000-minute package for 2000 Baht ($67!). Irritated, I pointed out that nowhere on their website or in emails had it disclosed that the wifi was fee based. Her dismissive reply was, "It is what it is."
Disgusted but too exhausted to argue, I hefted my pack and carefully negotiated the rickety stairs leading to the dormitory, built directly over the restaurant and bar. The keyless door opened into a large room that seemed more like an enclosed deck. Not only did it vibrate each time someone came up the stairs, it faced directly onto the beach where full moon debauchery went on all night long every Friday evening. The 12 "dorm beds" were vinyl mats on the hard wooden floor. That didn't bother me too much as I've slept on the floor many times, but the lack of any lockers where I could secure all my electronic equipment was unacceptable, so I traipsed back downstairs to discuss alternative options. At Lenka's suggestion, I found accommodations elsewhere on the bay, which at least allowed me to attend the Sanctuary's classes and special events.
I'd like to be able to report that things got better during my nine-day stay but they went downhill. The resort's common areas seem neglected and needed a good cleaning; the mats in the Yoga shala smelled so rank that I couldn't bring myself to use one. Fountains filled with standing water around the property were breeding grounds for some of the most gigantic mosquitoes I have ever seen; to combat the problem landscapers roamed the property with obnoxiously loud fogging machines that blanketed everything in choking clouds of insecticide. The restaurant's food was mediocre and overpriced, as were spa services; a one-hour Thai massages in Bangkok costs 350 Baht but The Sanctuary price was 550 Baht. Litter was strewn across the beach and the coarse, pebbly sand was impregnated with oil that leaks from long tail boats; it was often late afternoon before anyone from the resort made a half-hearted attempt to clean up the trash left over from the previous night's revelry.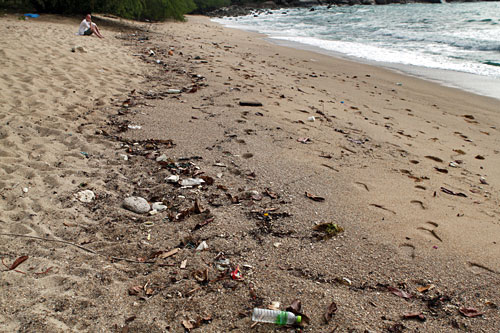 During my stay, the wifi never did work. Instead I had to plug in using a cable  in their Internet cafe, which only had a reliable connection two out of nine days. Guests were constantly being kicked off in the middle of composing emails or trying to make airline reservations, and were livid when the resort insisted they pay for using the computers, despite the connection problems. In fairness, I did talk to some guests who raved about The Sanctuary's fasting program and the resort's Yoga classes were well done. But had it not been for the great interactions I had with other guests like Richard Baimbridge, who introduced me to AcroYoga, I would have considered my visit a complete bust.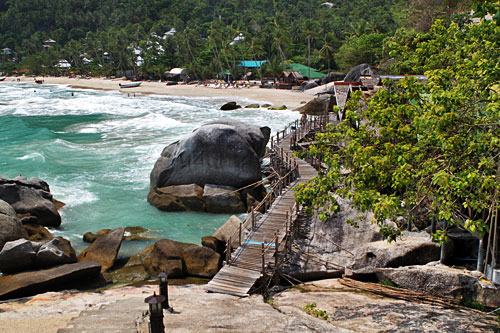 On day seven, thoroughly disgusted with The Sanctuary, I went in search of the Bamboo Huts restaurant, reputed to have the best food in the area at a great price. I crested the rocky outcropping separating Haad Tien Bay from Haad Yuan Bay and wound back down toward the beach through behemoth granite boulders scraped smooth by eons of wind and water. The restaurant perched atop one of these, with a million dollar view down to a pristine crescent beach backed by an aquamarine ocean. My meal was as delicious as had been promised and I learned that the restaurant was part of Bamboo Huts Resort. Scattered across the rocky escarpment, their adorable bamboo huts offer private bathrooms; 24-hour electric and hot water;  fast, reliable wifi for a fee; and are priced at only 350 Baht per night (~$12). The resort has no website or email, but reservations can be made by calling +087 8888592.
As my departure time drew near I discovered a shack at the other end of the beach where I could get a good, cheap local massage. A few Yoga sessions, a couple of massages, and the company of great new friends had inclined me to be kinder in this review than the resort deserved, but as I stood on the beach on my final morning, waiting for the ferry to arrive, Lenka said goodbye to several other guests then turned her back on me, walked away and pretended I didn't exist, passive/aggressive to the end.