My life changed for the better when I deserted corporate America to pursue my true passions of travel, writing and photography but over the past few years I've often felt there was still a piece of the puzzle missing. There was something more I was meant to do; I just wasn't sure what it was. And then I arrived in Nepal.
As my three week visit stretched to three months, I became acutely aware that behind the veneer of beauty lay excruciating poverty. Here was a place where I could do some good, I thought. I began researching NGO's (non-governmental organizations) and learned it was quite simple to create and register one in Nepal. Combining an NGO with a 501(c)3 non-profit organization in the U.S., which would allow people to make tax deductible donations, seemed the perfect way to help Nepal and satisfy my desire to give back.
As I toured the country I broached the subject of NGO's and volunteering with everyone I met. My first inkling that all was not as it seemed came from a guide in Chitwan National Park. Morally opposed to riding elephants, I instead opted for a walk through a nearby village to learn more about the local Tharu people. My guide, who lived in the village, warned, "Maybe 75% of orphanages are not real."
He told me about a group of Polish tourists that had established an online relationship with an orphanage prior to traveling to Nepal. Upon arrival, they hired my guide to help purchase bulk food and supplies, in addition to a cash donation they planned to make. Although he warned of potential fraud, the Poles insisted that this particular orphanage was legitimate. Several weeks later, long after the donors had returned home, my guide stuffed his pockets with chocolates and returned to the orphanage. As the children clamored around him, fighting for candy, he quizzed them. What had they been given to eat over the past few weeks? Had they received new clothes? School supplies? None of the children had new clothes or supplies and they had been fed only dahl bhat (rice and lentil bean stew), as usual. He later learned that all the fresh foodstuffs and a good deal of the bulk non-perishables were part of a volunteering scam. The donated food had been sold and the cash distributed among the orphanage owners.
My guide explained that many orphanages solicit funds through websites that feature photos of destitute children and inspiring stories of rescues made possible by donations. Yet in truth, many of these same orphanages are non-existent. In the rare instance that donors travel to Nepal to meet their sponsor children, the owners of the "orphanage" collect children and put them on display for a night or two in a local home.
At this point in our walking tour he pointed to a decrepit house next to a brand new three-story concrete building painted in a trio of turquoise hues. The sign on the chain link fence surrounding the two structures declared that a new orphanage would soon open.
"I assume that's one of the good ones?" I asked.
"No, the owner built the orphanage with money from donations but now that it is finished, he is turning it into a hotel." Another phone NGO and volunteering scam.
Two days later I boarded a bus with a slew of Brits who had come to Nepal to volunteer. After a weekend tour of Chitwan, they were headed back to Pokhara, where they were helping out at local orphanages and teaching English in government schools. After extensive research on the Internet, each of them had booked their trip through Personal Overseas Development (POD), a UK firm that facilitates volunteering opportunities around the world. Valerie Jamiason of Newcastle paid 750 British Pounds ($1087 U.S. dollars at the time) for an eight-week stint. Her package included pick-up at the Kathmandu airport ( I was picked up for free by my hotel), one night's stay at a Kathmandu budget hotel (~$10), her bus ticket to Pokhara (~$6), and eight weeks stay at the Castle Guest House in Pokhara at what Val was told was POD's special rate of $6 per night, for a total of $352.
POD does not require volunteers to have any prior teaching experience and they are given no orientation upon arrival. With no formal turnover process, fresh arrivals have no idea what the children have been taught previously and each new group is left to decide for themselves what to teach their classes. Tom, who had opted for a summer of volunteering prior to entering university as a pre-med student, focused on teaching his students how to tell time.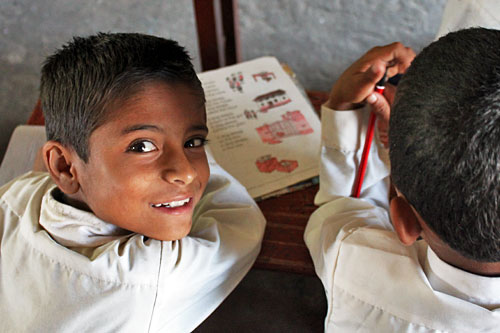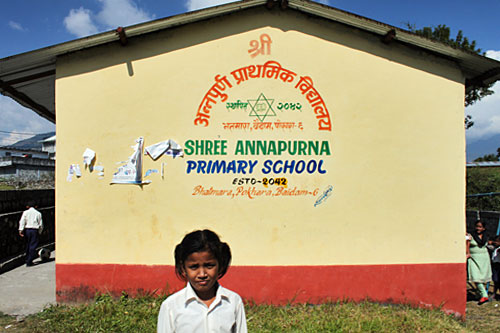 Two of my volunteer friends invited me to visit Annapurna Primary School with them one day. As I wedged into a miniature desk at the rear of the classroom, Val established a modicum of order among the raucous pack and began drilling the students. She placed a chalkboard eraser on the floor and in her thick Newcastle brogue instructed:
"Repeat after me. The duster (DUH stah) is next to the desk."
"The duster is on the desk."
"The duster is in the desk."
"The duster is under the desk."
Meanwhile, Michael reviewed homework assignments, explaining errors in his very proper Londoner accent.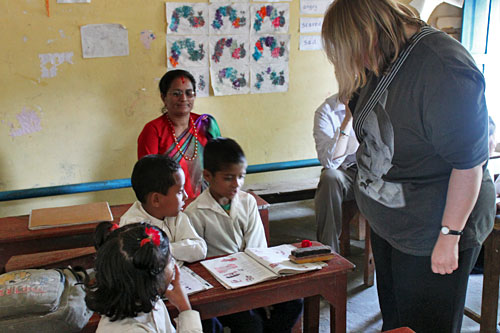 Though the raggedly clad kids had level one English workbooks, the school administrator told me in broken English that they were lacking even the most essential supplies: pencils, erasers, and lined pads were all in short supply and since there were no funds for lunches, the students went hungry. As for assistance from POD, I was told that only the teachers were provided; not one cent of the fees they charge volunteers is donated to the schools and orphanages that welcome their volunteers. With no supplies, scant oversight, no training and rapid turnover in teachers who speak in varying accents and don't even use the same words, it is questionable whether the children are receiving any true benefit from the program, or if it is yet another voluntourism scam.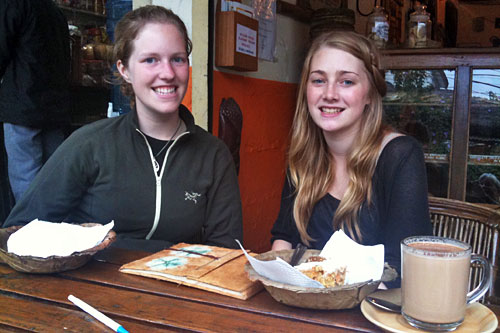 Yet POD may be the best of the bunch. Erin Elliott of Alberta, Canada and Rebeca Limmer of Tanzania, Australia both signed on with Global Visions International (GVI). The girls discovered GVI while searching the Internet for volunteering opportunities. Erin paid $3,200 in Canadian dollars (about $3,250 USD) for a six-week program billed as an "adventure/volunteering" (AKA: "voluntourism") program that guaranteed four weeks of volunteering activity. She searched the Internet for a tour company because, as an inexperienced solo female traveler, she felt incapable of making arrangements on her own. "My main goal was to volunteer, but when I saw that GVI combined volunteering with a visit to Everest Base Camp it was very attractive."
To her dismay, she found the program focused more on adventure than philanthropic efforts. Worse, upon arrival in Kathmandu she learned that GVI had turned over the operation of her tour to Himalayan Encounters, a company previously unknown to her; they began by failing to pick her up at the airport as promised. Later in the trip, after trekking in Bandipur, she was dumped on the roadside by her jeep driver, who told her to wait while he transported other participants to Chitwan National Park. Knowing no one and not sure where she was, Erin spent the next three hours in the home of a villager kind enough to take her in.
Although Rebecca was picked up at the airport after only an hour's wait, she also found the program to be incredibly disorganized. "I got here and really wanted to do volunteer work but the adventure part of the trip kept being extended. My contact was supposed to be a river rafting leader but I could never find him." Rebecca was ultimately placed at the Trisuli Center in Bandare, a small village halfway between Kathmandu and Pokhara, where she taught in two schools. At one, the wall of a temporary structure collapsed when a student leaned against it. Ten feet away, piles of feces surrounded a "rank, revolting squat toilet that was filled to the brim." She was given no teaching instructions or lesson plan and took her only cue from departing volunteers who shared what they had been teaching.
Erin taught English to grades three and five at a government school in Bandipur. Initially, she was put up at the Old Inn, which she learned was owned by Himalayan Encounters, for $55 per night. Later she moved to a home stay and paid a more modest 300 Nepali Rupees per night (slightly more than $3 USD). On her first day of school the principal handed her a piece of chalk and commanded, "OK, now teach." He also issued her a cane for corporal punishment. "One day a man came into my class and gave the most violent pop quiz I've ever seen. If a student answered wrong, or too slowly, he got a chop on the head." Himalayan Encounter's website states: "We can also truthfully speak of real commitment to carbon-neutral policies within Nepal, to real evidence of 'responsible tourism,' sustainable practices and what we describe as 'Tourism in the Community and the Community in Tourism;'" however if Erin and Rebecca's experiences are representative, the agencies with which they arrange volunteer opportunities are neither ethical nor responsible, and it might not be to harsh to call them volunteering scams.
Neither of the girls saw evidence that any of the money they paid GVI had been funneled back into the schools. Textbooks were so old that the currency of France was still shown as Francs and the grammar throughout the books was consistently incorrect. Students did not even have pencils and volunteers were regularly asked to pay for supplies out of their own pockets. Other Himalayan Encounters volunteers told Rebecca they had been encouraged to contact their families and press them to make donations. Yet, Erin pointed out that a good deal of construction was underway at the Old Inn, including installation of a new fireplace.
When Erin pressed Himalayan Encounters to divulge the extent of their charitable donations, she was told that a portion of all fees were donated to Prisoner Assistance Nepal, an organization that helps children whose parents are in jail, but when she contacted PAN they denied having received any such support. Rebecca was told that Himalayan Encounters supports ten disabled people at a time, each for nine months, by providing housing and food while they are taught English and trained in computer skills at their in-house training center in Pokhara.
I popped into Himalayan Encounters' offices unannounced one afternoon, ostensibly to inquire about volunteering opportunities. I was offered placement as an English teacher at several schools or the opportunity to help out at an orphanage, and for much less money that the typical volunteer was charged, since I would be dealing with them directly rather than booking through GVI. I explained that I had no formal training as a teacher and wasn't particularly good with children, but had extensive computer skills; could I perhaps teach at their computer training center? The half-dozen PC's near the entrance were dark and had been so for some time; the program was shut down due to lack of teachers who were willing to make long-term commitments.
Two weeks later I met Anton and Johnny at a Pokhara coffee shop. The two young Frenchmen had volunteered through Service Volunteer International (SVI) and paid a fee to help build facilities for an orphanage in Sarangkot, near Pokhara, but found no organized program when they arrived. Rather than deserting the orphanage, which was desperately in need of assistance, they slept on the floor by night and dug an organic garden by day; they were also convinced that none of the money they paid ever reached the orphanage. (Service Volunteer International should not be confused with Service Volontaire International, which also goes by the acronym SVI and is a non-profit volunteer organization based in Belgium that is working to educate travelers about the scams so prevalent in the burgeoning "voluntourism" industry).
Insisting that charity had become "big business" in Nepal, my Nepali friends repeatedly told me that the majority of orphanages and NGO's were scams designed to line the pockets of greedy businessmen, however some do seem to be supporting a large number of orphans, including three orphanages in Pokhara: SOS Bahini, Rainbow House, and Namaste Children's House. In the case of Namaste, which is owned and operated by a local restaurateur, I was told by a trustworthy Nepali that 150 orphans are bused each day to a private school where they are receiving a quality education. I was also told that the owner has grown rich through donations and drives a brand new SUV, something that is rare in Pokhara.
To some degree, expenditures are necessary. Buses are needed to transport the children back and forth to school, to pick up and deliver supplies; and the end result, helping orphans, is laudable. Having never lived in abject poverty, I am hesitant to judge but it does seem that volunteering, voluntourism, NGO's and charity organizations are the fast track to wealth for any Nepali who has the resources to set one up. As a result, my initial plan to start an NGO is on hold. I will undoubtedly do something to help in Nepal, but not until I can identify truly worthwhile causes.
Note: The Internet is rife with companies offering volunteering and voluntourism packages, priced from hundreds to thousands of dollars per week. Many of these are little more than volunteering scams. While it is difficult to know which firms are trustworthy, those that disclose specifics about the funds they donate and provide contact information to confirm their charitable works are more likely to be legitimate.
Considering a future visit to Nepal? You'll want to check out my Essential Travel Guide for Pokhara, Nepal, which is updated regularly.