UPDATED JULY, 2020. This online travel guide for the city of Pokhara in Nepal, is designed to help anyone who wants to visit one of the places on this planet that have captured my heart. I spent three months in Nepal in late 2010, much of the time in Pokhara. Since then, I have regularly returned  for long-term stays, thus I know the city quite well. I wanted to share my tips for everything from the best hotels and restaurants, to the not-to-be missed sights, as well as essential tips that every traveler to Nepal needs to know.
MUST SEE SIGHTS:
Hike to the top of Sarangkot pre-dawn to see sun come up over the Annapurna Himalayas. You'll take a taxi to the starting point in pre-dawn hours and upon arrival, it is likely that a "guide" will jump into your taxi and attempt to charge a fee to lead you up the mountain. Tell him, unequivocally, that you do not need a guide. Just steps from the taxi stop, on the right hand side of the road, are steps leading to the top of the mountain. You can't get lost, since there are lots of other people also making the trek. Just keep going up, and make sure you carry a flashlight. The walk up takes 45 minutes to an hour, and the view of the sun coming up over the mountain is spectacular.
Hike or take taxi to the World Peace Pagoda for a spectacular view of Phewa Lake and Pokhara, framed by the distant Himalayas
Take a boat to Barahi Temple in the middle of Lake Phewa
Attend a Puja ceremony at Jangchub Choeling Buddhist Monastery, in the Tashi Palkiel Tibetan Refugee Settlement on the backside of Sarangkot, held at twice each day, at 6 a.m. and 3:30 p.m.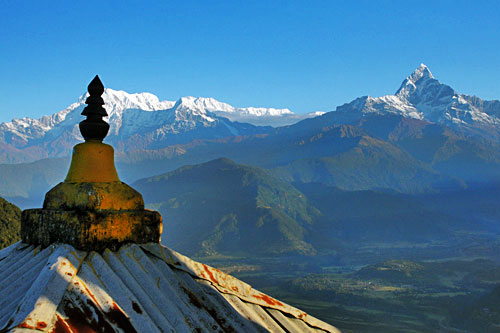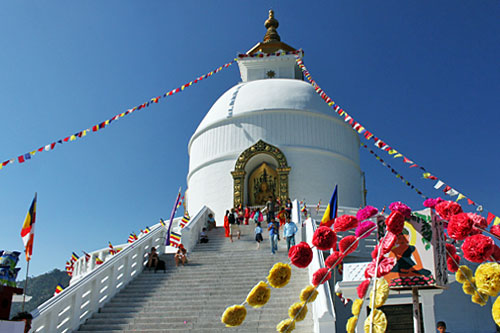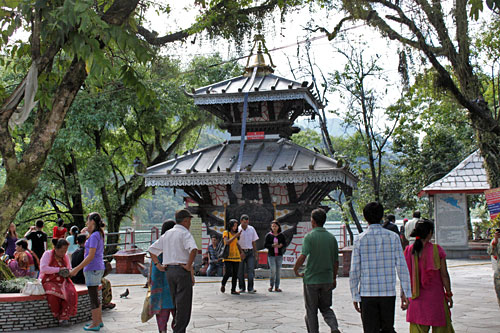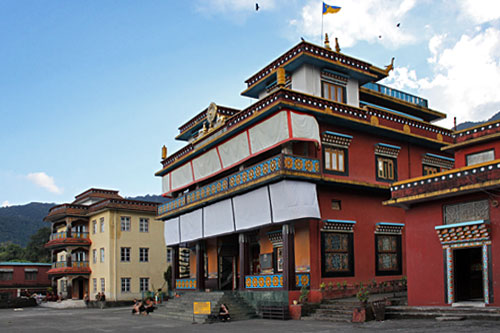 OTHER INTERESTING THINGS TO DO IN POKHARA:
Gurkha Memorial Museum: The museum concentrates on the history of Gurkha soldiers who began serving in the British Army in 1815. Having proved themselves as fierce fighters, Gurkhas continue to serve with great honor and respect today.
International Mountaineering Museum: Home to the tallest mountain in the world, Mount Everest, Nepal attracts climbers from all over the world. This museum is a fascinating glimpse into the history of mountain climbing in Nepal.
Shopping in the Old Bazaar: The Lakeside area of Pokhara is scenic and the center of tourist activity, but it is definitely NOT where the locals shop. For a taste of local life, visit the area known as Mahendrapul, where Nepalis go to shop for everything from fresh produce to clothing. It's located about 4 km. north of Lakeside and can be reached by local bus or taxi.
Visit one of the Tibetan refugee camps and spend time with the locals, perhaps a storyteller who can tell what it was like to come to Nepal during the years when China invaded Tibet. You can arrange for a healing ceremony with a Tibetan Shaman, attend Tibetan folk dancing performances, learn about Tibetan Thangka painting, or see Tibetan carpets being loomed by hand.
Walk to the head of or entirely around Phewa Lake
Paragliding from the top of Sarangkot, landing at the edge of Phewa Lake, is a popular activity, but it's advisable to do some research before selecting a company, as more than 50 paragliding accidents have occurred over the past two years..
Take the bus to Naudanda and hike back down to Phewa Lake
Whitewater Rafting: Adrenaline filled class III+/IV rapids are found just 30 minutes from Pokhara's Lakeside in the upper and lower Seti Gorge. Many local tour operators offer half-day rafting tours.
Trek the Himalayas: Trekking possibilities abound, ranging from 2-3 days to the longer 14-21 day Annapurna Circuit Trek. Dozens of trekking companies in the Lakeside area offer guided tours.
Devi's Waterfall and Gupteshwor Mahadev Cave: Visit the waterfall during summer monsoon season, when the water is high and rages through the gorge. Then walk across the highway and descend into Gupteshwor Mahadev Cave, where the raging river goes underground and has carved spectacular caverns in the rock.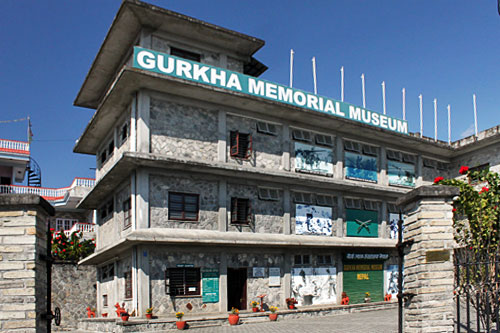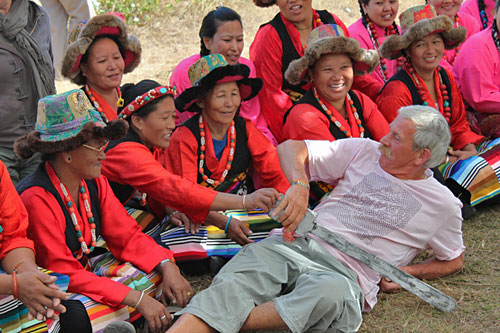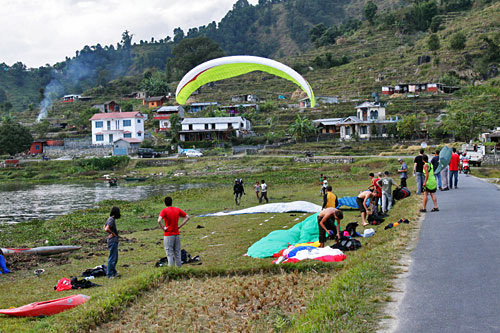 BEST HOTELS:
Blue Planet Lodge, owners Sabine and Ram Chandra Sharma. Located on Durbar Marg, Lane 1, just past the Hotel Barahi on Barahi Path. Just a seven minute walk to the main road in Lakeside, the lovely tourist district of Pokhara that borders Phewa Lake. Because the property is on a back lane off the main road, it is extremely quiet; the only sounds are of chirping birds and happy guests. Of all the guest houses I have tried in Pokhara, this is the cleanest and most modern, with the most comfortable beds in town. Rooms have private western-style bathrooms with 24-hour hot water, in-room free wifi, and a delicious breakfast is included. Prices start at 2,000 Nepali Rupees (about $24 USD) per night and include the 13% government tax (be sure to ask at other places if the price includes tax so as to compare apples with apples). An additional 10% service charge is added on top of the room rate. Ask for special quotes for long-term stays, which are much reduced. Blue Planet even has an apartment, complete with a fully stocked kitchen for those who wish to save on meals, priced at 4,500 NRS (about $60 per night). Contact Sabine and Ram by email at [email protected] or call (0)61 465706 (Telephone), 98462 57389 (Ram's cell phone), or 98560 25441 (Sabine's cell phone). Country code is +977.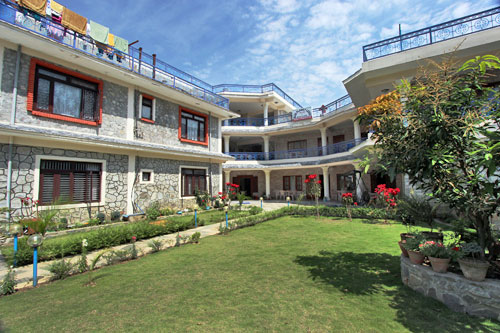 Hotel Temple Villa is a short walk down the first side street south of Standard Chartered Bank, on the north end of Lakeside, in a quiet, safe location just a block from the lake. Set back from the road and surrounded by manicured gardens, this combination private home/hotel offer rooms ranging from dorm-type accommodations with shared toilet to spacious private rooms with ensuite bathrooms. Unlike many of the standard Nepali hotels that are furnished with beds that are hard as a rock, Hotel Temple Villa has comfortable beds and upscale linens. Guests have access to a rooftop deck as well as several balconies tucked between the rooms, and a lounge area offers TV with remote control. Free wi-fi is included, although it can occasionally be spotty. Prices begin at 700 Rupees. Call +977 985-6037892 or email [email protected].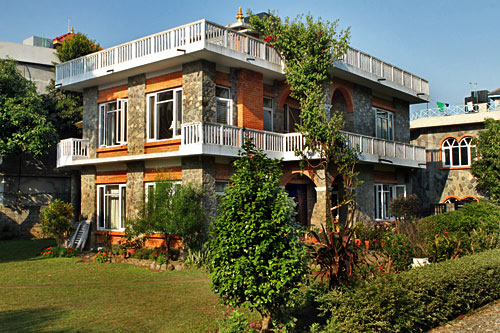 Karma Guest House is one for the budget minded. It is located on a side street in Gaurighat, on the south end of Lakeside. High speed Internet included in the nightly price of around $10 USD per night. The rooms are generally spacious and clean, with private baths and 24-hour hot water, but no TV. Rooms on the first floor tend to have a musty smell, however the Internet is spotty on the second floor, so if you need to surf, choose a first floor room. Nice quiet location on a side street, across from the lake and surrounded by good restaurants. Owner Chandra Pun; telephone 61-462850; cell 98460-49867; email [email protected].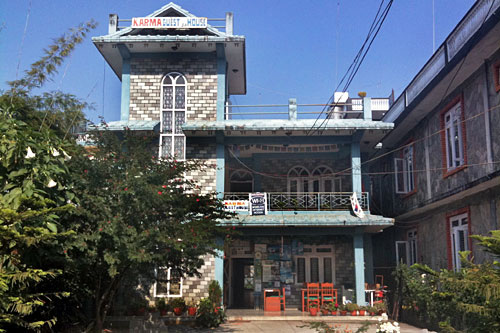 BEST RESTAURANTS:
Olive Cafe: Near the center of town on the main road in Lakeside. Not only do they have great food, they have the best Internet in town and they will let you sit for hours and work online if you eat there. The prices are a bit on the high side, but the quality of the food is excellent (best hummus wrap in town and good vegetarian options). Open for breakfast, lunch and dinner, with fresh baked pastries every morning and homemade desserts every day including heavenly chocolate croissants.
Moondance: On the corner of Barahi Path and the main street of Lakeside, on the south end of town. One of the few restaurants in town that has a menu that deviates from the boring Chinese, Nepali, Indian fare served by everyone else. Their food is delicious, if a bit pricey, but they have the only decent pizza in town and fast, reliable wifi. Open for breakfast, lunch and dinner.
Pema Tibetan Restaurant: On Barahi Path near the Barahi Hotel in the center of Lakeside. Tiny restaurant with excellent traditional Tibetan food for budget prices.
Pokhara Kitchen & Restaurant: On the north end of Lakeside near Hallan Chowk. Look for a narrow walkway between buildings just south of Standard Chartered Bank. The family run restaurant serves mostly locals but welcomes tourists. They serve only the traditional Nepali set (dahl bhat, curd, curry, pickle, and papad) or an Indian set. Your plate will be refilled as many times as you wish for the 170 Rupee price (about $2.50 USD). Wash your hands at the outdoor sink before sitting down. Although they will bring you a spoon if you wish, they will be delighted if you try eating with your hands in true Nepali/Indian fashion.
Chulo Restaurant: I am totally spoiled by the cooking of my adopted Nepali family, so I am very critical of restaurants that purport to serve traditional Nepali food. The newly opened Chulo Restaurant, however, makes the grade and then some. Their traditional Thakali dal bhat is delicious and authentic, and priced at only 190 NRS, while other places charge from 350 to 750! The Thakali plate includes a heap of rice (dal), lentils (bhat), two curry vegetables, one of the many varieties of green cooked spinach (saag), a pickled chutney or sauce (achar), sweet curd, and a large Papad – a thin wheat wafer fried in oil. Best of all, they follow the Nepali tradition of adding more and more food to your plate until you can't eat another bite. Located on the main street in Lakeside, near the Boomerang Bakery.
Busy Bee: Lakefront In the center of Lakeside on the main road, this restaurant has good food at an affordable price, plus live music most nights until 11 p.m. Free wifi.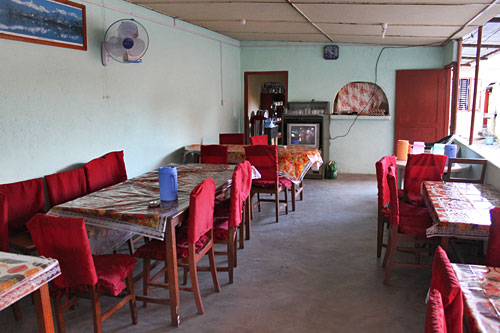 BEST COFFEE SHOP:
am/pm Cafe: I think I've tried every coffee shop in Lakeside and none of them can beat am/pm. Not only is their coffee organic and delicious, it is one of the only places that bakes pastries with real butter. And their food is also very good – the salads are huge and fresh, and the pumpkin coconut soup is astounding. Last but not least, they have great wifi and they don't care if you sit a while, as long as you're buying something. am/pm is located on the south side of Lakeside, just off the main road near the old Royal Palace.
TAXI PRICES:
With taxi drivers, negotiate hard, as you will be quoted the tourist price that is often twice that charged to locals. Agree on a price before you get in the taxi.
Taxi to the tourist bus park should cost 150-200 Rupees.
Prices to go to Sarangkot at dawn are all over the board, but if you keep asking and negotiate you can find a driver to take you, wait for you to climb to the top and watch the sunrise, and then deliver you back to town for between 800-1,000 Rupees ($10-12.50 USD).
Same goes for the trip to the International Peace Pagoda on the other side of the lake. Ask around for a driver who will take you round trip for around 1,000 Rupees. They will take you as far as he road goes and you must do the final 15-20 minutes on foot.
TAKE THE LOCAL BUS:
Save the pricey taxi fare and hop on a local bus. You will be crowded, crammed in, and jostled, but it's lots of fun. The locals will be delighted but curious that you are riding the bus (few westerners do) so expect more than a few stares. The buses are old rattletrap white and blue affairs and you can flag them down by the side of the road in most places (there are some established bus stops). If you are going from Lakeside to the market at Mahendrapul, stand on the southbound side of the street at the intersection of Lakeside Marg and Barahi Path. When you climb on board, grab a seat if you can. The conductor will come by later to collect the fare. Currently, the fare for the ride from Lakeside to Mahendrapul is 18 NRS (~23 cents) each way. The bus stops for a bit at Birauta Chowk (intersection) and again at Pritivhi Chowk to take on passengers, then continues on to the market, with the first stop at Chipledhungga and the second at Mahendrapul. If you need to get off and it's crowded, bang on the roof two times, or just yell out Maah jan-chuu (I go). If you're really unsure of where you need to get off, ask the conductor to help; most speak basic English and you just need to say Mahendrapul. Once you get the hang of it, you can take the local buses almost anywhere for mere pennies.
INTERNET:
The Internet connections around town mostly come through Nepal Telecom, which has traditionally provided lower bandwidth and slow speeds, however the service does seem to be improving. If traveling with a laptop and you plan to be in Nepal for any length of time, consider purchasing an NCell USB card that connects through the cellular network. The speed is relatively fast and the connection is available in most places around the country. One time charge of 2,850 Rupees ( about $36 USD) for the device, and then you buy a package of 500, 1,000, or 1,500 Mb, which must be used within a month. Price for the 1,000 Mb package id 1,050 Rupees ($13 USD). If used up before a month, the card can be recharged at stores all around town. Be advised that power outages can occur and Internet may not be available during those hours unless you find a hotel, restaurant, or Internet cafe that has hooked up the Internet to their generator (most businesses have generators).
MASSAGE:
For Ayurvedic Massage in Pokhara, Annapurna Yoga Ashram and Yogi's Ayurveda Health Care Center can't be beat. Reach it by walking opposite from Fishtail Gate at the south end of Lakeside. Take the path between Pokhara Cottage Emporium and Sharmila Restaurant until you see New Annapurna Guest House (an easy walk of about 200 meters). The Ashram is directly behind this guest house. An hour-long Ayurvedic massage with Shiatsu Accupressure is $15 USD; 90-minute $21.00 USD; two-hours $30.00 USD. Tip at your discretion, but 100 Rupees is sufficient.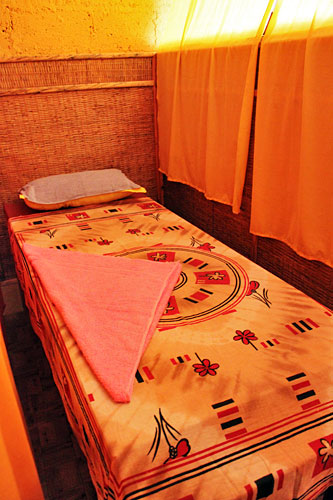 YOGA:
The best Yoga in Nepal, in my opinion, is offered by Yoga Master Narayan Prasad Dhakal, owner of Annapurna Yoga Ashram and Yogi's Ayurveda Health Center (see notes under massage, above, for location). Guru offers 1.5 hour Hatha Yoga classes each day at 8 a.m. and 5 p.m. (4:30 p.m. in the winter) for 700 Nepali Rupees ($8.50 USD). Private instruction available for $15 USD. Specializing in therapeutic Yoga, Narayan is one of the best Yoga teachers I have ever worked with. The center also offers Yogic Trekking, Spiritual Hiking, Meditation, Honey Therapy, Water Treatments, Mud Baths, Colonic Therapy, Detox Program, Reiki, Ayurvedic Massage, and much more. It is also possible to arrange a combination home stay and Yoga/meditation or detox program with the family, during which you will enjoy home cooked Yogic food, prepared with fresh, seasonal, organic ingredients, many of which come from the family's garden.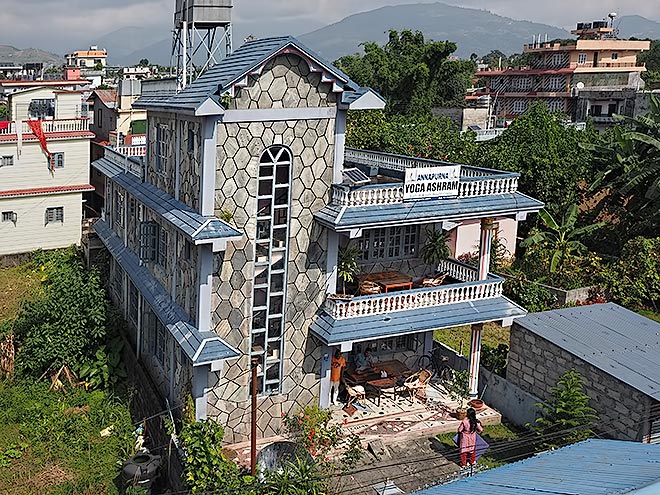 SHOPPING:
Prices in Lakeside (the tourist area) of Pokhara are wildly inflated. I once paid 450 Nepali Rupees (almost $6 USD) in a Lakeside grocery store for a can of tomato puree when I was making a spaghetti dinner for my Nepali family (I knew it was overpriced but needed it and had no choice). A few days later I found the same can for 130 NRS (~$1.60) at the local market. The market is in Chipledungha and Mahendrapul, two side-by-side neighborhoods where store after store line the streets. SaveWays, a huge combination grocery and department store that stocks everything you could possibly need for cooking and/or setting up a household, is located near center of Mahendrapul Chowk, down a side alley; anyone can direct you to it. For electronics, furniture, fabric, linens, bedding, clothing, jewelry, kitchen supplies, shoes, appliances and such, the market is the place to shop, however souvenirs, Tibetan merchandise, and Pashmina products are much more widely found in Lakeside. The bus to the market area costs only 18 NRS (~23 cents). Most of the merchants speak some English, or if they don't they can find someone to translate. Best of all, the prices aren't jacked up; the price for tourists are the same as Nepalis. Very refreshing.
BOOKS:
There are numerous book stores in Lakeside but I particularly like Blue Heaven Book Store, as they have an extensive stock of English language books that includes most of the best selling authors. Even better, they have shelf after shelf of used paperbacks that also include many best sellers and popular authors, priced at 50% of the new books. You can even bring the book back after you've read it and receive a credit against your next purchase. Located on Lakeside Marg (main street), just south of Hallan Chowk (across the street from Standard Charter Bank). Mandala Book Store, near Hallan Chowk, is another good option.
SWIMMING:
Although it is possible to swim in Phewa (Fewa) Lake, I do not recommend it. There are no beaches and the shoreline is full of litter, so the only way to do so is to rent a boat for a half day or full day and paddle out into the center. Alternatively, Hotel Barahi offers a day fee for non-guests who wish to use their swimming pool. Officially 500 Rupees per day, it is sometimes possible to negotiate a discount rate if you will be staying in Pokhara for a length of time and will be using the pool regularly. Your entry fee includes use of a beach towel and access to their toilet and changing facilities. Hotel Barahi is on a side street just down from Barahi Chowk, on the south side of Pokhara. The hotel is famous; anyone in town can tell you where to find it.
TIBETAN TOURS:
Tibetan Encounter arranges for groups as small as two people to visit one of the more remote Tibetan refugee camps to meet elders who fled Tibet during the 1959 war with the Chinese. Hear their stories, share a meal with a Tibetan family, and enjoy a performance of traditional Tibetan songs and dances. Owner Thupten Gyatso, who grew up in one of the refugee camps near Pokhara, can arrange half day, one and two day trips. Email Thupten at: [email protected]
LAUNDRY SERVICE:
Yours Laundry Service, on Barahi Path, just a short distance from the main road in Lakeside. All clothes washed and dried by Machine, and nicely folded. Owners Sita and Ram Prasad Acharya  TeL; 98460-40068. They use only hygienic water and offer one-day, half-day, and three-hour service. The best deal is one day service for 100 NRS per kilogram (2.2 pounds).
MUSIC:
There are numerous places around town to enjoy live music or DJ's and they're not hard to find (just follow the booming beat), but I particularly liked Busy Bee (see above), Silk Road (on the north end of Lakeside past Hallan Chowk), and the Blues Club.
BANKING:
There are ATM's all over town but some charge more fees than others, so make sure you are using your card in an ATM machine that is connected with your network (Cirrus, Plus, etc.), ATM's give a much better exchange rate than using the banks or currency exchange shops, and there are no foreign exchange fees levied by most institutions when using the ATM's. The maximum amount that can be drawn out via ATM in any one transaction is 35,000 NRS (some have limits of 25,000 NRS), however at some ATM machines it it is possible to make multiple withdrawals. Standard Charter Bank at the Hallan Chowk crossroads is the most prominent bank in Lakeside but I found that they charged the highest fees. I use the ATM near Barahi Chowk, located in the same courtyard with Monsoon Restaurant.
CELL/MOBILE PHONE SERVICE:
If you have an unlocked smart phone you can purchase a Nepal sim card for 300 Nepali Rupees (NRS), which is about $4 USD. This price includes 50 NRS of "talk time" which is charged at various prices, according to the type of phone you are calling (landline or cell). When you need more credit, simply buy a recharge card at any store that displays the purple NCell sign, scratch off the strip on the back of the card and follow the directions. A local number is invaluable, among other things, for calling an honest taxi driver with whom you've established a relationship or getting in touch with other travelers who also have local numbers to  team up for tours or trekking. I never travel for any length in a country without a local phone number, especially considering the cheap price. For three months in Nepal, my total cost will be about $5. Nepal's international country code is 977.
WALKING AROUND:
There is no such thing as a pedestrian right-of-way in Nepal; be alert at all times when walking in or crossing streets, however walking around Pokhara is much more pleasant than Kathmandu, as sidewalks are available in much of Lakeside and the traffic is much less. Additionally, the main street in Lakeside has recently been turned into a pedestrian mall every Saturday from 5 to 11 p.m.
TOILETS:
There are no public toilets in the Lakeside area of Pokhara in Nepal, so you will have to rely on restaurants and hotels/guest houses. Many places now have western toilets, though in many places you will still find squat toilets. Hoard napkins, you will need them as toilet paper, but as in most places throughout Asia, if there is a trash bin in the stall it generally means you should deposit used paper in the bin rather than the toilet.
WATER:
Many hotels are now buying five-gallon bottles of purified water and allowing guests to refill their bottles either for free or for a price that is much less than buying a new bottle. This water is perfectly safe to drink and travelers should not hesitate to refill their bottles from it. You will also be doing your part to help save Pokhara's lovely lake, which suffers from the plastic trash that is so ubiquitous around Asia.